Pop Depresija, Kišobran i Odličan hrčak imaju čast i zadovovoljstvo da najave koncert Mark Lanegan Banda!
Legendarni pevač i nekadašnji lider kultnog sastava Screaming Trees, idol Kurta Cobaina, muzički otac Nirvani i Pearl Jam, omiljeni pevač svih drugih muzičara i za mnoge božanstvo grandža i Amerikane – jedinstveni Mark Lanegan – posle dve godine vraća se u Beograd!
Ulaznice su u prodaji na svim punktovima Eventima, blagajni Doma omladine Beograda, Gigstix-a, DD Tickets-a i online po sledećim cenama:
– 2200rsd do 31. avgusta
– 2500rsd od 1. septembra do 6. novembra
– 2800rsd na dan koncerta 7. novembra.
Mark Lanegan Band promoviše album "Gargoyle" koji je objavio krajem aprila i za koji je u prestižnoj muzičkoj štampi dobio neverovatne kritike ("Mojo" maksimalnih 5 zvezdica, "Uncut" 8/10).
Mark Lanegan je održao tri rasprodata koncerta u Domu omladine Beograda (2012, 2013, 2015), a ovog puta njegov koncert u Beogradu, uz nastup u Zagrebu dan ranije, jedini je u regionu.
Njegova mešavina Amerikane, soula i bluza, rokenrola i spejs-disko zvuka jedinstvena je na celokupnoj muzičkoj sceni, a njegov vokal jedan je od najupečatljvijih u istoriji rokenrola: uz bok Džoniju Kešu, Leonardu Koenu i Nilu Jangu, njegovim velikim uzorima. Ovog leta Mark Lanegan je svirao i sviraće na najvećim festivalima sveta (Primavera, Glastonbury), a posle toga kreće na veliku klupsku turneju.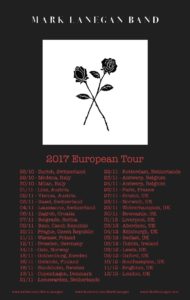 Svoju karijeru Lanegan je započeo pre više od 30 godina u, pokazalo se kasnije, izuzetno važnom i uticajnom, ali i uveliko potcenjenom bendu Screaming Trees. Između 1986. i 1996. Mark Lanegan je sa Screaming Trees objavio sedam studijskih albuma, a prvi solo – "The Winding Sheet", predstavio je 1990. godine. Premda su posle potpisa za veliku izdavačku kuću i objavljivanja šestog albuma "Sweet Oblivion" 1992. zabeležili značajan komercijalni uspeh, ipak su ostali u senci svojih popularnijih mlađih kolega koji su upravo u njima tražili inspiraciju. Singl s tog albuma "Nearly Lost You" postala je njihova najpoznatija pesma na čemu mogu da se zahvale pre svega kultnom filmu "Singles" snimljenom u Sijetlu 1992, u kojem su učestvovali i neki od stvarnih aktera tamošnje muzičke scene predstavljene u filmu.
Mnogima je Lanegan poznat po radu sa Queens of the Stone Age, a sa njihovim uspehom i njegova samostalna karijera dolazi u fokus šire publike pa tako 2004. album "Bubblegum" postiže pomalo neočekivan komercijalni uspeh.
Lanegan je poznat i po brojnim saradnjama i gostovanjima na tuđim albumima, autora kao što su Isobel Kembel (nekadašnjom pevačicom škotskih Belle and Sebastian) i Greg Duli (pevač i gitarista Afghan Whigs i The Twilight Singers, s kojim je punih šest godina vodio zajednički projekat The Gutter Twins). Uz gore navedene glavne saradnike, lista muzičara koji su imali tu sreću da im mračno-šarmantni vokal Marka Lanegana obogati izdanja predugačka je, a neki od njih su: Moby, Earth, Bomb the Bass, Soulsavers, UNKLE, Mad Season, Slash, Duke Garwood, Melissa Auf der Maur, Martina Topley Bird…
Ovog leta Mark Lanegan je svirao i sviraće na najvećim festivalima sveta (Primavera, Glastonbury), a posle toga kreće na veliku klupsku turneju. Do kraja godine objaviće i svoju prvu zbirku poezije sa pričama o pesmama, "I Am The Wolf" za koju su uvodne tekstove napisali Džon Kejl i Mobi.