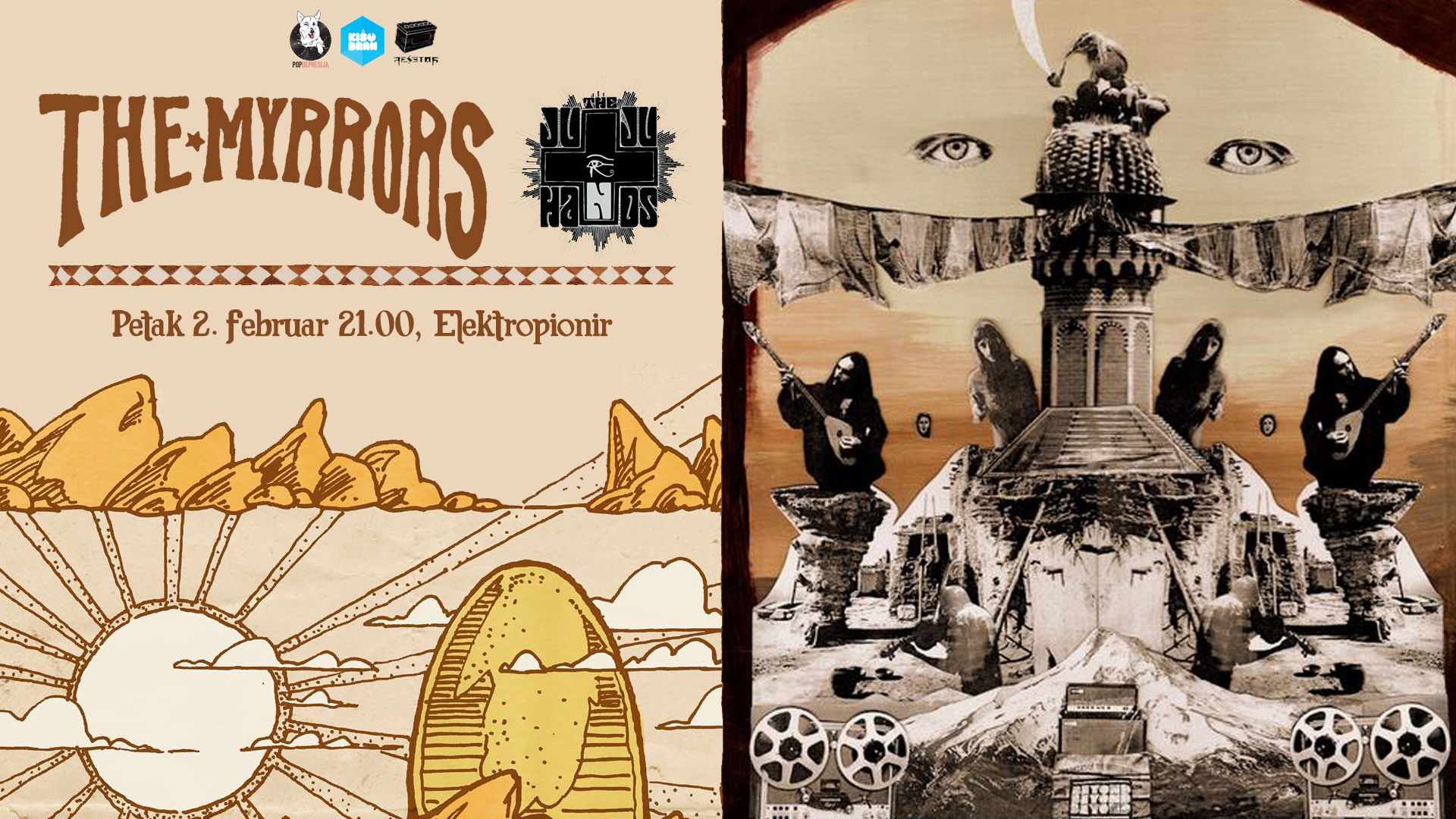 Kišobran i Pop Depression // Pop Depresija predstavljaju:
• THE MYRRORS (USA) • JUJU HANDS (SRB) • Elektropionir • petak 2. februar 21.00 •
Američki bend The Myrrors svoj premijerni koncert u Srbiji i Beogradu održaće u petak 2. februara u klubu Elektropionir. Specijalni gosti su JuJu Hands, kojima će to biti prvi koncertni nastup!
Ulaznice mogu da se kupe u Zaokretu po ceni od 500 dinara, na dan koncerta cena karte će biti 700 dinara.
The Myrrors su bend iz Tusona u Arizoni koji svoju muziku opisuju kao "trens iz Sonore" inspirisani uticajima magične pustinje Sonora preko koje prolazi meksičko-američka granica. Od ovog kultnog, mističnog mesta potiče na samo autorska inspiracija već i uticaji na muziku Myrrorsa koji predstavlja hipnotičku mešavinu "krautroka" prožetu psihodeličnim uzorima i eksperimentalnim zvučnim minimalizmom.
Bend formiraju tinejdž multiinstrumentalisti Nik Rayne i Grant Beyschau 2007. Odmah skreću pažnju svetske publike svojim debi izdanjem "Burning Circles in the Sky" sa koga se izdvaja veliki andergraund hit "Warpainting". Nakon incijalnog uspeha dolazi do četvorogodišnje pauze tokom koje bend zbija redove. Uspešno se vraćaju serijom muzički ambicioznih i politički orijentisanih LP-a objavljenih za renomirane diskografske kuće "Cardinal Fuzz" i "Beyond Beyond is Beyond" koje prati zapažena evropska turneja 2015.
Na svom najnovijem albumu "Hasta La Victoria" objavljenom prošle godine za BBiB, Myrrors kopaju još dublje tražeći svoj beskonačno fluktuirajući zvuk i formu po mantrama jednog od najvećih živućih kompozitora jazz minimalizma Terry Riley-a i bogova nemačkog političkog improvizacionog "krautroka" Amon Düül-a. Tape loops, saksofon, drvena duvačka sekcija kao i južnoazijski folk instrumenti zauzimaju mesto u novom zvuku benda čineći ga ravnopravnim s onim što nazivamo tipičnom instrumentalnom rok postavkom.
Bend pristupa ovoj uzbudljivoj mešavini uticaja kroz inspirativnu improvizaciju što njihove nastupe čini soničnim zvučnim iskustvom, neponovljivim i jedinstvenim na svakom nastupu. Zbog toga, Myrrors su bend koji se nikako ne propušta.
JuJu Hands je dete ljubavi lokalnih veterana hardcore/punk/grindcore/rockabilly/blues scene. Kada se skupe na gomilu Borkes (Analni Karakter, Helltard, Mutogen), Vlada (Lucky Marcell & The Ramblin' Three, The Moonshiners) i Dane (Youth Crew All Stars, Issues Of Life, Lucky Marcell & The Ramblin' Three, PSI) onda nastaje "mutant" koga zovu Desert Punk. Njihov debi EP "Most Likely Hate You" objavljen je krajem 2017. godine, kao i prvi spot za pesmu "Crush On You". Kultno sledbeništvo JuJu kulta raste iz dana u dan, a mi vas pozivamo na njihov prvi koncert.