Klavirsko nebo / Piano Sky (Piano Day 2018 preview)
Tri meseca od objavljivanja našeg konkursa, stigli smo do prvog cilja – 29. marta i Međunarodnog dana klavira. Želimo da vam čestitamo ovaj praznik koji je "izmislio" Nils Frahm i da vam predstavimo kompozicije koje su do sada stigle na konkurs.
Odlučili smo da sve kompozicije budu predstavljene sa 45-60sec, a redosled je proizvoljan. Imate priliku da čujete delove dvadeset pesama koje su u konkurenciji za kompilaciju kojom će do kraja godine biti završeno "Klavirsko nebo" i da steknete neko mišljenje kako to može da izgleda.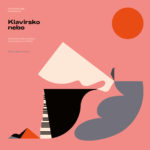 Mi nastavljamo da promovišemo akciju i zovemo ljude da učestvuju na način na koji im to odgovara. Vaše radove primamo do 31. jula, a saveti i tehnička pomoć uvek su dobrodošli.
Džingl nam je poklonila Svetlana Đolović (Radio Aparat), a muzika je pozajmljena od Jóhanna Jóhannssona.
Uz ovaj "Piano day 2018 preview" promovišemo i originalni dizajn za Klavirsko nebo koji je delo Bratislava Milenkovića. Ako još niste upućeni u njegov rad, promenite to što pre!
:: Facebook stranica za drugu fazu konkursa je ovde ::
---
Milica Tegeltija – Pavana (ft. Luka Ignjatović) 00:21
Dušan Gajić – Definitely Something 01:33
Maja Bosnić – AC Modulations 02:43
Maša Đurišić – Untitled 03:42
Vladimir Popović – Half-Dark Backstage Odd Rhythm 04:41
Ana Ćurčin – Alone etida 05:13
Vladislav Rac – Mala vežba #2 06:08
Jovana Backović – Tales of the Macabre for piano 07:06
Srđan Marinković – Pingvini 08:07
Katarina Ranković – Butterfly Reminiscence 08:56
Igor Andrić – Piano suite Mysteries 09:47
Marina Džukljev & Vasco Trilla Duo – Free improvisation 10:29
Milica Predolac i Ana Vasić – Varvara 11:28
Tijana Mićović – Mellisa 12:18
Igor Pešić – The first morning after the loved one's death 13:16
Ana Krstajić – Stožina i Sedlo 13:56
Marko Marić – Nostalgična zvona 14:59
Stefan Simonović – Septembarski klovn 15:53
Stefan Naerac – Kaleidoskop (Svita za klavir) 17:14
Pavle Popov – Japanski vrt 18:01
Artwork by Bratislav Milenković (http://www.bratislavmilenkovic.com)
Instrumental used for jingles by Jóhann Jóhannsson ("Bað", album "Englabörn" 2002, 4AD)