Moje skroz subjektivne utiske sa koncerta St Thomasa u Beogradu, kao i par crtica iz našeg druženja "pre i posle" pročitajte ovde. Divan čovek bio je Thomas.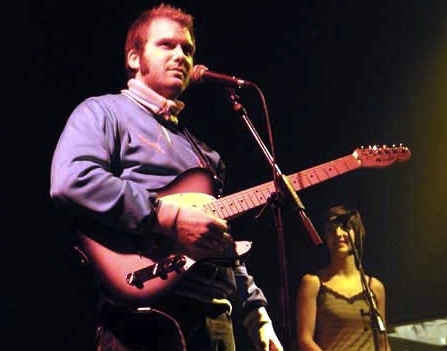 Dilemu da li da postane profesionalni fudbaler ili rock muzičar junak ove priče rešio je bez puno razmišljanja: od 1997. godine jedini posao Thomasa Hansena ili St. Thomasa posao je putujućeg trubadura, barda, pripovedača…
Za 27-ogodišnjaka iz Osloa, sledeći period nije bio nimalo lak. Često je menjao mesto boravka, izdavača, svirao kao "supporting act" mnogim poznatijim bednovima i strpljivo čekao svoju šansu.
Posle trećeg albuma u karijeri, Hey Harmony (2003. City Slang), koji je snimao u Nešvilu uz pomoć producenta Markija Neversa i članova sastavaLambchop i Giant Sand , teško je reći da je St. Thomas postao internacionalna pop zvezda, to zaista nikada nije ni želeo, ali neke zanimljive stvari jesu se dogodile:
U majskom Sunday Timesu Hey, Harmony je poneo laskavu titulu Albuma nedelje!
Magazin Bang albumu daje ocenu 5/5, a recenzent kaže: " Hey, Harmony potvrđuje da je Hansen jedan od najboljih singer-songwritera današnjice."
Ni ostali recenzenti nisu ostali ravnodušni:
Uncut – 4/5 (jul 03)
" Pesma Institution , koja zatvara album je najpotresnija pesma koju sam čuo ove godine."
Q – 4/5 (jul 03) 
" St. Thomas je norveški odgovor na Ryana Adamsa . Hey Harmony je autentičan kao i pita od jabuka."
Mojo – 3/5 (jun 03)
"Ostaje samo da se nagađa koliko kolača je pojedeno u procesu stvaranja ove ploče."
The Guardian 3/5
"Ovo su prelepe pop pesme, a utisak još više pojačava delikatni falseto koji podseća na Neila Younga iz najboljih dana."
Na norvešku listu sinlgova, EP A Long Long Time, ulazi direktno na 2. mesto, tačno između Eminema i Robbieja Williamsa! Zaista je čudno kako se ponekad pravila komercijalnosti iskrive i u prvi plan izguraju nešto sasvim drugačije.
Na MTV Up North listi spotova (za skandinavsku muziku), video A Long Long Time za tri nedelje stiže do 2. mesta!
U Beograd St. Thomas dolazi sa pratećim bendom The Magic Club, a u pesmi Heroes Making Dinner postoji sledeći stih "We're Having a Sunday Party, Come on Over and Be Our Friends" . To zaista zvuči kao poziv koji se ne propušta.
Pretprodaja karata – blagajna Doma omladine