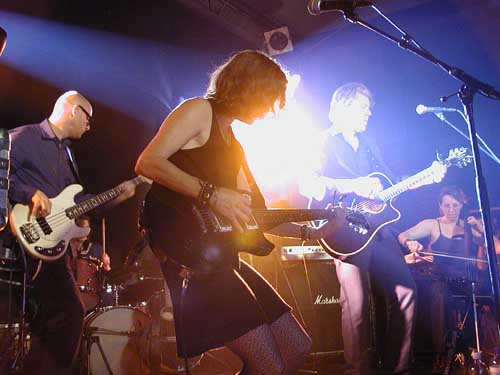 The Walkabouts su formirani 1983. godine u Sijetlu. Kada su počinjali, svirali su punk i folk. Kada bi sada neko opisivao njihovu muziku mogao bi to da uradi sa rečima art, orkestrirani rok,džezirani pop, alt-kantri i još mnogim drugim izrazima koji uglavnom ništa ne znače.
U srcu svega je odnos Krisa Ekmana i Karle Torgerson. Karlin hipnotički šapat i Krisov očajnički vapaj stvaraju svet za sebe u kome se mešaju onostrano i svakodnevno, estetika Enia Morikonea i Dejvida Linča, raskošnost Roxy Music ili Tindersticks, orkestracijaLee Hazlewooda i angažovanost R.E.M. Usput, ko želi, saznaće lekcije o životu, ljubavi i napuštanju…
Kada su se prvi put sreli Kris je želeo da svira pesme grupe Buzzcocks, a Karla Dilanove pesme. Do danas, malo toga se promenilo.
Pre Nirvane, sa kojom su "delili" američkog izdavača Sub Pop, postali su "poznato ime" u Evropi. Ime The Walkabouts uzeli su po filmu Nikolasa Rega "Walkabout", koji je do danas jedino Karla videla. Ispostavilo se da je ime bilo savršeno: većina pesama Walkaboutsa upravo se bave putovanjima, udaljenim mestima i putevima.
Posle 12 studijskih albuma, lako je reći da su the Walkabouts sada na vrhuncu svoje karijere. Oni su na tom vrhuncu od 1993. godine i albuma New West Motel. Jedino se svet oko njih promenio. Njihova muzika je idealan saundtrek za taj svet koji se menja.
Pretprodaja karata – blagajna Doma omladine