Moćni The Nightingales u Beogradu 3. novembra
Pop Depresija i Kišobran vas pozivaju na koncert britanskih punk-rock veterana i jednog od omiljenih bendova Johna Peela, The Nightingales, koji će premijerni nastup u Srbiji imati u subotu 3. novembra u Elektropioniru.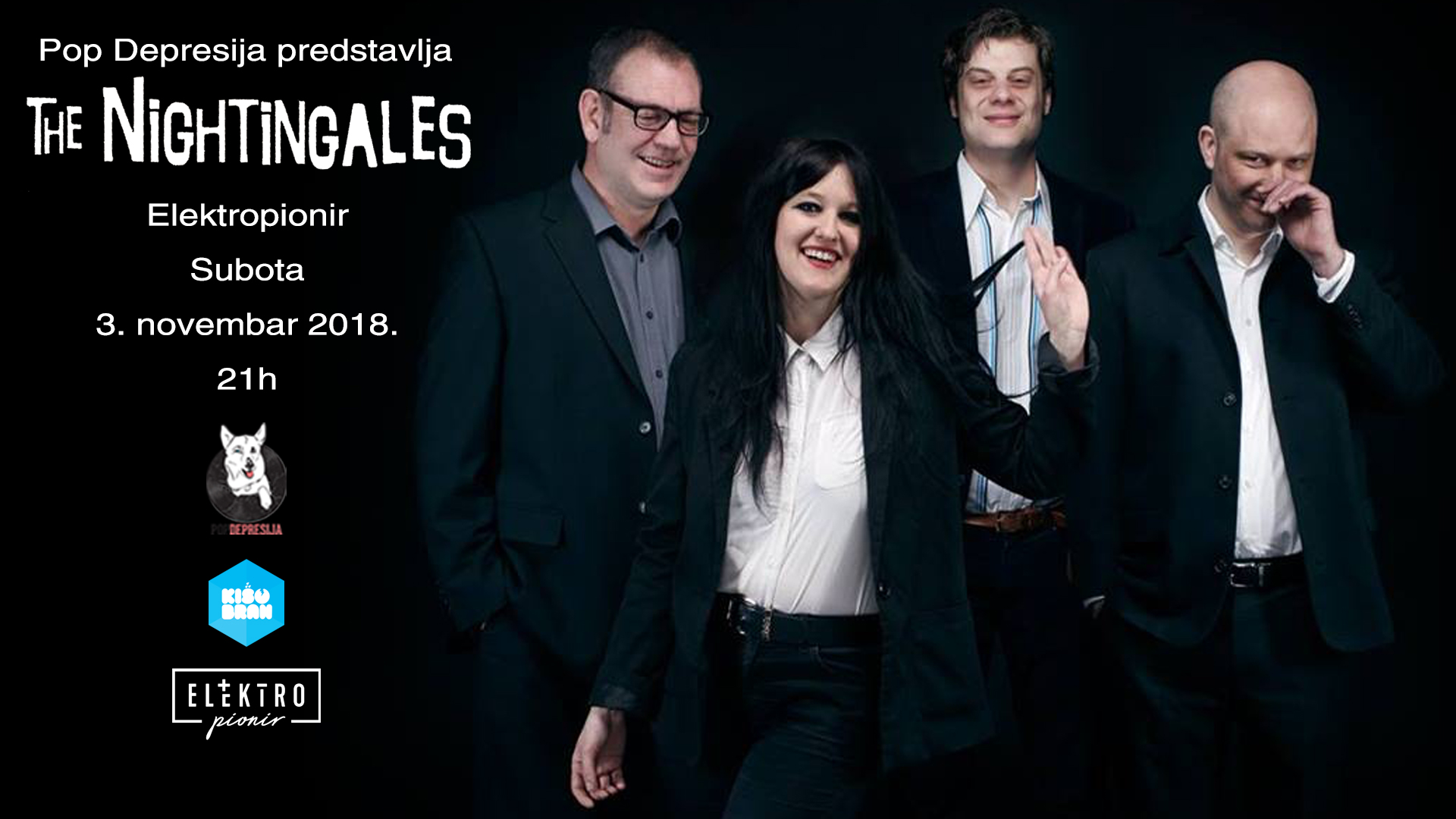 Ulaznice za koncert će se prodavati na Spratu (iznad Zaokreta) i u Šikarici po ceni od 500 dinara, na dan koncerta i na ulazu u klub cena karte će biti 700. Karte su u prodaji od subote 20. oktobra.
Nastali još davne 1979. u Birmingemu, The Nightingales prate umetničku viziju harizmatičnog Robert Lloyda, lidera i pevača benda. Imali su kultni status početkom osamdesetih, muzička štampa ih je obožavala, a bili su redovni gosti u emisijama Johna Peela.
Snimili su mnoštvo odličnih singlova, manje-više svaka pesma koju su objavili bila je "Single of the week", a Peel ih je vukao na razne festivale po celoj Evropi. Imali su tu čast da su bili predgrupa velikanima kao što su Bo Diddley i Nico.
Krajem osamdesetih samo su prestali da postoje, a tu i tamo svirali su retke koncerte. A onda su rešili da se "uozbilje"! Lloyd je finalizovao postavu sa fantastičnim muzičarima, kao što su Andreas Schmid (Faust) na basu, Flis Kiton na bubnjevima (ex Violet Violet) i gitarista James Smith koji je nastupao sa Damom Suzukijem.
Od restarta karijere bend je obajvio šest sendmoinčera, 2 EP-a i šest studijskih albuma, svirao po Evropi i Americi više puta, bio pozivan na prestižne festivale i svirao svuda gde su hteli.
Zanimljivost za the Nightingales je da se tokom cele karijere pridržavaju nekih bitnih stavri: jedan album – jedan izdavač, bez menadžera, bez booking agenta, svi žanrovi su podjednako važni, svi koji vole muziku su dobrodošli. U poslednjih godinu dana objavili su mini album "Become Not Becoming" (2017), split singl sa genijalnim Vicom Godardom "Commercial Suicide Man" i album "Perish The Thought", koji promovišu na ovoj turneji.
Nema više bendova kao što su The Nightingales, to je sasvim sigurno.