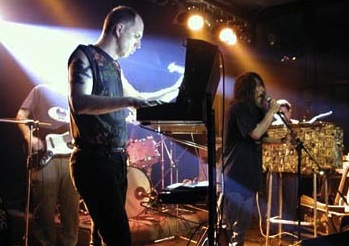 Legendarni pevač nemačkog sastava Can Damo Suzuki i bostonski bend Cul De Sac uživo u Beogradu! Izuzetno neobična i atraktivna kombinacija psihodelije 70-ih i postmodernizma devedesetih u jednom sasvim novom i neočekivanom krajnjem "produktu". Cul De Sac posle 13 godina postojanja sviraju prvu evropsku turneju, a Damo Suzuki je 2001. godine već nastupao u Beogradu u organizaciji Rex-a i B92, sa sastavom Damo Suzuki's Network.
Legenda kaže da je Kenđi "Damo" Suzuki (harizmatični pevač nemačkog sastava Can i poslednjih godina predvodnik Damo Suzuki's Networka) usisavao sobu dok je slušao album I Don't Want To Go To Bed (1995. Thirsty Ear) sastava Cul De Sac i da je već posle prve pesme tačno znao šta želi. Nekoliko dana kasnije pozvao ih je na zajedničku turneju po Americi. Tronedeljni nastupi po Americi i Kanadi tokom 2002. godine, po mnogima koji su imali priliku da prisustvuju su nešto što se ne može rečima opisati. Damo nastupe sa Cul De Sac opisuje izrazom Super Metafizički transfer, a oni oprezniji kažu da je zaista jedinstven osećaj gledati njihove improvizacije i stapanje umova.
Četiri godine posle fantastičnog albuma Crashes to Light, Minutes to its Fall (1999. Thirsty Ear) Cul De Sac su objavili verovatno najambiciozniji album u karijeri. Death of the Sun(2003. Strange Attractions) je peti studijski album za bend koji je uglavnom stacioniran u Bostonu i već sada je po mnogim kritičarima jedna od najboljih ploča godine. U okviru promocije ove ploče Cul De Sac prvi put posle 13 godina postojanja dolaze u Evropu, a Damo Suzuki je bio sasvim logičan izbor da ovaj spektakl upotpuni.
Cul de Sac na turneju dolaze u postavi:
Robin Amos (electronika), Glenn Jones (gitare), Jonathan LaMaster (violina, bas) i Jon Proudman (bubanj). Damo Suzuki peva i radi sve što poželi.
Koncert u Beogradu održaće se u Domu omladine Beograd, u subotu 29. marta 2003. Koncert ce početi u 23 sata. Karte se u pretprodaji mogu kupiti na biletarnici Doma omladine.
CUL DE SAC – zvanični promo tekst
Cul de Sac je u pokretu! Bend je odlučio da reprizira fantastičnu kolaboraciju sa legendarnim pevačem grupe CAN, Damom Suzukijem, susret i stapanje umova koji su zapalili mnoge klubove i naelektrisali radio talase širom istočne polovine SAD i Kanade prošle godine. Da li biste poverovali da su se g. Suzuki i Cul De Sac sreli samo jedan dan pre polaska na turneju, bez ijednog dana probe? Ako ste imali tu sreću da prisustvujete…onda znate da je to jedan od onih trenutaka kada logika nema nikakvu ulogu.
Ali, magija i telepatija koja se dogodila bila je apsolutno spontana. Neke stvari se naprosto dogode…
Počevši od 21. marta 2003. Cul de Sac pohode Evropu, pojačani Damom Suzukijem, u prvoj "istorijskoj" turneji benda preko okeana. Death of The Sun je prvi studijski album za Cul De Sac posle 1999. i izlaska epohalnog Crashes to Light, Minutes to its Fall na etiketi Thirsty Ear (ako ne računamo prošlogodišnji živi album Immortality Lessons), kao i prvi album u novoj postavi. Grupi su se priključili basista/violinista Jonathan LaMaster i čarobnjak elektronskih efekata Jake Trussell – promena koja je sasvim sigurno najavila ozbiljne promene u zvuku benda.
Death of the Sun je zahtevna ploča, koja pomera Cul De Sac u potpuno novi žanr. Folk, avangardni-rok, elektronika, trans, ambijent, uticaji azijske muzike, prirodni zvuci i šumovi… izuzetno široki uticaji, ali u rukama Cul De Sac sve se nekako stapa na magičan način.