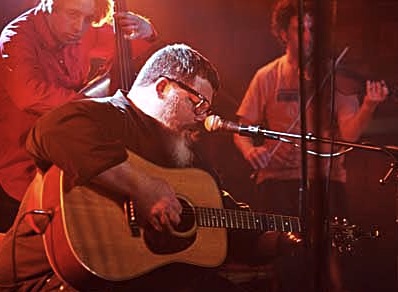 Svaka upornost (uglavnom) se na kraju isplati. Priča o bendu Willard Grant Conspiracy priča je o jednom čoveku – Robertu Fisheru i njegovoj stalnoj borbi sa ličnim demonima i životnim zamkama. "Regard The End" peti je album ovog bostonskog sastava, koji pored 46-godišnjeg Fishera, čine brojni muzičari sa skoro svih strana sveta. Smatra se da samo Willarda ima više nego članova sastava Lambchop. Većina stručnjaka slaže se da "Regard The End" zvuči starinski, kao i samo vreme koje prolazi, a da ova kombinacija tradicionalnog folka, bluza i kantrija zasluženo nosi "etiketu" Amerikana. Ako volite ovakvu muziku – ova ploča je sadašnji vrhunac ovog žanra.
Album je pobrao hvalospeve od mnogih uglednih kritičara, a našao se i na većini godišnjih lista najboljih albuma. Najveći i najtiražniji britanski mesečnik Uncut uvrstio je "Regard The End" na visoko 4. mesto najboljih albuma godine.
Robert Fisher dolazi u Beograd u pratnji petorice muzičara, među njima i klavijaturistom Simonom Alpinom koji je svirao poslednju turneju sa Teenage Fanclub. Sasvim sigurno će koncert Willard Grant Conspiracy u Beogradu biti, kao i njihovi nastupi u Zagrebu i Sloveniji prošle godine, vrhunac koncertne ponude u našem gradu. Gostovanje Willard Grant Conspiracy jedinstvena je prilika da čujete i vidite nešto aktuelno i atraktivno u trenutku kada se to zaista događa, a ne nekoliko godina kasnije.
Rekli su o "Regard The End"
" Ovo je težak i moćan album koji zadire u suštinu, pokušava da se iz nje izbavi, prihvata sudbinu i urla od bola." Time Out 
" Zagazili su u najfiniju folk-gotik tradiciju i stvorili jednu optimističnu i vrlo prilagodljivu ploču neobične snage." Uncut album meseca *****
" … uspeva im da se materijalizuju ni ni iz čega i da u vašoj dnevnoj sobi sviraju muziku samo za vas, i da probude sve duhove u prečniku od 20 milja unaokolo i da ih prizovu pre nego što nestanu na isti način kao što su i došli." All Music Guide ****
" Sa ovim uglavnom tradicionanim rock pesmama, Willard Grant Conspiracy otkrivaju depresiju, uzaludne nade i neizbežnu sudbinu." New York Times