Robert Fisher/Willard Grant Conspiracy: Muzika je odličan faktor spajanja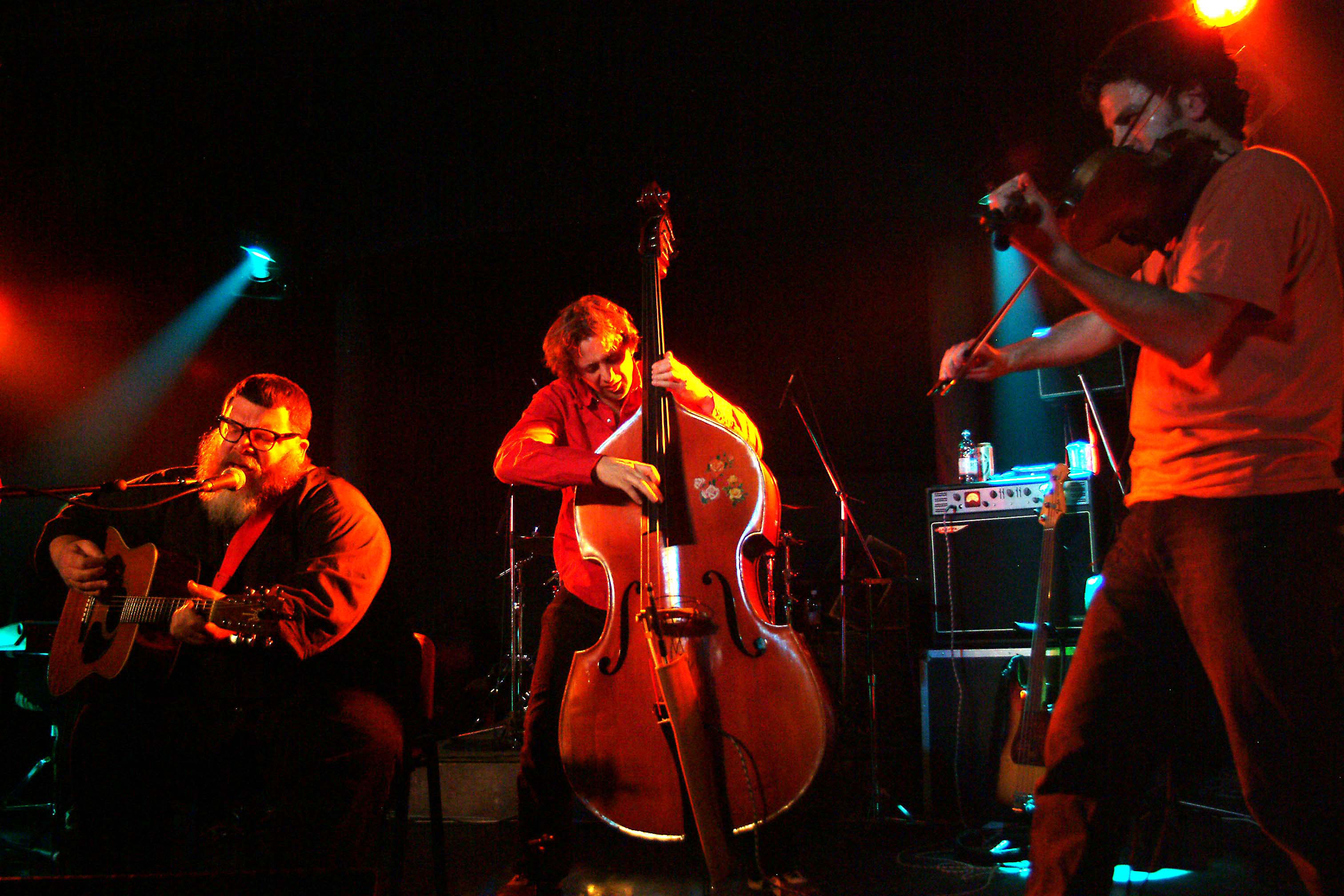 Iako su mu pesme uglavnom posvećene istraživanju "tamne strane" u razgovoru je Robert Fišer neverovatno duhovit, otvoren i optimistički nastrojen prema svetu oko sebe. Ono što je najvažnije – on je neverovatan poznavalac muzike, a o muzici koju voli – priča brzo i prepun oduševljenja. Razgovor je vođen neposredno posle tonske probe Willarda, par sati pre koncerta
PD>Pre odlaska u Evropu Willard Grant Conspiracy svirali su na velikom festivalu alternativne muzike "South by South West" (SXSW), koji se svakog proleća održava u Ostinu, savezna država Teksas. Kakvi su utisci sa festivala?
RF: SXSW je kao prolećni raspust za muzičku industriju. Za pet dana nastupi oko 1700 bendova i zaista nema šansi da vidite sve što vas zanima i zato sam još ranije naučio da pravim izbore… Na kraju, uspeo sam da vidim nekoliko fantastičnih grupa. Richarda Bucknera sa "električnim" pratećim bendom; South San Gabriel koji su bili fascinantni; obnovljeni American Music Club sa Markom Eitzelom koji su svirali miks potpuno novih i nekih starih stvari. Granta Lee Philipsa sa pratećim bendom i novi bend Kristin Hersh koji se zove 50 Foot Way i koji svira glasnu, skoro punk-rock muziku.
Gde god da se okreneš, neko svira prelepu muziku i teško je da ne pronađeš bar nešto što ti se sviđa na SXSW-u.
PD: Skoro godinu dana posle izlaska albuma "Regard The End" u Evropi (Loose za Englesku i Glitterhouse za ostatak Evrope), jedna od najboljih ploča iz 2003. po izboru britanskog mesečnika UNCUT doživela je i SAD izdanje.
RF: Nije toliko teško bilo da "Regard The End" doživi SAD izdanje i ranije, veći problem je bio da to izdanje bude kvalitetno. Imao sam puno ponuda, ali želeo sam da nađem nekog ko razume to što radim i to što želim da postignem i da nas podržava u našem radu (album je na kraju izdala etiketa Kimchee). Jako je teško izdavati muziku u SAD. Velika je zemlja i jako je teško organizovati turneju i konkurencija je velika. Velike kompanije poseduju sve i uglavnom ste "osuđeni" na male klubove i turneje koje samostalno organizujete. U Evropi je sve to mnogo efikasnije, zemlje su manje i mnogo lakše dolaziš do medija, a u SAD je to mnogo teško uraditi bez velikog budžeta.
Ovakva situacija eliminiše skoro sve grupe koje se bave "nezavisnom" muzikom, jer to sebi ne mogu da priušte. Mislim da je trenutno stanje kombinacija raznih faktora, kao npr. u slučaju the Walkabouts, koji više ni ne sviraju po SAD, a samim tim i diskografskim kućama teško je da ulažu u njihova izdanja, jer ih domaća publika neće videti.
PD: Posle više od dve decenije života u Bostonu, Fisher se preselio u Kaliforniju, gde živi na sat vremena od Holivuda, na rubu pustinje Mohave. Iz te "laboratorije" do kraja godine, ako sve bude u redu, očekuje nas još jedna ploča Willard Grant Conspiracy…
RF: Nadam se da će ovo da se ostvari, nismo baš precizirali tačan datum, ali nadamo se da će izaći na jesen. Biće to kompilacija remasterovanih pesama sa svih albuma, uklučujući i par pesama sa "Regard The End" sešna koje nismo stavili na ploču, kao i nekoliko demo pesama koje nisu našle svoje mesto na albumima, alternativnih mikseva, pesama sa drugačijim aranžmanima…
Čovek sa kojim sarađujem od prve ploče Willarda (1996. "3 am Sunday @ Fortune Otto's") i kome je to bio prvi album u karijeri, Jeff Lipton, sada radi mastering tih starih pesame i jako se zabavlja. Ne znam kada će sve ovo biti gotovo, ali nadam se uskoro.
PD: Robert Fisher i Willard Grant Conspiracy, poslednjih 4, 5 godina pokušavali su da zakažu koncert u Beogradu. Redovni gosti Slovenije i Hrvatske ovoga puta u okviru turneje svirali su i u Beogradu. Kakav je osećaj svirati u "novom gradu" pred potpuno novom publikom i da li ima tremu?
RF: Ne, uopšte nemam tremu. Trudim se da ne zaključujem ništa unapred. Tokom godina sam shvatio da ima mnogo više stvari koje povezuju ljude nego što ih razdvajaju. Mislim da je muzika odličan "faktor spajanja", jer ako je ona "prava" na jedinstven način "stvara" društvo. I zaista se radujem prilici da sviram i upoznam nove ljude u novoj zemlji…
Na kraju, ceo ovaj "posao" sviranja koncerata po svetu čini da ljudi koje upoznajete i koji postaju vaši prijatelji, postaju deo porodice Willarda. Zaista se radujem što ću upoznati neke nove prijatelje u mestu u kome ranije nisam svirao.