JON SPENCER & THE HITMAKERS u Beogradu!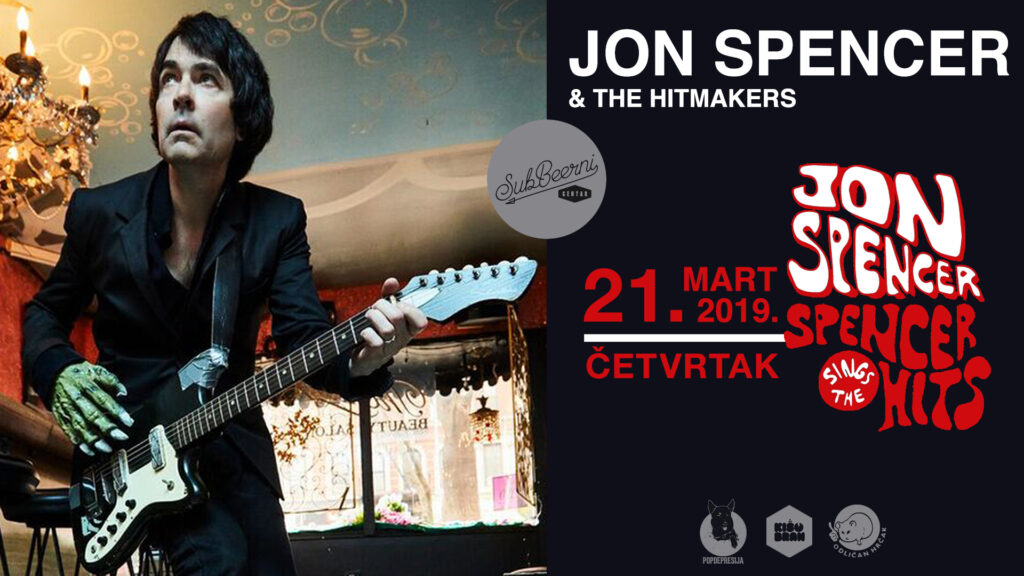 JON SPENCER & THE HITMAKERS u Beogradu!
SubBeerni centar, Četvrtak 21. mart, 20.00

Džon Spenser ima novi album i novi bend – The HITmakers – i u okviru ekskluzivne Balkanske turneje dolazi u Beograd četiri godini posle fantastičnog nastupa u Srbiji, kada je u Domu omladine nastupio sa magičnim JSBX. Koncert će se održati u SubBeernom centru u četvrtak 21. marta, prvih 100 ulaznica će se prodavati po promo ceni od 1800rsd, redovna cena je 2000, a na dan koncerta biće 2200 dinara. Pretprodaja ulaznica počinje u petak 18. januara.
Džona Spensera znaju svi: on je mister Blues Explosion, on je glavni asistent u sastavu Boss Hog u kojem je lider "najlepša žena na svetu" gospođa Spenser, on je rokabili teškaš iz benda Heavy Trash i kapetan broda u legendarnom Pussy Galore. I sada se gospodin Džon Spenser vraća i sa sobom dovodi novu ekipu!
Često imitiran (mada nikada uspešno), večiti ambasador njujorškog andergrunda i de facto rokenrol legenda, Džon Spenser sada svira hitove i u tu čast okupio je novi bend The HITmakers!
U bendu se nalaze veterani rokenrol andegraunda:
JON SPENCER (Pussy Galore, Boss Hog, The Jon Spencer Blues Explosion, Heavy Trash) ‐ vokal & guitar.
SAM COOMES (Quasi, Heatmiser, Elliot Smith) ‐ synths & vocals.
M. SORD (M.Sord, No Monster Club) ‐ drums.
BOB BERT (Sonic Youth, Pussy Galore, Bewitched, Knoxville Girls, Chrome Cranks, Lydia Lunch Retrovirus) ‐ trash.
The HITmakers Sviraju "sve": od Pussy Gallore energetskih klasika, preko Heavy Trash plesnih dragulja, do JSBX himni, novih pesama i poneke obrade. Sve sami hitovi!