Spiritualized Live 05.06.2004. Skoplje, BJRM, Univerzalna sala
Poznata je ona priča kako su neke od najvećih ploča u istoriji popularne muzike stvorene kao direktan odgovor na raskid ljubavi i patnju. Jason Pierce je od ovoga stvorio poseban žanr. Voleli ili ne njegov rad sa Spacemen 3, sulude sešne sa Spiritualized za vreme kojih snima isti album po nekoliko desetina puta, autokratsko vođenje benda i kitnjaste aranžmane o kojima je i genijalni Phil Spector mogao samo da mašta, Jason je jedinstven.
Dolazak sastava Spiritualized u Skoplje na tamošnji Heineken Off Fest događaj je koji je ravan operaciji na otvorenom srcu, sa vama/nama koji iz prvog reda gledamo kako to izgleda i u isto vreme patimo, smejemo se, plačemo i tražimo još…
Prvi utisak sasvim povoljan: nekoliko stotina ljudi u dosta zanimljivoj "Univerzalnoj Sali" polukružnog oblika. Publika – raznovrsna, uostalom kao i samo Skoplje. Lokalni veterani hipi pokreta, mladi "padavičari" iz Makedonije, isti takvi samo malo stariji iz Beograda, udavače u providnim haljinama, stranci "na zadatku" i obezbeđenje u sivim odelima sa crnim kravatama koje nije dozvoljavalo fotografisanje…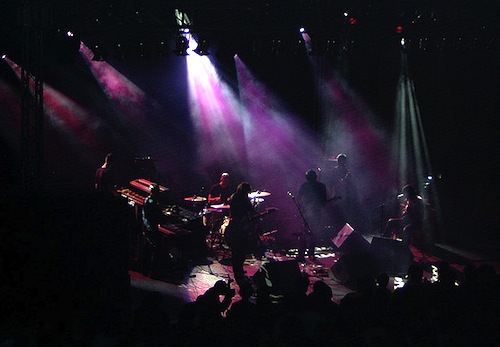 Zvuk apsolutno savršen. Svetlo kao iz snova: jednostavno i nenameljivo, sa nekoliko antologijskih efekata u ključnim trenucima koncerta. ON sasvim desno, sedi na stolici i apsolutno nezainteresovan za publiku ispred. Na sredini gitara i bas. Na drugoj strani bine efekti i klavijature, sasvim iza bubnjevi. Početak – jedini moguć, sa "Electricity". Totalni raspad, gledam oko sebe i nalazim bar još troje ljudi koji se nekontrolisano smeju u stanju totalne euforije… Sledećih dva sata prolazi po scenariju brzo/sporo, a većina pesama uživo je "pojačana" delovima numera iz poslednjih 15-ak godina života Jasona Pierca.
Vapaj "Lord Let It Rain On Me" je lajtmotiv koji se provlači kroz ceo koncert. Na "Oh Baby" siguran sam da nisam jedini koji više nije u stanju da kontroliše svoje ponašanje. Da li je normalno za vreme koncerta da se analizira život, bivše, sadašnje (i buduće?) ljubavi, da donosiš odluke za koje si siguran da ćeš kasnije, hladne glave i kad prođe dejstvo alkohola , zažaliti… Prokleti Jason Pierce…
Publika… Ako je neko mislio da je Beograd mesto u kojem publika na koncerte dolazi da se ispriča, istračari i dovikuje, onda još ništa niste videli/čuli. Prosto je neverovatno koliku buku su stvarali "posetioci" koncerta. Povremeno mi se činilo da je i bend začuđen žamorom koji dopire do njih, ali verujem da su znali da je osveta "jelo koje se servira hladno"… O tome malo kasnije.
Posle 80-ak minuta veštog balansiranja između psihodelije, buke i očaja, došao je trenutak koji će uništiti ono malo dostojanstva ljudi, koji su na koncert došli zbog muzike. "Come Together" kao odgovor na "Born Slippy" ili obrnuto? Oduvek sam imao ovu dilemu. Za mene je odgovor jasan. Posle diskopank transa usledio je mali instrumentalni uvod u pesmu za koju mislim da mi jedna od ključnih u relativno kratkom životu. Solo na usnoj harmonici, svetlo nestvarno, on peva "Though I have a broken heart, I'm too busy to be heartbroken, There's a lot of things that need to be done…" Gotovo je. Sramota me je što plačem, prijatelji me gledaju, okrećem glavu i zatvaram oči… Neka traje još… On ne misli da je ovo kraj. "I hink I'm In Love?" Odluči se više. Da li želiš da nas dokrajčiš ili da se sami "ukinemo"?
Do kraja koncerta nisam ni svestan šta se događa. "Osveta" o kojoj sam pričao kreće na samom kraju pesme "Smiles"… Petnaestak minuta buke dostojne Crazy Horse, Sonic Youth i Dinosaur Jrzajedno. Osim nas koji se gledamo kao da smo članovi nekog kulta, "ostali" drže ruke na ušima i mole za milost. Polako svi odlaze sa bine. On ostaje poslednji. Spušta gitaru na zemlju, dolazi do mikrofona i recimo da je rekao "Thank You." Odlazi iza bine i nestaje.
Nikada nečija "patnja" nije bila tako ohrabrujuća i puna životne radosti kao ove večeri.
Skoplje setlist: electRicity, shine a light, walking with jesus, all of my tears, hold on, she kissed me, lord let it rain on me, oh baby, anything more, cheapster, this little life of mine, let it flow, never going back, ballad of richie lee, come together, broken heart, think I'm in love, run, take your time, smiles