In Memoriam: John Peel (1939-2004) – Radio guru: Svetlo koje se nikad ne gasi
"A balance between things that you know people will like and things that you think people will like."
Priredila Svetlana Đolović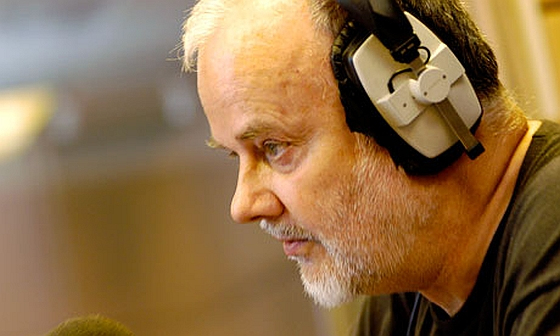 Prošlog meseca umro je John Peel, najpoznatiji radio DJ na svetu. Svi oni koji su slušali njegove emisije, pratili njegove godišnje liste i čekali njegova nova otkrića, rečju – svi oni čiji su život na bilo koji način dotakli njegova harizma i entuzijazam, izgubili su velikog heroja.
Kroz 40 godina kultnih Pilovih emisija i još čuvenijih »Peel Sessions« prošli su svi relevantni muzičari sa obe strane Atlantika, od Pink Floyd do PJ Harvey. Evo šta su o fenomenu John Peel rekli predstavnici različitih generacija beogradskih radio disk-džokeja, uz osvrt na njegov uticaj, način rada, značaj i trag koji je ostavio na čitava pokolenja slušalaca muzike širom sveta.
"Peel je učinio da duboko verujem da vokacija disk-džokeja nije samo pratiti određene stvari, biti uvek up-to-date, nego da je mnogo važnija stvar imati taj životni pristup koji se ogleda u tome da pokušaš da drugim ljudima približiš neke stvari koje su im do juče bile potpuno strane i nepoznate i time i njima samima pomeriš granice onoga što se obično podrazumeva pod usvojenim, saznatim, i nečim što se generalno u životu teško menja. Ono što je paradoksalno je to da je Peel pravio svoju karijeru na državnom radiju, koji je poznat kao radio sazdan na striktnim pravilima ponašanja i programskoj orijentaciji u kojoj nema mnogo mesta za eksperimentisanje. Pil se od samog početka izborio za jednu neverovatnu dozu autonomije na BBC-u koja je godinama samo uvećavala i bojila novom svetlošću taj njegov oreol i dodavala mu reputaciju koja je uveliko prevazišla ostrvske granice.
Peel je za razliku od nekih shvatanja koja su ga dugo godina kategorisala kao čoveka koji je radio prilično ekskluzivnu stvar za malu publiku, u stvari demantovao sve to, jer je postao u pravom smislu te reči narodni, prihvaćeni DJ. I kad danas odete na njegov sajt i vidite kako ljudi reaguju na vest o njegovoj smrti, onda se i ne iznenadite time da su ga zvali na svadbe, kućne proslave, rođendane, da je on bio član porodice, da je spajao generacije i da je negde između roditelja i dece Pil bio taj koji je mogao da uspostavi dijalog. Peel se zalagao za ono što muzika u svojoj biti i jeste – sloboda, neobuzdanost, demokratičnost, otvorenosti i mogućnost da pokažemo sve kroz tih sedam nota koje tu stoje."
[Slobodan Konjović, muzički urednik Studija B i glavni urednik DJ radija 949, najuticajniji radio prezenter muzike na ovim prostorima, često nazivan "srpski Džon Pil"]
"Najviše mi se dopadalo što je John Peel povezivao stvari na način na način na koji ih nikako ne bi trebalo povezivati. Znači, to je redosled mešanja žanrova, malo regea, malo death metala, malo Warp elektronike, pa onda neke bele indie gitare, neki zalutali eksperimentalni hip-hop. Prva i jedina poenta takvog načina rada bila je da se istakne svaka puštena pesma. Dakle, za slušaoca nije bilo moguće da uplovi u radijsku atmosferu i da prima muziku kao nekakav sedativ, bilo intelektualni, bilo emotivni, nego bi on praktično svaka tri-četiri minuta morao da se trgne i da reaguje na novu emitovanu frekvenciju. Mislim da je vrhunski kvalitet njegove emisije upravo dolazio od toga. OK, izbor je naravno bio prvoklasan, ali to što čujete nešto što je daleko manje užasno od onoga što se upravo završilo ili nešto što je kudikamo lepše od onog što vas je malopre oduševilo, je stvaralo radost kod vas. Za mene je John Peel bio izvor samopouzdanja."
[Slobodan Vujanović Fridom, dramaturg, novinar i autor emisija "Slušaj sad ovo" i "Moć veštica" na radiju B92]
"Najvažnije kod Johna Peela za mene je bio njegov stav, otvorenost za nove stvari i entuzijazam koji je, kao ljubav prema tim stvarima, prenosio na druge ljude. Najveći uticaj koji je John Peel imao u ovoj zemlji jeste uticaj na muzičku redakciju B92, odnosno na neku snagu i ubeđenje da jedna radio stanica može da se osnuje sa nekonformističkom muzičkom politikom. Govorim, naravno, o 1989. godini, da ne bude pogrešnih zaključaka."
[Gordan Paunović, novinar, DJ, klupski promoter, svojevremeno jedan od muzičkih urednika radija B92]
"Najvažnije je to što je insistirao na stvarima koje su njemu bitne i bez obzira kako su to drugi procenjivali – da li je to avangarda, stranputica, mejnstrim, njega ta klasifikacija nije zanimala. On je puštao ono što voli – u dva sata muzike smesti i pesmu iz 1934. i nešto ultra novo što će biti velika stvar za mesec dana i nešto što nikoga ne zanima, a njemu se sviđa – i mislim da je to najvažnija stvar. Mislim da je Peelov najveći uticaj to što je ostao veran sebi i što je time davao primer drugima da se svaka upornost i svaki smisao koji dajete onome što radite – isplati. Čovek koji četrdeset godina pušta muziku sa takvom strašću kao on, pokazao je da je to nešto neverovatno, da je, kao takav, ideja vodilja i primer da morate da ostanete verni onome što radite čak i ako to ne donosi pare. On je pokazao da ako u sebi pronađete strast, ne smete da je puštate."
[Ivan Lončarević, novinar, koncertni promoter i autor emisije »Pop depresija« na radiju 949 Studija B]
"Svake godine se pojavi nekoliko bendova koji mogu da se zahvale Johnu Peelu, možda ne direktno za svoju promociju, već što uopšte takva vrsta rokenrola i dalje postoji u Engleskoj. Kada bi ovde trebalo da se izdvoji neki DJ ili prezenter koji je za nas direktno uradio takav posao koji je John Peel uradio u Engleskoj, to ne postoji, praktično. Tamo je John Peel sedeo na izvorištu, kopao je po demo snimcima i prezentovao najinteresantniju muziku. A ovde su disk-džokeji i prezenteri kopali po njegovim emisijama ili po kritikama drugih kritičara i tako iznalazili materijale za svoje emisije, što je totalno legitimno i jedini mogući način da se radi tada. A kada bi trebalo da se traži direktna veza između Johna Peela i nekoga ovde, to bi trebalo da bude neko ko se bavio demo scenom ovde, dakle, promovisao domaće grupe. Znam da to zvuči totalno jeretički porediti Zorana Modlija i Johna Peela, ali praktično, on je najbliži onome što je John Peel radio tamo."
[Miomir Bilbija, prvi muzički urednik radija B92]
"John Peel je za mene bio andergraund lik – čovek sa gustom crnom bradom i brkovima, koji se uopšte nije uklapao u imidž bezazlenog radio animatora, koji se pojavljivao i pred publikom – znači ne samo pred mikrofonom nego i na estradi. On je meni kao slušaocu delovao kao jedan zatvoren tip, ali verovatno je zbog te ekskluzivnosti i svog istraživačkog duha i postao kult. Peel je bio jedan guru i veliki učitelj onih koji se ne zadovoljavaju samo time da budu posrednici između onih koji prave muziku i onih koji tu muziku konzumiraju. On je bio kreativac i zajedno je sa onima koji tu muziku stvaraju sam stvarao muziku. Bitno je da čovek ne posustane u svom mentalnom sklopu i da se ne pretvori u nekog džangrizavog čiču nego da i dalje ostane radoznao. I to je tajna dugih karijera."
[Zoran Modli, pilot i legendarni DJ "Dvestadvojke" s početka osamdesetih, autor kultne emisije "Ventilator" u kojoj je promovisao domaće demo bendove]
"On je stvarno bio jedan vrlo zanimljiv lik. I meni je jako drago da je neko ko se bavi jednom tako efemernom delatnošću kao što je puštanje rok muzike na radiju stekao takvu reputaciju u jednoj zemlji sa takvom tradicijom kao što je Britanija, da je čak i predsednik vlade dao izjavu, i da je na Sky news-u je to bila prva vest, i da je cela zemlja to shvatila kao veliki gubitak. Šta za mene znači ime Johna Peela? To znači da posao puštanja rok muzike preko radija nije uzaludan posao."
[Žikica Simić, psiholog i autor čuvene emisije »Tajanstveni voz« koja se emituje na radiju 949 Studija B]
POP DEPRESSION SPECIAL SHOW IN MEMORIAM JOHN PEEL 1939-2004
Učestvovali: Slobodan Konjović, Zoran Modli, Žikica Simić, Gordan Paunović, Miomir Bilbija, Ivan Lončarević, Slobodan Vujanović i Luka Ivanović. Autorka: Svetlana Đolović
In Memoriam: John Peel (1939-2004) – POP Depression #174 [01.11.2004] by Pop Depression on Mixcloud
J. Mascis & the Fog "Everything Flows Medley" (Peel Session, 10-Jan-01)
The Dirtbombs "Banter Peel-Collins/Chains Of Love" (Peel Session, 02-Nov-01)
Cat Power "Intro/Untitled" (Peel Acres, 23-Aug-01)
ballboy "all the records on the radio are shite" (Peel Session, 27-Feb-02)
Neko Case "Twist The Knife" (Peel Session, 12-Sep-00)
Loudon Wainwright III "Chat/I'm Not Gonna Cry/One Man Guy" (Peel Acres, 27-Sep-01)
Laura Cantrell "Two Seconds" (Peel Acres, 01-Feb-01)
Low "Fearless" (Peel Acres, 30-Jan-03)
Electrelane "Oh Sombra!" (Peel Session, 29-Jan-04)
Melys "Adrift" (Peel Acres, 29-Aug-02)
Will Oldham "Death to Everyone" (Peel Session 07-Aug-02)
Nina Nastasia "This Is What It Is" (Peel Acres, 04-Jul-02)
Solex "Shady Lane" (Peel Session, 17-Oct-02)
Calexico "Alone Again Or" (Peel Session, 30-Apr-03)
Cinerama "Your Charms" (Peel Session, 09-Jan-02)
Mr Airplane Man "Little Red Riding Hood" (Peel Session 21-Apr-04)
Saloon "Have You Seen The Light?" (Peel Session, 07-Aug-02)
Interpol "NYC" (Peel Session, 25-04-01)
PJ Harvey "Shame" (Peel Acres, 20-May-04)
Detroit Cobras "Fall" (Peel Session, 14-Sep-04)

JOHN PEEL DAY – RADIO SPECIAL #174 : 01-11-2004
Korišćen je materijal specijalnog izdanja emisije »pop depresija«, posvećene Johnu Peelu i premijerno emitovane 1. novembra 2004.