Beogradska kantautorka Ana Ćurčin predstavlja svoj novi album "Differences", ovoga puta potpisan kao Ana & The Changes i najavljuje promotivni koncert u Domu omladine Beograda za petak 4. oktobar.
Ulaznice za koncert u prodaji su na blagajni Doma omladine, na svim prodajnim mestima Ticket Vision, kao i online na www.tickets.rs, po promotivnoj ceni od 800 dinara. Na dan koncerta cena ulaznice biće 1000rsd. Koncert u sali "Amerikana" deo je ovogodišnjeg izdanja muzičkog festivala Indirekt, koji će se na više lokacija u gradu održati od 2-4. oktobra.
Album "Differences" može da se presluša na Youtube-u, kao i na svim digitalnim platformama (Deezer, Spotify, Google Play, Apple Music…), ali i da se besplatno ili za "plati koliko želiš" preuzme na Bandcamp-u. "Differences" je drugo studijsko izdanje Ane Ćurčin posle debija "Sketches of Belonging" (2016) i kolektivno je delo benda Ana & The Changes, koji pored Ane čine Goran Antović, Marko Cvetković i Marko Benini. Goran Antović uradio je miks, produkciju i mastering. Gosti na albumu bili su Ivana Vukmirović i Nataša Guberinić. Izdanje albuma na CD-u u limitiranom tiražu premijerno će moći da se kupi na koncertu 4. oktobra.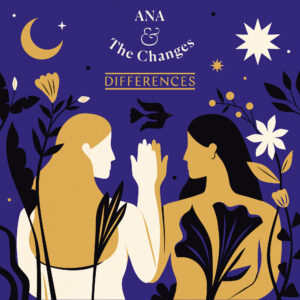 Na "Differences" se nalazi 10 kompozicija, a prva dva singla sa pratećim video spotovima su "Take My Hand" i naslovna pesma. Znalački odsviran i aranžiran, stilski raznovrstan i uzbudljiv, album predstavlja značajan korak napred u Aninom muzičkom sazrevanju i težnji da publici ponudi drugačiju viziju moderne pop-rok muzike prožete džezom, soulom i bluzom.
"Differences ili "Različitosti" je album koji je muzički oblikovao tim od pet osoba:  pored mene tu su bili Goran Antović, Marko Cvetković, Marko Benini i Ivana Vukmirović. Goran Antović je glavni i odgovorni krivac za svaki segment produkcije, snimanje, miksa i masteringa, a svira i sve klavijature na albumu. Bubnjar Marko Benini svojim dolaskom u bend pre 3 godine uneo je novi gruv u pesme i uz Marka Cvetkovića (najmuzikalnijeg basistu) ritam sekcija dobija sasvim novi prostor u aranžmanima u odnosu na prethodni album. Ivana Vukmirović svojim glasom donosi novu širinu i rad sa njom je bilo neverovatno i divno iskustvo. Zahvaljujući Goranovom strpljenju i izazovu koji sam sebi postavila, odsvirala sam sve gitare na albumu i ozvaničila novu etapu u svom muzičkom razvoju i zaronila u zvuk električne gitare. Vokale sam uradila mnogo lakše i brže…
Album "Differences" čine pesme unutar kojih smo dali sebi slobodu da nas žanrovski odvuku na onu stranu koja nam se činila da je tačna za atmosferu i emociju određene pesme. Različite pozadine i ukusi i estetike koje svako donosi nekako su se organsko ispleli i sačinili različitost koja se prožimaju od pesme do pesme," kaže Ana Ćurčin.