Pop Depression Piano Night mix #16 [The End Of Summer 2019]
Pop Depression Piano Night mix #16 /The End of Summer/ / … September 11th 2019.
---
Završavao sam ovaj klavirski mikstejp kada je sa svih strana počela da stiže informacija o smrti Danijela Džonstona. Imao je 58 godina. Par nedelja ranije u 52. godini ubio se Dejvid Berman. Nisam nikada razmišljao o smrti kao o nečemu što može da se desi meni ili meni bliskim ljudima. Sada mislim o tome često, plašim se i ne znam kako da se izborim sa tim. Ne osećam strah od toga što ću prestati da postojim, to je nekako očekivano i normalno. Ono što me užasava je ta nesigurnost da li ću stići da kažem stvari koje moram da kažem, da objasnim ono što je nedorečeno, da popravim ono što nije kako treba i najvažnije, da uradim ono što moram da uradim… Ovaj mikstejp  je jedna besana noć tokom koje se sve složilo kako treba i kada imate osećaj da tačno znate šta treba da uradite.
---
Featured: Erland Cooper, Kelly Moran, Akira Kosemura, Brian Eno, LP Duo, Park Jiha,
Cliff Martinez, Ben Frost, Kai Engel, Olafur Arnalds, Joep Beving, Миша Мищенко, David Holmes, Bruno Bavota, Tim Hecker, Yuki Murata, Luke Howard, Snorri Hallgrímsson, James Murray, Mike Lazarev, Katia, Marielle Labèque, Bryce Dessner, David Chalmin, Dejan Ilijić, Carlos Cipa, Nils Frahm
---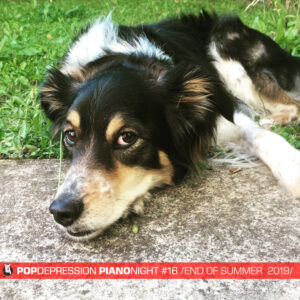 Erland Cooper – Groatie Buckies
Kelly Moran – Halogen (Una Corda)
Akira Kosemura – Romance
Brian Eno – Under The Moon
LP Duo – Analog Love
Park Jiha – Pause
Cliff Martinez – High Priestess of Death
Ben Frost – Du bist ein so guter mensch
Kai Engel – Interception
Olafur Arnalds – RGB
Joep Beving – The One As Two
Миша Мищенко – Eyes
David Holmes – Mosaic
Bruno Bavota – Attesa
Tim Hecker – Step away from Konoyo
Yuki Murata – Bedside Milk
Luke Howard – I Still Dream About You, Sometimes But Not Always (Snorri Hallgrímsson Rework)
James Murray – Living Treasure (feat. Mike Lazarev)
Katia, Marielle Labèque, Bryce Dessner, David Chalmin – Haven
Dejan Ilijić – Dyad 2*
Carlos Cipa – Senna's Joy
Nils Frahm – Sweet Little Lie
mixcloud artwork: zuma by inkal
---
Limited time DL: #1