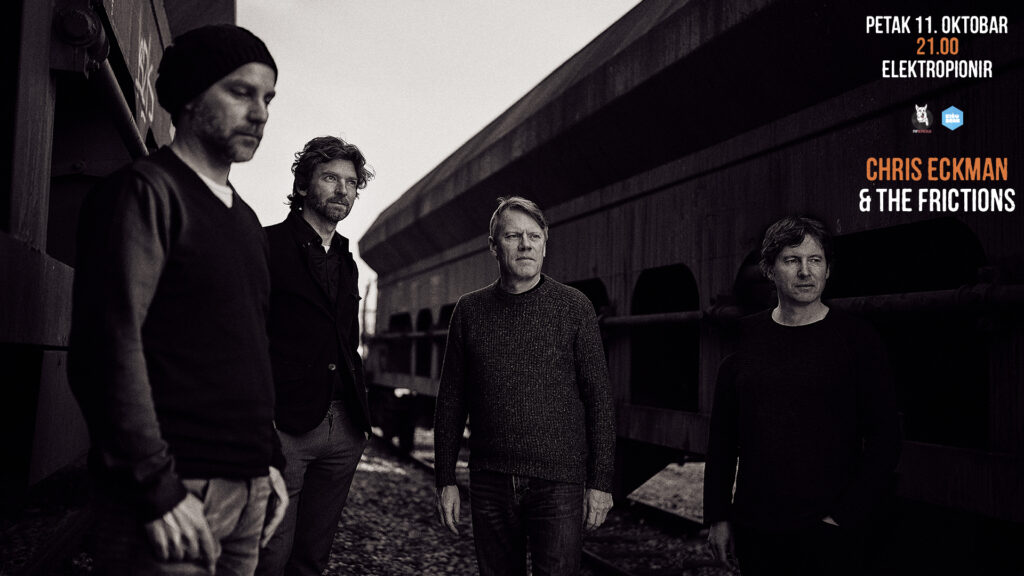 Chris Eckman & The Frictions nastupiće u beogradskom klubu Elektropionir u petak 11. oktobra od 21h. Promovišu fantastičan novi studijski album "Torch" koji je objavljen u aprilu.
Ulaznice mogu da se kupe u pretprodaji u Pabu Brod i na Spratu (iznad Zaokreta) po ceni od 800 dinara. Na dan koncerta cena karte će biti 1000.
Svaka generacija ima svog lidera, onog koji vidi celu sliku i koji zna da prepozna trendove, želje publike i senzibilitet muzičara koji ga okružuju i to sve zapakuje u pesme i albume koji će biti "uputstvo za upotrebu" za generacije koje dolaze. Chris Eckman je taj, onaj koji spaja Neila Younga i Toma Verlaina, Boba Dylana i Stevea Wynna, afrički bluz sa sevdalinkom, slovenački pop sa "amerikanom".
U Beograd se vraća ove jeseni sa svojim slovenačkim bendom The Frictions, koji čine Bernard Kogovšek (gitara), Tomi Popit (bas) iz benda Hic et Nunc kao i Luka Šalehar (bubanj) iz benda Kamerad Krivatoff.
Njihov prvi studijski album "Halogen Sky" objavljen je 2011. godine i u to vreme svirali su rame uz rame sa Mudhoney, Steveom Wynnom, The Bambi Molestors i Vladom Kreslinom. I novi album "Torch" snimljen je uživo baš kao i prvi, a uz stare i očekivane inspiracije to su sada i post-punk teksture (u stilu Wire). Sve je različito, a u isto vreme ništa se nije promenilo…
Kada su nastupili u Gun Clubu 2011. godine, Žikica Simić je za njihov koncert napisao: "Superiorni trip kroz rok mitologiju. Kris Ekman i momci iz benda The Frictions su se predstavili kao Montezumini sinovi – ako prihvatimo Jangovu mitologiju. Bez mane i straha šibaju glavnom rokerskom ulicom."