Andy Pavlov – Me and My Love on the Road to Honduras (The Minutes After Infinity for Piano Solo)
Tišina je moćno oružje koje je u stanju da provocira, prkosi, iskaže nezadovoljstvo, a u kombinaciji sa klavirom mogu potpuno da razumem šta je Vudi Gatri želeo da kaže onim natpisom na gitari (Ova mašina ubija fašiste). Celog života slušam kantautore i iako i dalje volim taj klasični folk-rok arhetip – "pesnik s akustičnom gitarom" – pesnički deo počeo je sve više da mi smeta. Jednostavno izgubio sam strpljenje za banalne stihove, traljave rečenice i odsustvo truda kada su reči koje se izgovaraju u pitanju. Sa savremenom klavirskom muzikom imamo tu slobodu da sami sebi stvaramo priče koje želimo da kažemo – i sebi i drugima.
Andrija Pavlović je roker, pijanista i kompozitor. Možda ga znate kao lidera grupe Ola Horhe (#funfact: jedan od prvih vinila Odličnog hrčka bio je debi album Ola Horhe, 2011) koja je bila aktuelna i bitna pre desetak godina i svirala širom ex-YU. Ili kao jednu polovinu tandema (druga polovina je čudesna Sonja Lončar) LP Duo i LP Elektro? Prvi su svetlo na kraju tunela za sve zaljubljenike u klasičnu muziku, drugi futurizam i estetiku "Brazila" pakuju u sintovanu paralelnu realnost. Za svoj alter ego "Endi Pavlov" (Andy Pavlov) Andrija kaže da je "južnoslovenski muzički apatrid". Ko je zaista Endi Pavlov? Pre svega on je kantautor, piše pesme za klavir koje sam i izvodi, inspiriše se Kejdžom, Monkom, minimalizmom, eksperimentom, rokenrolom… Njegova poezija je strasna, prepuna slika iz života, fantastičnih krajolika, ljudi koji padaju i dižu se, plaču, smeju se, žive svoje snove, bore se i ne odustaju od ljubavi.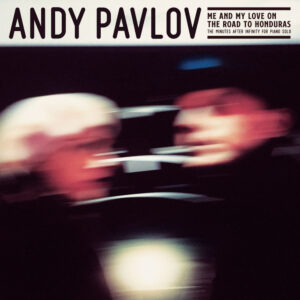 ,,Njegov prvi album ,,Me and My Love on the Road to Honduras – The Minutes After Infinity for Piano Solo" (Universal, 2020) inspirisan je dubinom i misterijom jednog perioda njegovog života gde je sve što je do tada poznavao isparilo, da bi se potom iz guste magle pojavila velika ljubav, dom i novo razumevanje sebe. "
Znači imamo jedan klasičan melodramski arhetip, ovoga puta u 6 činova: The Boys from the East, There's No Reason to Cry, Requiem for My Soul, Taking and Leaving Off, Your Heart is Melting i Me and My Love on the Road to Honduras.
Trodelna "The Boys from the East" uvodi nas u likove, upoznajemo mesto dešavanja i polako počinjemo da shvatamo zašto je drama i zašto se sve raspada. Početak je Kunderovski, istočnoevropski, prepun nekontrolisane strasti i preuveličanih reakcija. "There's No Reason to Cry" u dva dela je samospoznaja, prihvatanje neuspeha i pokušaj da se isti racionalizuje. "Requiem for My Soul" u šest crtica opisuje patnju, bol i samoću i priprema nas za novi početak, "Taking and Leaving Off" je beg od nametnute realnosti, stidljivo maštanje o normalnom funkcionisanju i vraćanje empatije u život. "Your Heart Is Melting" je povratak leptirića u stomak, ježenje i novootkriveni smisao života, a završna "Me and My Love…" srećan kraj ove melodrame i početak jednog sasvim novog žanra.
Lični favoriti su "The Boys from The East (Pt. 2)" kao vesnik katastrofe, "There Is No reason to Cry (Pt. 2)" koja svojom lirikom i optimizmom inspiriše i zavodi, krhka i potpuno ogoljena "Requiem for My Soul (Pt. 4)", ljubavna entropija zabeležena u "Taking and Leaving Off (Pt. 4) i "Your Heart is Melting" koja je klavirski pandan Harisonovoj "Something" i centralno mesto kompilacije "Klavirsko nebo #2".
Album "Me and My Love on the Road to Honduras – The Minutes After Infinity for Piano Solo" autorov je "Dekameron" u nešto više od deset dana ili njegov odgovor na ep Kšištofa Kješlovskog i Zbignjeva Prajsnera "Tri boje: Plavo, Belo, Crveno". Po senzibilitetu možda je najbliži novijim radovima (uglavnom primenjenoj muzici) Maksa Rihtera i to pre svega saundtreku serije "Leftovers". Uz neočekivane lejere i omaže Prajsneru, Listu, Satiju… i pod jakim uticajem slovenskog muzičkog nasleđa. Na maestralan način Endi Pavlov uz pomoć snimatelja i koproducenta Miše Savića stvara jedan autohtoni svet u kojem je ljubav i smisao i pogonsko gorivo, a muzika bitna isto koliko i disanje.