Nina Romić i Rebel Star predstavljaju pesmu "Dobrodošla u mrak"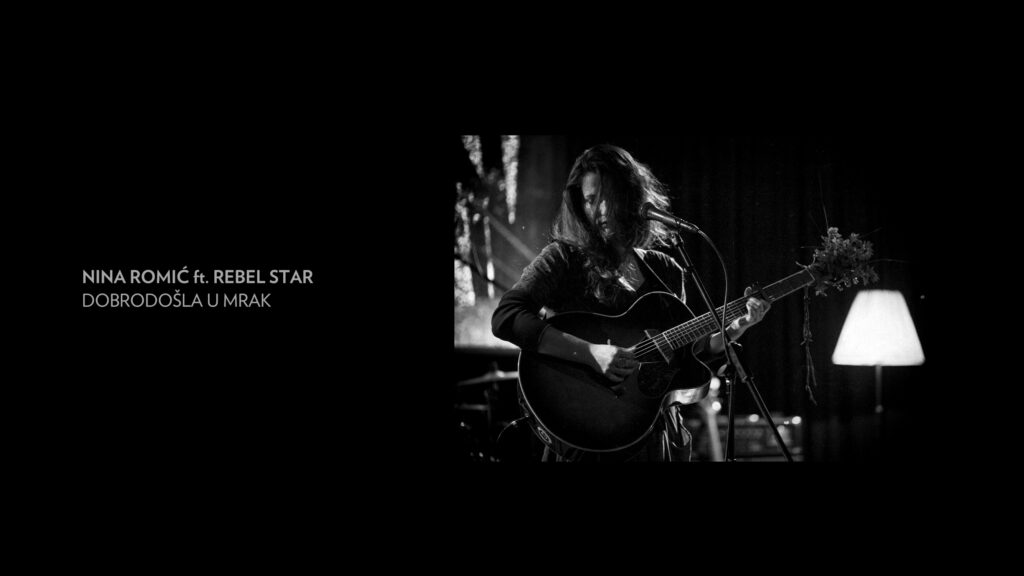 Dve možda i najbitnije osobe regionalne kantautorske scene poslednje decenije, Nina Romić i Milan Glavaški, udružile su svoje talente i osećanja da vam predstave singl "Dobrodošla u mrak". Pesma je Ninin demo na koji je Milan dodao Rebel Star atmosferu i aranžman, a kompletna saradnja realizovana je tokom izolacije.
Harizmatična Nina Romić već neko vreme radi na novim pesmama koje će se pojaviti na petom studijskom albumu, dvije godine nakon zadnjeg albuma "Sloboda" (Aquairus, 2018), a evo kako objašnjava nastanak pesme: "Dobrodošla u mrak" nastala je u jedno poslijepodne u samoći moje sobe. Naravno, izolacija je učinila da poteče tako brzo. Tema je nešto što me, vjerujem kao i ostale, jako intrigira u posljednje vrijeme, uranjanje u različite slojeve sebe. Ova cijela situacija je učinila da svi malo stanemo na loptu i natjerala nas da naučimo disati u svom tijelu. I tu se otvaraju mnogi prostori, većinom neočekivani. Neko sam vrijeme bila zaokupljena radom na novom albumu i pjesmama, par mjeseci prije svega ovoga s bendom sam radila na aranžmanima, a ova situacija je stavila pauzu na sve naše aktivnosti na probama. Sve što sam imala su bile snimke s probi s mobitela, pa sam odlučila i složiti mini sobni studio da mogu na taj način zabilježiti svaku ideju koja mi dođe, i one pjesme na kojima smo radili snimiti malo bolje. I slati mojim prijateljima u bendu."
Što se inspiracije tiče Nina kaže sledeće: "Ova pjesma je potaknuta rečenicom knjige koju sam čitala, i duboko rezonira s onime što i ja osjećam, a odnosi se na prihvaćanje svih svojih strana, i mraka i svjetlosti koje nosimo cijelo vrijeme u sebi, sve u cilju iskrenog i istinskog življenja života. Jako sam sretna što je Milan pokrenuo ovu suradnju, jer je jedan od najdražih mi i najposebnijih kantautora iz regije. Njegov bend Rebel Star me sa svakim novim albumom podsjeća koliko je lako biti iskren u onome što voliš, i da je moguće poslati tako prelijepe poruke ljudima kroz glazbu koju stvaraš. To me je uvjerio i ovaj album "Demoni" koji je izašao prije nekoliko nedelja, i mogu samo reći da sam počašćena i duboko zahvalna što je došlo do ove suradnje."
Neumorni Milan Glavaški je 15. aprila objavio peti Rebel Star album, "Demone" (Pop Depresija), posle pet godina diskografske pauze. Kuriozitet je da je kompletan album potpuno sam napravio u svom kućnom studiju u Sent Andreji. Što se saradnje sa Ninom tiče, za njega nije bilo dileme: "Nina i ja se znamo dugo i više puta smo razmenili komentare kako muzikom jedno drugo inspirišemo. Bilo je planova da zajedno nešto otpevamo na koncertima, ali se nisu ostvarili. Nina me je pozvala da učestvujem na online koncertu u sklopu "Začarane Močvare" i u to vreme sam čuo demo snimak "Dobrodošla u mrak" i tražio da mi pošalje snimak glasa bez ikakvih promena jer je demo sjajno otpevala. I tako, samo na glas sam naknadno dodao Rebel Star. Odlučio sam da zvuk bude veran rok himnama iz kasnih šezdesetih, više ljudi je komentarisalo da podseća na Jefferson Airplane. Pored toga sam pesmu podelio na tri celine da je razbijem i razvijem. Bilo mi je super da radim na tuđem materijalu kao producent i nadam se da ćemo Nina i ja ovo da izvedemo uživo. Glasno!"
Pesma "Dobrodošla u mrak" dostupna je za preslušavanje na Youtube kanalu Pop Depresije i preuzimanje za "plati koliko želiš" na bandcampu, a od 22.5. i na svim ostalim digitalnim platformama.