Eskapizam i druge životne radosti: Sergio Lounge predstavlja "The Loungest"
Sergio Lounge predstavlja novi studijski album "The Loungest", koji objavljuje u saradnji sa Pop Depresijom i Kišobranom. Album je dostupan za slušanje na svim digitalnim platformama, kao i na YouTube kanalu benda, a može i da se preuzme besplatno ili za "plati koliko želiš" na bandcamp stranici grupe i izdavača.
Za neke stvari mora da se sačeka pravi trenutak da budu spremne. Srđan Popov je svoj muzički alter ego Sergio Lounge (Serđo Laundž) lansirao u svet pre više godina i izazvao veliku pažnju i medija i publike. Usput je pobedio na prestižnim demo festivalima u regionu (Demofest, Bunt), svirao na najvećim binama, pravio genijalne lo-fi spotove i šokirao publiku izborom pesama koje je svirao sa svojim fantastičnim bendom. Ali, Srđan je pored života kao Sergio Lounge u isto vreme i jedan od najcenjenijih producenata i snimatelja u Srbiji, a njegov rad na tuđim albumima je neuhvatljiv kao i muzika koju stvara: šta tačno osim njega samog povezuje Fish In Oil, Idu Prester, Autopark, Coucou Abel, About Lorna, Bitipatibi, Weird Fishes, Bas i Stega…
I sada, leta 2020. godine, kada izgleda da je svet otišao tamo odakle ne zna gde se vrati, Sergio Lounge predstavlja "The Loungest"!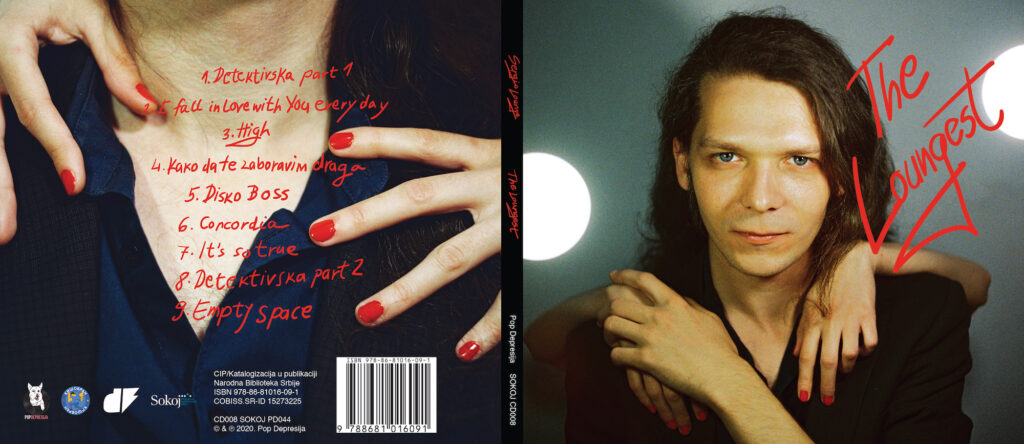 "The Loungest je album posvećen muzici koja je uticala na mene, samim tim je to album prepun omaža, asocijacija i suptilnih namigivanja. Svaka pesma i svaki element pesme ima svoju priču i svoj razlog za postojanje u tom aranžmanu. Ti razlozi su najčešće vezani za nekog autora ili neku pesmu XX veka. To vrlo jasno ilustruje način na koji stvaram i doživljavam muziku i način na koji svoje pesme održavam jedinstvenim i uzbudljivim. Smatram da je glavni način na koji muzika vrši svoju funkciju preko asocijacija – određena melodija, ritam, zvuk, harmonija, ili žanr, produkcija, način izvedbe, sve te stvari utiču na naš doživljaj muzike i na to da li će ona "raditi" ili ne. Ove asocijacije su svakako lična stvar, svaki slušalac će imati svoj doživljaj kad sluša neku određenu muziku, ali postoje i one asocijacije koje su nam kulturološki već ucrtane u sistem slušanja, konstantim korišćenjem i ponavljanjem tih obrazaca, vezivanjem za određene slike i emocije," kaže o albumu Srđan Popov.
Što se suptilnih namigivanja tiče ona se kreću u rasponu od Yellow Magic Orchestra do M83 ili ako hoćete još čudnije puteve, od Đuze Stojiljkovića do Sebastijana Telijea (Sebastien Tellier). Ili, još bolje, izaberite sami put koji ćete da pratite i spremite se da sretnete razne likove koje volite i na koje ste možda zaboravili.
"To je način na koji komponujem i na koji zabavljam sam sebe u tom procesu stvaranja – trudim se da stvorim određenu asocijaciju, i onda, u zavisnosti od momenta, gledam da li ću ispuniti očekivanja slušaoca kad je ta asocijacija u pitanju, ili ću uraditi nešto suprotno, iznenađujuće. Samim tim, sve je u konstatnoj igri i ovaj album će nagraditi svakog slušaoca koji iole poznaje muzike XX veka – kako one svetski popularne, tako i one opskurnije. Koje su to asocijacije i uticaji koje sam koristio ostavljam slušaocu da otkrije, jer smatram da je otkrivanje tih stvari bitan deo zabave. Ponekad se ta asocijacija otkriva već u samom nazivu pesme, dok ću češće sakriti neki detalj unutar aranžmana."
Prvi singl s albuma "The Loungest" je magična "Concordia", koja snenim šaputanjima Srđana i Lune kao da priziva duh Mitra Subotića Sube iz vremena antologijske saradnje sa Bebel Gilberto.
Uz Srđana Popova muzički svet Serđa Laundža stvaraju Pavle Popov, Luna Škopelja, Kosta Jovanović, Feđa Franklin, David Armuš, Todor Živković, Ivan Dedić i Aca Pejčić, a kao koautori pesama pojavljuju se Pavle Popov (muzika za "High" i "Detektivska part 2"), Milenko Vujošević (Ensh) – tekst za "I Fall In Love With You Every Day" i "Empty Space", kao i Čedomir Stanojević (About Lorna) – tekst za "It's So True".
"The Loungest" je sniman u studiju "HillRiver" u Zemunu, a uz producenta Srđana Popova, miks i master uradili su Goran Simonovski i Dušan Filimonović. Dizajna omota i za digitalno izdanje i za CD delo je Emilije Radojičić.
---
 Sergio Lounge – The Loungest (2020, Pop Depresija/Kišobran)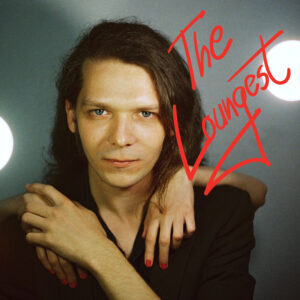 1. Detektivska part 1 (Srđan Popov)
2. I Fall In Love With You Every Day (Srđan Popov, Milenko Vujošević)
3. High (Srđan Popov, Pavle Popov)
4. Kako da te zaboravim draga (Srđan Popov)
5. Disko Boss (Srđan Popov)
6. Concordia (Srđan Popov)
7. Its So True (Srđan Popov, Čedomir Stanojević)
8. Detektivska part 2 (Srđan Popov, Pavle Popov)
9. Empty Space (Srđan Popov, Milenko Vujošević)
Učestvovali:
Srđan Popov – vokali, sintisajzeri, gitara, bas gitara, flauta (1-10)
Pavle Popov – gitara (1, 3, 5, 7, 8, 9)
Feđa Franklin – bubnjevi (4, 6, 7), perkusije (1, 4, 6)
Kosta Jovanović – bas gitara (8, 9)
David Armuš – bubnjevi (8, 9)
Todor Živković – gitara (3, 5, 8), bas gitara (3)
Luna Škopelja – vokali (6, 7)
Ivan Dedić – vokali (7)
Aca Pejčić – rhodes (4, 6)
Snimano u: HillRiver Studios
Miks: Dušan Filimonović (2, 4, 5, 6, 7, 8, 9), Goran Simonovski – La Plant (1, 3), Srđan Popov (7)
Master: Dušan Filimonović, Goran Simonovski
Fotografija i dizajn omota: Emilija Radojičić
(c) & (p) 2020. Sergio Lounge/Pop Depresija/Kišobran
---