"Prirodna selekcija" na gramofonskoj ploči za kraj Klavirskog neba


Pop Depresija i Kišobran u saradnji sa LP Duom imaju čast da predstave kompilaciju "Klavirsko nebo: Prirodna selekcija" na gramofonskoj ploči i kao digitalno izdanje. Na albumu se nalaze kompozicije LP Dua, Ane Ćurčin i Milene Jančurić, Pavla Popova, Koste Jevtića, Andreja Negića, Dejana Ilijića, Endija Pavlova, Milice Predolac, Milice Tegeltije i Petra Pupića. Objavljivanje ploče pomogao je Sokoj – Organizacija muzičkih autora Srbije iz Fonda za materijalna davanja. Album je dostupan na svim digitalnim platformama i bandcampu izdavača, a ploča koja je objavljena u dve boje, crna i žuta (limitirano izdanje), može da se kupi u odabranim prodavnicama u Beogradu (Anti Shop, Beopolis), Zaokretu i preko PDV šopa u Zagrebu.
Tokom četiri godine konkursa Klavirsko nebo napravljena je prava mala regionalna komuna ljubitelja klavira, klasične muzike/indie-klasike i eksperimenata. Rezultat svega su četiri kompilacije, 60 kompozicija, nešto manje od 4 sata nove muzike i 50 različitih autora iz Srbije, Crne Gore, Makedonije, Hrvatske i Bosne i Hercegovine. I crtu povlačimo jednim specijalnim izdanjem, gramofonskom pločom i digitalnom kompilacijom Klavirsko nebo: Prirodna selekcija. "Prirodna selekcija" zato što su pesme za ovo izdanje birane tokom leta 2021. na Rajcu u polju maslačaka, a izbor je u nekom drugom okruženju svakako mogao da bude drugačiji. Izabranih 10 kompozicija na albumu su jedan subjektivni izbor pesama koje su stigle na konkurs od 2018. do 2021. godine, plus nekoliko ekskluzivnih snimaka: LP Duo je inspiracija i partner u ovoj avanturi od samog početka, a za "Prirodnu selekciju" priložili su svoju novu kompoziciju "Mayday! Mayday! Mayday!", snimljenu na koncertu u Novom Sadu. Andy Pavlov je reaktivirao jednu staru Ola Horhe kompoziciju ("New Mexico") i za ovu priliku obukao je u novo (klavirsko) odelo, dok je Pavle Popov – učesnik kompilacije Klavirsko nebo #1 – priložio potpuno novu kompoziciju "Amore". Milica Tegeltija i Luka Ignjatović javnosti su se predstavili upravo na KN#1, a za ovu ploču izabrali su da ih reprezentuje raskošni "Vodopad". Od kompozicija sa konkursa tu su: Andrej Negić – Train of Thought (KN#3), Kosta Jevtić – Chiostro del Paradiso (KN#2), Dejan Ilijić – Space in the heart = heart in the Space (KN#2), Milica Predolac & Ana Vasić – Voz (KN#3), Petar Pupić – Blizu (KN#3) i Ana Ćurćin i Milena Jančurić – Košuta (KN#3). Mastering za vinil i digital uradio je Goran Antović, dizajner omota je Bratislav Milenković, a izbor kompozicija napravio je Ivan Lončarević.
Objavljivanjem "Prirodne selekcije" završava se prvi ciklus konkursa Klavirsko nebo i prelazi u drugu fazu, gde je praktično poziv otvoren tokom cele godine. Pozivamo sve autore da nastave da šalju svoju muziku, pod istim uslovima kao i ranijih godina, a čim se stvori kritična masa zanimljive muzike – nova kompilacija će predstaviti šta se događa u svetu indie-klasike u našem okruženju.
Pavle Popov, Foto: Božidar V. Nedeljković
Milica Tegeltija i Luka Ignjatović, Foto: Božidar V. Nedeljković
Milica Predolac i Ana Vasić, Foto: Božidar V. Nedeljković
---
Razni izvođači: Klavirsko nebo – Prirodna selekcija (2021/22)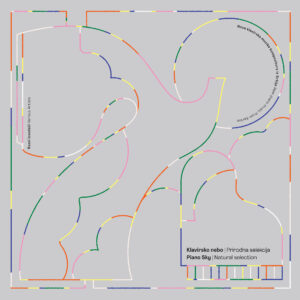 1. Andrej Negić – Train of Thought 03:17
2. Kosta Jevtić – Chiostro del Paradiso 04:45
3. Andy Pavlov – New Mexico (piano version) 04:00
4. Dejan Ilijić – Space in the heart = heart in the Space 02:52
5. Milica Predolac & Ana Vasić – Voz 04:15
6. LP Duo – Mayday! Mayday! Mayday! (live) 04:06
7. Petar Pupić – Blizu 04:59
8. Ana Ćurčin – Košuta (ft. Milena Jančurić) 02:37
9. Pavle Popov – Amore 03:26
10. Milica Tegeltija & Luka Ignjatović – Vodopad 04:36