In Memoriam: Thomas Hansen/St. Thomas 13.02.1976. – 10.09.2007.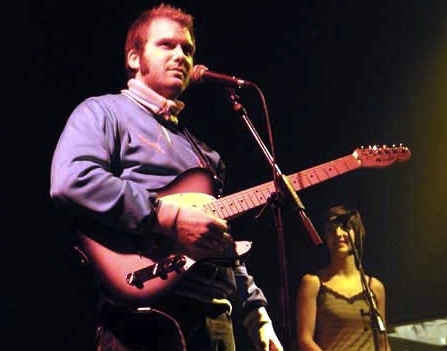 Upoznao sam Tomasa Hansena (Thomas Hansen) 29. oktobra 2003. godine. Zajedno smo proveli par sati pre koncerta u malom klubu Doma omladine, i sutradan sam celu ekipu (St Thomas & The Magic Club) ispratio do izlaza iz grada. Trebalo je to da bude jedan "mali" koncert, bez nekih posebnih problema i organizacionih dilema, a ispalo je sve drugačije… Ne žalim se, takav koncert događa se jednom u životu.
Sa Tomasom su u Beograd došli bubnjar Karim, devojka Ilse i tata Hansen. Tata je bio roudi, menadžer, snimao je video za DVD koji je objavio po završetku turneje (Live In EUROPE 2003) i tonac. Prvi i jedini put (u mojoj sada već srednje dugoj promoterskoj karijeri) koncert je pomogao neko sa strane – Ambasada Kraljevine Norveške dala je novac za 2/3 honorara i značajno pomogla da iz ove avanture izađem bez posledica. Dragan je mislio da Norvežanima ovo može da bude zanimljivo i bio je u pravu. Zlatko je za tatu Hansena pripremio šljivovicu, koju je par nedelja kasnije sa bendom popio u Oslu za proslavu uspešnog povratka kući.
Koncert je bio neopisiv. Veseo i tužan u isto vreme, prepun energije i strasti, kao oko logorske vatre na najboljem letovanju u životu. Prodato je bilo 140 karata. I norveški ambasador je bio na koncertu i igrao sve vreme, vidno "raspoložen". Posle je došao da mi se zahvali na "provodu njegovog života". Koncert je obezbeđivalo i 5-6 policajaca, uz standardno obezbeđenje DOB-a, pošto se neki navijač Zvezde našalio na forumu navijača Rosenborga (srpski i norveški klub igrali su par dana ranije u 2. kolu Kupa UEFA) i poručio da se Tomas "spremi", pošto ga u Beogradu svašta očekuje… Posle je sve bilo blam zbog situacije koja se stvorila i pravljenja "slona od komarca".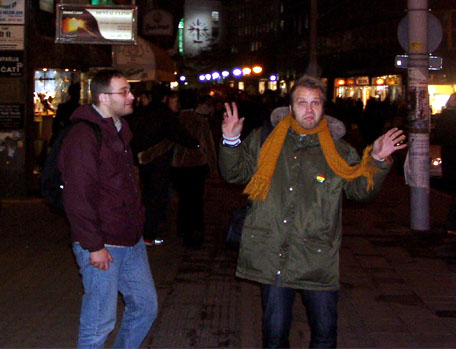 Šetao sam sa Tomasom po centru grada – želeo je malo da snima za DVD i da vidi kako izgleda prestonica. Strašno mu se dopalo to što je video. Engleski koji je pričao bio je još čudniji od mog, ali divno smo se sporazumeli. Pričao mi je o Lambchop i boravku u Nešvilu, inspiraciji za pesme sa albuma "Hey Harmony", fudbalskoj karijeri, Oslu, devojkama…
Dopisivali smo se još skoro godinu dana posle koncerta. Lenjost i životne okolnosti učinile su da posle tog perioda kontakt bude redak, uz obavezna čestitanja praznika i pitanja za zdravlje jednom godišnje. Prošle godine pitao sam ga da li planira da dolazi u ovaj deo "trećeg" sveta. Rekao je da mu zdravlje nije baš najbolje i da ne veruje da će ići na tako dalek put, ali da bi strašno voleo da se to opet dogodi.
Poslednji kontakt imao sam pre nekoliko dana. Tata Hansen poslao je cirkularni mejl u kojem obaveštava prijatelje i poznanike da je Tomas umro 10. septembra, u snu, u 31. godini života…. Beskrajna tuga i očaj. Tako se osećam.
*
Kada su u Beogradu u julu 2004. godine gostovali Lambchop, pitao sam Kurta Wagnera šta misli o St Thomasu:
IL: Prošle godine je u Beogradu svirao St. Thomas – on je išao na turneju sa vama pre nekoliko godina. Šta mislite o njemu?
Kurt Wagner: Thomas je izvanredan tekstopisac. Takođe je odličan pevač. Pri tom je i lud tip. Zaista ga volim, ali bojim se da je on van kontrole u nekim drugim oblastima, ali to nije moja briga. Ja samo želim da ga vidim srećnog, do toga mi je najiskrenije stalo.
**
Kada smo pravili kampanju za koncert St Thomasa u Beogradu, Kepa i ja smo smislili da je super fora da u reklami ide deo, koji je glasio otprilike ovako: "…Norveški odgovor na Rajana Adamsa i bivši profi fudbaler…" Zlatku se nije dopalo.
***
Kroz celu Evropu St Thomas & The Magic Club putovali su kombijem, za koji su zaboravili da ponesu saobraćajnu dozvolu. Zbog toga smo stajali na granici 3 sata, dok neki faks na osnovu kojeg su nas pustili u Srbiju nije stigao. Policajac na granici nas je prijateljski savetovao da izbegavamo saobraćajnu policiju, pošto dozvola nije baš skroz bila ispravna…
****
Tomas mi je poslao super spot koji je snimio za pesmu "A Long Long Time". Sa njim je na "MTV Up North" listu singlova stigao na drugo mesto. Đole je od toga napravio najbolju TV reklamu koju sam ikada imao za neki koncert koji sam organizovao.

*****
Tokom leta 2006. godine tri nedelje boravio sam u Japanu. Sećam se da sam Tomasov šesti (i poslednji) studijski album "There's Only One of Me" slušao dok sam poslednjeg dana boravka u Tokiju išao da vidim šta se događa u Harađuku i da prošetam Jojogi parkom. Za tih 4 sata slušao sam album 3 puta zaredom. Sećam se da sam posle toga bio beskrajno tužan…