Sestre Hilton: Imaju li sijamske bliznakinje pravo na ljubav?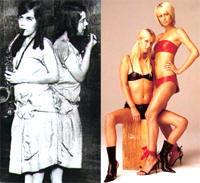 Da li kada vam neko pomene reč "Hilton" uopšte pomislite na lanac hotela ili vam je prva asocijacija lik i delo multimedijalne umetnice Paris? Da li možete da zamislite situaciju u kojoj je prezime Hilton bilo poznato pre skoro osamdeset godina, mnogo pre hotela, rialiti emisija, seksi spotova i kućnih filmova?
Sestre Vajolet i Dejzi Hilton (Violet and Daisy Hilton) bile su na vrhuncu slave tokom 20-ih i 30-ih godina prošlog veka. Krstarile su s jednog na drugi kraj SAD, bile glavne zvezde putujućih cirkusa i vodvilja, a često su scenu delile sa najvećim atrakcijama tog vremena – Bobom Houpom (Bob Hope) i velikim iluzionistom Harijem Hudinijem (Harry Houdini). Sestre su svirale klarinet i saksofon, igrale i pevale. Sve ovo ne bi bilo nešto posebno značajno da Dejzi i Vajolet nisu bile sijamske bliznakinje, od rođenja spojene u kukovima. Delile su isti krvotok, ali svi vitalni organi funkcionisali su odvojeno. O njihovom postojanju i tužnoj sudbini saznao sam iz pesme Marise Nadler (Marissa Nadler) "Daisy & Violet". Pesmu i sami možete da čujete na www.myspace.com/songsoftheend.
Bliznakinje Hilton rođene su 5. februara 1908. godine u Brajtonu u Engleskoj. Sa samo dve nedelje života usvojila ih je gazdarica zgrade u kojoj se majka porodila (gazdarica je bila i babica). Usvajanje nije bio čin milosrđa – praktično samo par meseci kasnije g-đa Vilijams počela je sa turnejom po Evropi i SAD koja je značajno promenila njeno imovinsko stanje. Za vreme II svetskog rata sestre su objavile autobiografiju u kojoj su prvi put priznale da su ih nova majka i njeni muževi fizički zlostavljali. "Majka" ih je testamentom ostavila svojoj kćerki i njenom mužu, koji je (za ljubitelje trivije značajan podatak) prodavao balone cirkusima. Novoformirana porodica Mejers (Mayers) preselila se u San Antonio u Teksasu u lukzusnu kuću kupljenu novcem koji su bliznakinje zaradile na turnejama. Od tada kreće pravi šoubiznis život. Legenda kaže da je Hudini naučio sestre kako da se mentalno izoluju jedna od druge.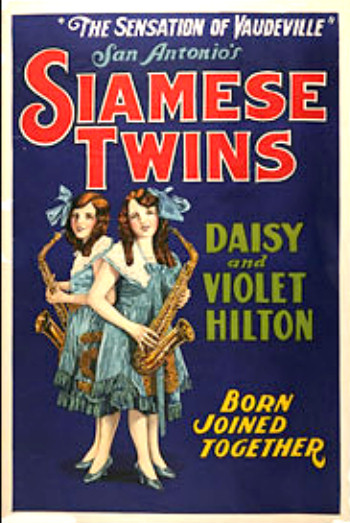 Sa šoubiznisom počinju i skandali. U pokušaju bekstva od Mejersovih, koji su takođe voleli da neumereno koriste silu, sestre su se sprijateljile sa muzičkim menadžerom, izvesnim Vilijemom Oliverom (William 'Bill' Oliver). Njegova žena nije baš blagonaklono gledala na to druženje i posle optužbi da suviše vremena provodi sa sestrama, podnela je zahtev za razvod. Za pretrpljeni duševni bol od bliznakinja je tražila 250 hiljada dolara. Bilo je vreme da se potraži pomoć advokata, što je, kasnije se ispostavilo, bila ključna stvar za dalji život sestara. Advokat je prvo rutinski odbio zahtev za odštetom, a pošto su u tom trenutku Dejzi i Vajolet imale 21 godinu, ubrzo je pokrenuo i parnicu za raskid ugovora o  starateljstvu koje su imale sa Mejersovima. Na kraju, starateljima je ostala kuća, a sestre su najzad bile slobodne da sa kapitalom od skoro sto hiljada dolara počnu novi život kao američke državljanke.
1932. godine sestre Hilton su debitovale kao glumice u filmu "Freaks" Toda Brauninga (Tod Browning). Kroz film je, između ostalog, postavljeno za to vreme (ruku na srce – i za ovo sada) šokantno pitanje – imaju li sijamske bliznakinje pravo na ljubavni život? Sledećih nekoliko decenija i Dejzi i Vajolet činile su sve da dokažu da je odgovor – DA. Vajolet je prvih godina bilo mnogo aktivnija, a kroz novine često su se provlačile vesti o njenim selebriti (celebrity) ljubavnicima – među kojima su bili muzičari, bokseri i profesionalni plejboji. 1933. godine verila se sa vođom pratećeg benda. Onda su počele prave muke i "bacanje kamenja na sistem". Njih dvoje su u 21 američkoj državi podneli zahtev za izdavanje dozvole za brak i svuda su bili odbijeni. Dve godine kasnije, jedan od menadžera našao je službenika voljnog da izda neophodni dokument. U međuvremenu ponestalo je raspoloženih mladoženja i u toj ulozi našao se jedan od igrača iz prateće grupe. Pet godina kasnije istim putem krenula je i Dejzi. Njen izabranik bio je takođe plesač u vodviljima, ali taj brak trajao je samo dve nedelje.
U međuvremenu, trendovi i moda neumitno su se menjali. Krajem četrdesetih godina prošlog veka, vodvilji više nikome nisu bili zanimljivi, a sestre Hilton su svoju sreću, kao i milioni drugih, potražile u Holivudu. 1951. pojavile su se u filmu "Chained for Life" reditelja Herija Frejzera (Harry L. Fraser) u ulogama Doroti i Vivijen Hamilton (Dorothy and Vivian Hamilton), koje su (gle čuda!) pevačice u vodviljima. Na ne baš preterano diskretan, a bizaran način, život i fikcija su se pretopili u pokretne slike, kojima, na kraju, niko nije bio zadovoljan.
Posle propasti filmske karijere, sestre su kratko imale svoju hamburgerdžinicu, "The Hilton Sisters' Snack Bar", u Majamiju. U međuvremenu, zahvaljujući brojnim fanovima, iz bunkera kinoteka se na svetlost dana vratio film "Freaks". Ipak, ni to nije popravilo imovinsko stanje Dejzi i Vajolet, i verovatno bi ubrzo umrle od gladi da se na njihov izgled nije sažalio izvesni Čarls Rid (Charles Reed), lokalni bakalin u Šarlotu, koji im je dao posao pomoćnih radnica u svom lokalu. Zanimljivo je da su prvog dana na novi posao došle u scenskoj odeći, pošto u svojoj graderobi nisu imale ništa drugo. 6. januara 1969. godine, sestre se nisu pojavile na poslu. Nedeljama pre toga mučile su se sa hongkoškim gripom, koji je vladao istočnom obalom SAD. Policija je sestre pronašla mrtve u njihovom stanu…
Da godine provedene u SFRJ, zemlji realnog komunizma i Nesvrstanih, nisu uludo bačene u mom slučaju, primer je ovaj citat Karla Marksa koji mi je (iz za sada nepoznatih razloga) ostao u pamćenju: "(Istorija se ponavlja). Prvi put se manifestuje kao tragedija, drugi put kao farsa."  Sestre Dejzi i Valojet Hilton danas su poznate kao glavni likovi brodvejskog mjuzikla "Side Show" (4 Tony nominacije 1997. godine), a posle toliko godina čini se da je priča o njihovom životu i karijeri prerasla okvire odrednice "freak show." Nekada je postojanje sijamskih blizanaca koji ne žele da se sakrivaju i koji za sebe traže isto što i drugi – ljubav i slobodu, bilo društveno neprihvatljivo. Danas čudovišta uglavnom nalikuju 'normalnim' ljudima i izazivaju gađenje čak i kada imaju savršena tela. Ko zna kakva će "čudovišta" plašiti ljude za pedeset godina?