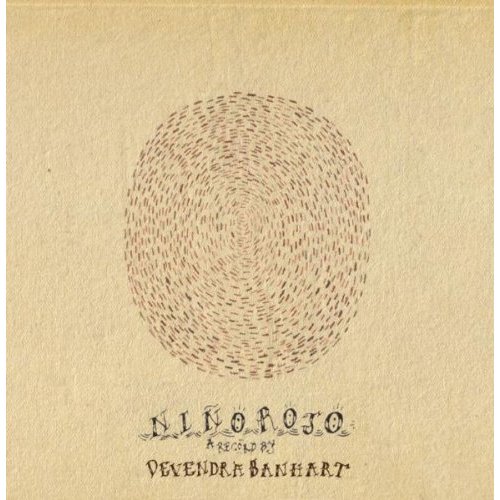 Koliko vremena je potrebno muzičkim kritičarima da "stvore" novi muzički žanr? Da li sačekaju kraj pesme ili je odluka već doneta posle prvih 90 sekundi? Šta je "psych(o) folk? Koliko gluposti može da stane u par redova…
Da li se značaj jednog (muzičkog) umetnika meri po tome koliko je prodao nosača zvuka? Da li je za posebnost potrebno da se izgleda "drugačije"? Da li će se ovaj besmisleni niz pitanja ikada završiti?
Devendra Banhart izgleda kao da je teleportom prebačen u sadašnjost iz 1969. godine. Visok je skoro dva metra, "apostolke" na nogama, kosa mu prekriva veći deo lica, a onaj mali deo teoretski vidljiv prekriven je gustom bradom… Na festivalu "La Route Du Rock" prošlog leta u francuskom letovalištu San Malo, stajao sam sa njim nekih pola sata dok sam čekao red za intervju sa CocoRosie. Nisam ni znao da je to on. Doneo je pivo za obojicu i ćaskali smo o ženama koje su prolazile ispred nas i "nameštale" se za početak nastupa benda "Now It's Overhead".
Painting by Simon Henwood
Prvi put sam ga video nekih 3 sata ranije kada se pridružio na bini sestrama Casady u toku njihovog nastupa i odbajao minut, dva neku mantru. Bianca ga je predstavila sa »naš prijatelj Džeki«. Sutradan sam u novinama pročitao da je »Džeki« Devendra i da su on i Bianca u emotivnoj vezi. Šokantno…
Šta je Devendra postigao u 366 dana 2004. godine? Objavio je dva albuma – »Rejoicing In The Hands« i »Nino Rojo« (oba snimljena za vreme istog sešna u Atlanti, koji je »porodio« čak 57 pesama), izabrao pesme i izvođače za kompilaciju »Golden Apples Of The Sun« koja će za koju godinu postati opšte mesto kada se priča o muzici novog milenijuma (kao što je to krajem osamdesetih bila kompilacija SubPop 200), svirao više od 100 koncerata po Evropi i SAD i gostovao na više od 50 radio stanica.
»Rejoicing In The Hands« moćan je album, kompleksan, pomalo težak i brutalno surov. »Nino Rojo« je intiman, nežan i prepun strasti prema prirodi, životu, ženama… »Uticaji« koje Devendra provlači kroz svoju muziku brojni su i ponekad skroz iznenađujući. Svako će na prvu loptu "prepoznati" Dylana, Younga, Drakea, Cohena, možda i Donovana, oni pažljiviji i Laudona III; čim je neko ludilo u pitanju tu je sigurno i Syd Barett… Oni "načitani" i "u trendu" primetiće i Bolana, za sve ostale konkurs je i dalje otvoren. Ima li svrhe govoriti o uticajima na čoveka koji ima samo 24 godine, a muzikom se ozbiljnije bavi tek nekih 3-4 godine?
Photo by Steve Gullick
Apsolutno je zadivljujuće da je krajnji produkt anarhije žanrova i autora koji prolaze kroz Devendrinu muziku, ovako koherentan i zreo. "At The Hop" i "Little Yellow Spider" klasične su pop pesma dostojne Genea Clarka iz perioda sa The Byrds, balada "We All Know" čista je metafizika ("pojačana" dvosmislenim stihovima), baš kao i kaver dečije pesme "Wake Up, Little Sparrow" Elle Jenkins.
Ljubavni(čki) vapaj "A Ribbon" (I'd Like To Sleep With You, If You'd Like Me Too) dodatno pojačava sviračka virtuoznost, a uz logorsku vatru savršeno se uklapa sing-along "Be Kind". Tom ambijentu pripada i džezirana "Electric Heart". Kroz "Noah" prolaze "duhovi" Jacka Nitzschea, Neila Younga i the Jayhawks, filmična "Horseheadedfleshwizard" čeka svoju priliku da zablista uz muziku Morriconea sa Clintom i Duvallom, "Owl Eyes" pripada žanru mojih omiljenih "la la" pesama, a "An Island" u stanju je da sama definiše umetnikovu viziju i postojanje.
Ovo je muzika rođena za vinil. Da krcka i pucketa, uz prijatelje oko vas, alkohol i opijate. I posedovanje CD-a neka je uteha. Video "At The Hop" nešto je što se ne zaboravlja: "The Wild Angels" sreće "Easy Rider" u ambijentu "Muppet Showa". Neprocenjivo.