Prince na Szigetu: Let's Go Crazy!
Prinsov koncert nije poseta muzeju popularne kulture, nije ni lekcija iz muzikologije, iako ima elemenata i jednog i drugog. To je, kao i u slučaju svih istinski grandioznih performera, savršen spoj umetnosti i zabave, samodovoljnosti, posvećenosti i ljubavi.
---
Piše: Svetlana Đolović
"Dearly beloved, we are gathered here today 2 get through this thing called life…"
Prins je jedan od onih velikana kog možete da gledate uživo koliko god puta da vam se ukaže prilika, a da, pritom, budete sigurni da ćete svaki put gledati neponovljiv i nepredvidljiv koncert jednog od najvećih preostalih šoumena današnjice. Tako je u utorak, nultog dana Szigeta, među pedesetak hiljada posetilaca, verujem bila bar petina onih koji su ga već nekad jednom ili više puta gledali uživo, ali sigurna sam da su svi do jednog, baš kao i mi tek 'razdevičeni' neizmerno uživali od prvog do poslednjeg takta tog nesvakidašnjeg 150-minutnog spektakla. Koncert, najavljen samo tri nedelje pred početak popularnog mađarskog festivala, iznenadni je deo evropskog kraka Prinsove 'Welcome 2 America: Euro 2011' turneje koja je počela 30. juna u Parizu, a završava se – za sada – 17. avgusta u Cirihu.
Početak je zakazan za 19h, i koliko god to za srpske navike kašnjenja i kasnog noćnog provoda zvučalo neverovatno, koncert je uz dvadesetominutni video uvod i bacanje merčandajza (majice i daire) u publiku, počeo tačno u 20.01h zvukom basa crvenokose Ide Nilsen, jedne od četiri neverovatne žene koje čine aktuelni Prinsov NPG bend. Poznato je da 'patuljasti genije' muzičku veštinu svojih saradnika podrazumeva, a izgled (žena naročito) pažljivo bira, i po onome što nam sada nudi, reći ću samo da je u izvrsnoj formi. Iskusna Kasandra O'Nil je za klavijaturama, harizmatična 'ćelava pevačica' Šelbi Džonson glavni je prateći vokal, dok je 'flavor of the tour' mlada kamerunska pevačica/gitaristkinja Endi Ejlo, možda nova Prinsova Muza, nalik mlađoj i zgodnijoj sestri Ališe Kiz, koja će dobiti priliku ne samo za svoju pevačku (obrada 'The Look of Love') već i slikarsku solo tačku na bini (tokom 'Raspberry Beret'). Muško društvo čine prekaljene 'crne zveri' Džon Blekvel za bubnjevima i Moris Hejs na klavijaturama. Bend je naravno kidao, ali nisam ništa manje ni očekivala.
Tradicionalno odlično ozvučenje na Szigetovoj glavnoj bini, imalo je ovoga puta i jednu naročitu sofisticiranost, koja je činila da se čuju najfiniji detalji, krunisani Prinsovim glasom koji je bio neverovatno artikulisan, iznijansiran i moćan. On je 'svedeno' dizajniran u svom stilu – crna majica i pantalone, sa skarletno crvenim sakoom zvonastih rukava i podignute kragne, na rukama narukvice optočene štrasom, višeslojni a delikatni lanac oko vrata. Posle decenija na štiklama, sada je jednostavno celom visinom izdignut na nekakvim sigurno mnogo udobnijim i ravnijim platformama. Na licu koje kao da ne stari, tek blagi podočnjaci, te, kao i uvek precizno doterane obrve i prepoznatljive krejonom opcrtane vedre, živahne oči. Iza trimovanih tankih brčića i mikro brade i dalje se krije najzavodljiviji osmeh na svetu.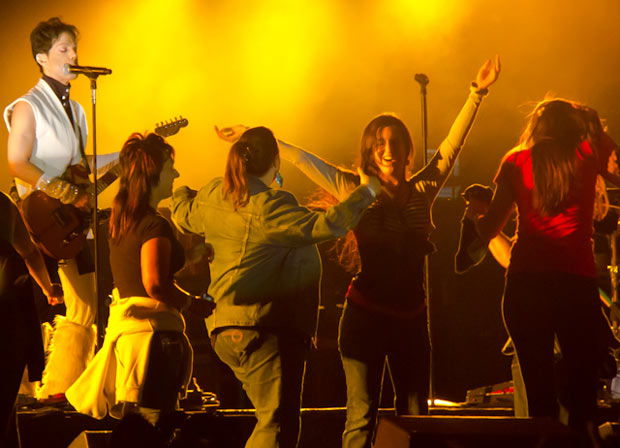 Od prvog takta iskusniji hodočasnici primećuju da je odlično raspoložen, iako set lista izgleda kao da treba da stavi publiku na test, sa sve 'Stratusom' Bilija Kobama. Očarana samom Prinsovom pojavom na deset metara od sebe, prvih dvadesetak minuta (do 'Pop Life') samo upijam atmosferu i zapravo ni ne čujem muziku, pa sve doživljavam kao zagrevanje i pokaznu vežbu nama 'početnicima' s kim imamo posla. Fank je glavna reč i glavni osećaj koji je svuda oko nas, ali bez dosadnih solaža i napaljenog virtuoznog džemovanja i nadsviravanja.
Posle mini pauze u kojoj je zvezda bila prelepa Endi (dok smo nagadjali da li će ove ili sledeće godine da joj producira novi album), usledilo je zagrevanje za zabavu godine. Ludilo kreće uz 'Take me with U', tokom koje je odnos sa publikom potpuno kliknuo – od tog trenutka šta god nam je rekao da uradimo nije delovalo glupo, iako realno jeste – od svih mogućih sing-along varijanti (na-na-na, u-u-u, o-o-o, heeeej) preko tapšanja, mahanja mobilnim telefonima, odgovaranja na pitanja, do izlaska publike na binu. Prins komunicira sa takvom lakoćom, opuštenošću, harizmom, prosto želite da mu se predate potpuno. I baš kao što negde reče, 'Ja volim muziku. Ja JESAM muzika'. Fascinantno je videti nekoga ko ima takvu moć da vlada publikom, svestan svoje veličine i magnetizma, a to ne zloupotrebi sebe radi. Zvanični (prvi) deo koncerta završava se posle tačno sat vremena (!?) zicerom – tokom 'Stairway to Heaven' pop muzike i jedne od najvećih himni ikada, lete ljubičaste konfete uz fantastičnu solažu na njegovom vintidž Telekasteru. Ponovo i ponovo me podseća koliko su velike pesme vanvremenske.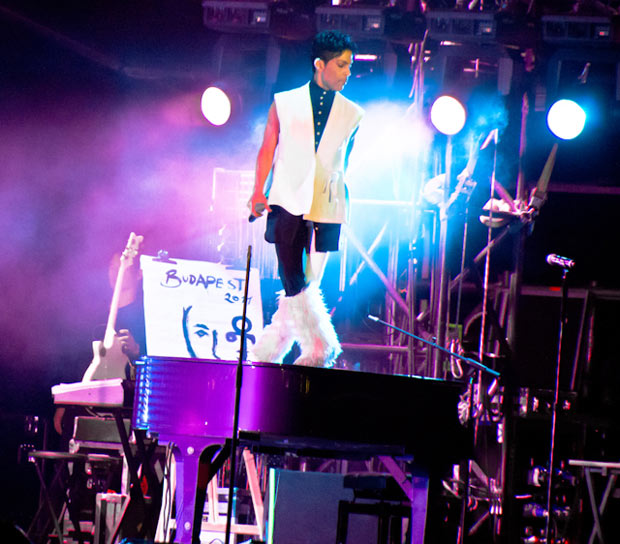 Na bini je sve vreme veliki ljubičasti koncertni klavir, koji je u stvari dekor za nekoliko stvari, čiju svrhu čujemo u prvim trenucima nastavka večeri – sledi medli u kom Prins, u novom crno-belom autfitu sa eskimskim čizmama, pomoću sikvensera i semplera 'miksuje' delove matrica svojih hitova preko kojih peva, uz pitanje 'Hoćete hitove? Pa znate li koliko ih ja imam?', dok nam jaki svetlosni efekti pale zenice. Još jedna prilika da se uverimo u 'modernost' i inovativnost Prinsove muzike i njegovu nesvakidašnju muzičku spontanost, koliko god iza celog šoua postojala precizna organizacija. Potom uzima bas gitaru i igra se nastavlja uz 'Hot Thing' i 'Kiss', da bi na 'If I Was Your Girlfriend' svi već bili na kolenima dok on trijumfalno stoji na klaviru. Kraj prvog bisa rezervisan je za divnu i inspirativnu 'Gold' i onda zaista sledi 'pakao' koji počinje uz 'Let's Go Crazy', a završava sa 'A Love Bizarre'. Svi su u transu, čak i Prins sam ne krije oduševljenje toplim prijemom 'mađarske' publike. I taman kad smo mislili da stvarno nema 'još', majstor izlazi četvrti put i svira dirljivu baladu 'Sometimes It Snows In April' kao savršeno nežno spuštanje sa tog nezaustavljivog ringišpila koji nas je nosio i vozio dva i po sata.
Ovo je jedan od onih koncerta na kom prosto ne možete ni da pomislite šta sve nije svirao. Pa ipak, od svega što je mogao da svira, napravio je fenomenalan izbor, uz naglasak na najbolje iz The Revolution i The New Power Generation faze.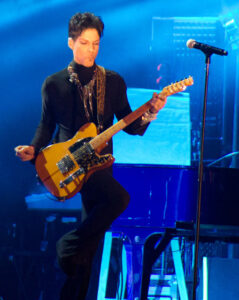 Prinsov koncert nije poseta muzeju popularne kulture, nije ni lekcija iz muzikologije, iako ima elemenata i jednog i drugog. To je, kao i u slučaju svih istinski grandioznih performera, savršen spoj umetnosti i zabave, samodovoljnosti, posvećenosti i ljubavi. O njegovom uticaju, značaju i jedinstvenosti, neću trošiti reči, to podrazumevam. Ovde ćete videti kako jedan čovek svestan svega toga istinski uživa u muzici samoj, tako što želi i ume da to uživanje podeli sa drugima.
Ko god od vas imalo mari za muziku, a usput i pravi neki 'bucket list' – nije neka mudrost, ali ipak da kažem – stavite Prinsa na tu listu i nećete se pokajati. Čak i da solira dva sata, svira B-strane internet singlova imaćete priliku da vidite jednog od najvećih. A ostalo ih je tako malo.
Set lista: We Live 2 get Funky (inc. Rave Un2 The Joy Fantastic), Stratus, D.M.S.R,Pop Life (inc. Scrapple From The Apple), Musicology (inc. Prince And The Band – Tighten Up), The Question Of U – The One – U Will Be With Me, The Look Of Love (by Andy Allo), Take Me With U (with Andy Allo), Raspberry Beret, Cream, Cool (inc. Don't Stop 'Til You Get Enough by Shelby J., Liv Warfield) – When Doves Cry*, Sign "O" The Times*, Nasty Girl (instrumental)*, Hot Thing*, Kiss, If I Was Your Girlfriend, Gold – Let's Go Crazy, Delirious, Let's Go Crazy (reprise), 1999, Little Red Corvette, Nothing Compares 2 U (with Shelby J), The Bird, Jungle Love, A Love Bizarre (inc. It's Gonna Be A Beautiful Night – Housequake chants) – Sometimes It Snows In April