Mercury Rev u Dablinu /The Button Factory, 22-11-2015/
Piše:  Aleksandar Stošić
---
Sinoć sam otišao na svoj prvi koncert posle masakra u "Bataclanu". Svirali su Mercury Rev, u centru centra u Dablinu, u delu grada koji se zove Temple Bar. Prvi put otkad znam za sebe nisam se radovao odlasku na koncert, a dok smo se vozili ka Dablinu atmosfera je bila, blago rečeno, nelagodna.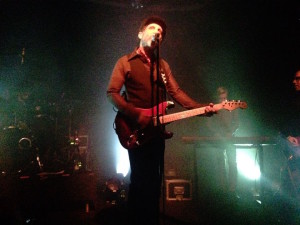 Teroristi su uspeli, uneli su strah u svakog od nas, učinili da se osećamo nesigurno i neprijatno i ubacili klicu predrasuda takvu da više ni simpatične čistače WC-a u klubu, uglavnom afričkog ili bliskoistočnog porekla, ne gledam s empatijom s obzirom na posao koji rade, već ih analiziram i pitam se nije li to jedan od onih koji će nešto uraditi. Onda, sledeće sekunde lupim sebe po glavi i kažem: "'Ade, ne tripuj se!". Počneš da mrziš sebe zbog takvih razmišljanja, ali paranoja ne napušta.
Brojiš ljude u sali, gledaš njihova lica; svi su tu zato što vole Mercury Rev – na takav bend se ne dolazi iz fazona. To su ljudi uzrasta 30+, sa bradom starom nekoliko dana, kačketima i rokenrol majicama, sa jarkim ružom za usne, crnim maskarama, ogromnim minđušama – mi, koji smo se nekom kosmičkom karmom našli baš tu, večeras, baš u Dablinu, baš u "The Button Factory", da gledamo i slušamo band koji je oblikovao naše ličnosti i karaktere… I onda shvatis da je bilo ko od nas – tako običnih i nebitnih, prosto ljudi koji nešto vole i baš ništa i nikog ne mrze – mogao da se samo jebenim slučajem obrnute kosmičke karme nađe u "Bataclanu" i da nam se životi tako apsurdno završe; u krvi, na pivom ulepljenom i prašnjavom podu, dok ti mozak poslednji put registruje nepodnošljivu buku koju bend stvara i ti polako zatvaraš oči dok u sebi još uvek čuješ: "And I know it ain't gonna last".
Da, tako sam, kroz sekvence, potpuno dekoncentrisan gledao njih, na stejdžu, potpuno opuštene i pitam se koliko ih, u ovom trenutku proganjaju slike koje proganjaju mene? Pitaju li se o svojoj bezbednost, jer bezbednosne mere pre ulaska u koncertnu dvoranu nisu pojačane ni najmanje. Da sam imao pušku mogao sam da je unesem bez problema, ljudi na vratima nemaju ništa da se odbrane i jedina nada je zapravo da neke tajne službe stoje tu negde blizu i osmatraju.
Na to sinoć nisam davao pišljivog boba. Ali, onda krene koncert i on počne svoj prepoznatljiv ples i čuješ taj glas koji rečima ne može da se opiše i krene zaglušujuća buka koja u jednom trenutku postane bolna i ti uđeš u jedan trans, verovatno objašnjiv samo istim muzičkim fanaticima kao što si i sam i jedino što ti treba u tom trenutku jeste da vidiš ta srećna i nasmejana lica stotine ljudi oko tebe, koji svako u nekoj svojoj ekstazi doživljava svaki naredni stih, svaki naredni akord te neopisive buke od koje bi se i meci istopili.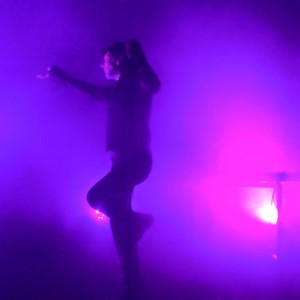 Ali čim prođe trans – realnost uzvraća udarac, pa onda opet zaploviš kroz pesme i tako se mešaju u pravilnim razmacima strahovi i stanja koja bi se najlakše opisala kao "ma, pucajte, ko vas jebe, ovo veče mi nećete zajebati". Ali, tako nešto je realno samo u fikciji, dok u realnosti smo tu mi i bend, side-by-side, u pokušaju da napravimo neki svet bolji od ovog što imamo kad iskoračimo iz utopijske sale.
Kada je muzika stala i kada je – pevajući poslednji stih ove večeri "In my dreams I'm always strong"- pokazao svoje bicepse i duboko nam se naklonio, mi smo odlučili da ostanemo još neko vreme i da im se svima ponaosob zahvalimo. Da im kažemo 'hvala' što su nam dali nadu, razbili strahove i što su došli da nas zabave u ovom teškom trenutku. Oni su nam potpisali postere koje smo kupili, a mi smo im rekli da smo iz Beograda. On se sa osmehom podsetio tog koncerta od pre desetak godina i sa dečačkim uzbuđenjem pričao nam o divnom provodu u Teslinom muzeju. Ja sam ga zamolio da pored potpisa, na posteru napiše i datum večerašnje svirke, kako ne bih zaboravio kada smo taktovima melodije ubili strahove koje su teroristi ostavili u nama.