Piše: Katarina Samurović@Svemirsko Majmunče
---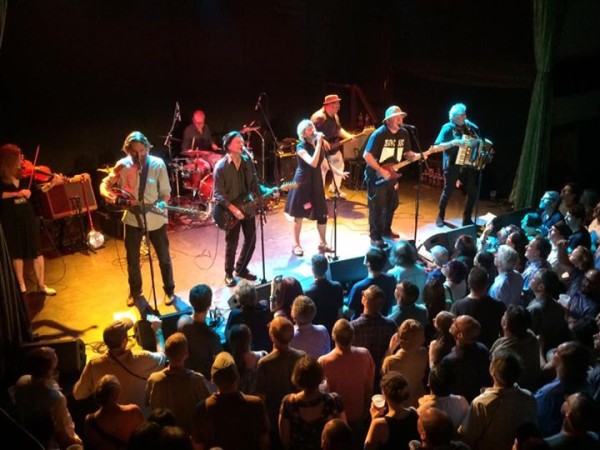 Mitska 1977. godina u Engleskoj. Dok društvene tenzije vrtoglavo rastu a radnička klasa propada, vazduh postaje drugačiji. Klinci počinju da okreću leđa sudbini koju su im je prethodna generacija zacrtala. Počinju da ne mare za nametnuti red i poredak. A muzika prati. Clash izdaju prvi album. Pistolsi izdaju "Never Mind the Bollocks…". Počinje uzbudljiva, šokantna i revolucionarna era panka.
Iste godine na severu Engleske, u Lidsu, grupicu talentovanih, ali neambicioznih studenata umetnosti obuzima ista euforična pobuna, ista potreba da se vikne sopstvena istina. Jedan deo te ekipe formirao je bend pod imenom Gang Of Four. Drugi bend, čija je prvobitna svrha bila da bude predgrupa Gang of Four, zvao se The Mekons.
Četrdeset godina kasnije, Mekons su i dalje na okupu. Zajedno su preplovili okean, obišli svet, dizali glas protiv rasizma, fašizma i svake vrste represije ljudskog bića, potpisivali za velike etikete (i ubrzo bili puštani niz vodu od strane istih), pravili predstave, slikarske kolaboracije… Sve u svemu, ludo se zabavljali i usput oplemenili mnoge duše. Jedino što Mekons nikada nisu uradili ni zajedno, ni pojedinačno, jeste pravljenje kompromisa.
Nikada nisu prodali svoj umetnički integritet – uvek su radili baš onakvu muziku kakva se njima sviđa, i slali poruke kakve su želeli. Zato je teško definisati da li su ili nisu pank, pank-folk, alt-katri, ili nešto četvrto, a baš zato nije ni bitno. Svaki ponaosob neverovatna ličnost i muzičar/ka, poput komičnih verzija arhetipskih mitoloških junakinja i junaka, Mekonsi zajedno kroje jednostavne, a neverovatno značajne priče i vatreno ih prezentuju na bini.
Među Mekonsima, neumorni Jon Langford (Džon Langford) pravi je renesansni čovek. Preko dana slikar i grafičar, kao muzičar u Mekonsima čuva pank oštricu, a kao solo autor provodi duhove svojih heroja poput Džonija Keša (ili svog imaginarnog junaka, Lofty Deeds-a*). I pored toga što drugi Mekonsi ističu da je on glavni motor benda, sam Jon insistira da nije njihov, niti bilo čiji "vođa". Tražeći istinu negde na sredini, zaključićemo da briljira u svakoj svojoj ulozi, bilo da piše ili ilustruje pesme, svira ili igra na bini, ili se na istoj, između pesama, upušta u neki od beskrajno zabavnih verbalnih dvoboja sa nesputanom i opojnom koleginicom Sally Timms. A dao je i neke ništa manje brilijantne odgovore na pitanja koja smo mu postavili uoči beogradskog koncerta u Elektropioniru, 24. jula.

"Mislim da The Mekons prilično vole da budu zajedno. Još uvek je osećaj svež i zabavan. Kada ne bude tako, prestaćemo."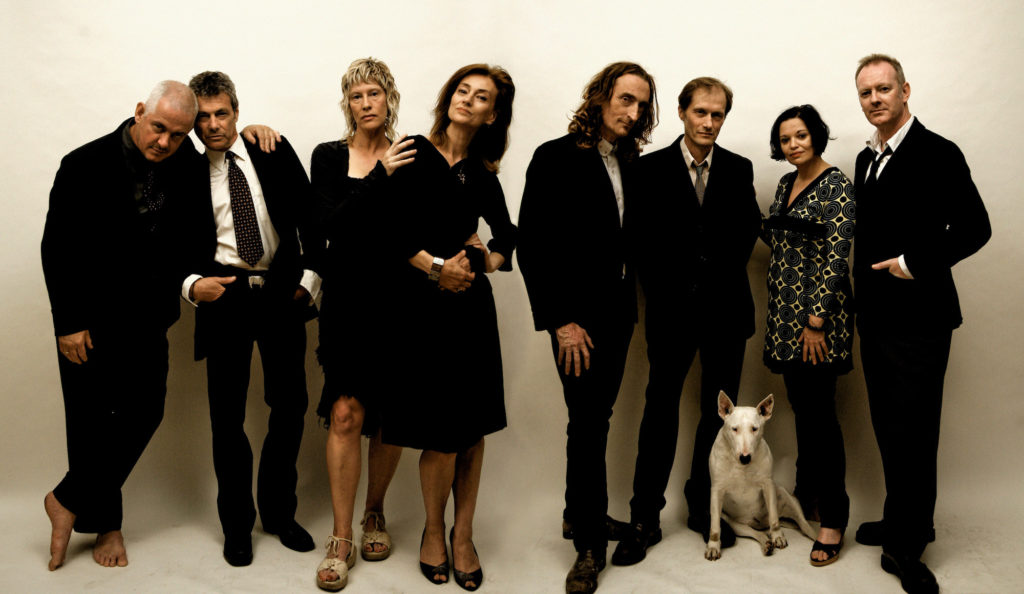 The Mekons su počeli kao eksperiment tokom prvog talasa panka '77-e. Bili ste studenti umetničkog fakulteta koji su odrastali u turbulentnim vremenima. Sada kada pogledaš unazad, šta je bila glavna motivacija Mekons-ima da stanu pred javnost?
Jon Langford: Cela ideja pank-roka bila je veoma privlačna za nas, jer pre njega ljudi koji nisu umeli da sviraju svoje instrumente nisu ni mogli da budu u bendovima. Progresivni rok 70-ih bio je vezan za virtuoznost i umeće sviranja mnoštva nota. Nas je interesovala umetnost, politika i pevanje pesama o svakodnevnom životu. Imali smo sreće da poznajemo Gang Of Four iz škole, pa smo svirali kao predgrupa za njih, ali posle nekog vremena nam je prišao Bob Last iz Fast Product Records i pitao nas je da snimimo singl. Mi zapravo i nismo bili muzičari, već studenti umetnosti; iako su nam pesme bile primitivne trudili smo se da ih sviramo najbolje što smo umeli – i to je bilo zbunjujuće za publiku. Nismo imali nameru da ovo postane dugoročni projekat. Bacili smo slikarske četnice i napravili bend zato što je to bilo nešto najuzbudljivije u tom trenutku.
Tokom vremena, krenuli ste dalje od panka i nju vejva. Engleski folk i američki kantri postali su veliki uticaj na Mekons-e. Kako ste dobili potrebu da krenete u tom pravcu?
JL: Naleteli smo na studio na severu Engleske, "Leader Sound", koji je bio jedan od istaknutijih folk studija. Vodio ga je tip zvani The Leader, koji je bio nešto poput engleskog Alana Lomax-a. Postavio nas je u okvire tradicije "funkcionalne" folk muzike, gde su naša muzičarska ograničenja postala deo našeg stila, što nas je učinilo interesantnim. Naš drugi songls se zvao "Where Were You" i di-džej iz Čikaga je rekao da je kao kantri/vestern zato što je imao dva akorda i bavio se pićem, barovima, i propalim seksualnim vezama. Naše pesme su bile veoma jednostavne i pokušavale da opišu svakodnevni život, što je svakako paralela sa kantri muzikom, ali nismo pokušali da imitiramo kantri; samo smo mnogo slušali, posmatrali i upijali.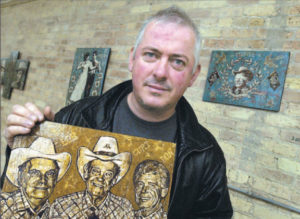 Ipak, prelazak sa panka na folk nije nešto što je potpuno jedinstveno za The Mekons. Mnogi pankeri, od John Doe-a (X) do vašeg kolege sa Bloodshot Records, Scott H. Biram-a, došli su iz panka i završili stvarajući na katriju baziran rokenrol. Šta stoji iza kantri-pank mutualizma?
JL: Jednostavnost forme i veoma direktna poruka. Distanca između publike i izvođača se briše.
Ono što jeste jedinstveno za The Mekons je odluka da prebacite bazu čitavog projekta preko okeana, iz Ujedinjenog Kraljevstva u Sjedinjene Države…
JL: Ljudi u Americi su prosto delovali zainteresovanije za nas, a ponekad kao muzičar morate da idete tamo gde možete da prodate ploče. Mislim da je svako ko je odrastao u Britaniji posle Drugog svetskog rata neizbežno veoma fasciniran Amerikom i da imamo odnos ljubavi i mržnje prema njoj: volimo George Jones-a i mrzimo George Bush-a; volimo Donnie Trumpet-a i mrzimo Donald Trump-a.
The Mekons ne viču parole u svojim pesmama. Ipak, politika i pravda su oduvek bili deo aure benda i često ste svirali različitim aktivističkim povodima. Takođe oduvek ste imali čvrste principe u vezi stvaranja i izdavanja vaše muzike i umetnosti. U ovoj političkoj modernosti, da li je uopšte imati stavove o dobrom i lošem politički, subverzivan čin?
JL: Mislim da mi samo govorimo da postoje drugi načini da se radi posao – ne volimo biznis muzičkog biznisa, pa biramo drugačiji, sopstveni put zbog političkih i umetničkih razloga. Nikada nismo bili finansijski uspešni, ali nastavljamo da sviramo što nam je i najbitnije.
Možda u vezi sa drugačijim i sopstvenim putem – zanimljiva je priča kako je na pesmu The Clash "White Riot" gledano van Londona, na primer u domovini Mekons-a, Lidsu. Hteli ste to da ispravite i napravili ste svojevrsni odgovor – vaš prvi singl "Never Been In A Riot".
JL: Zaista volim Clash, ali tu pesmu je bilo teško prihvatiti u to vreme, jer je postala svojevrsna himna belim rasistima na severu Engleske, daleko od lodonskih pomodara. Svestan sam da su Clash pokušali da otpevaju pesmu solidarnosti sa zapadnoindijskom omladinom posle sukoba na Notting Hill-u, ali kada je pesma stigla do Leeds-a dobila je potpuno drugo značenje. Bila je to važna lekcija o odgovornosti pri pisanju pesama – mora se biti prilično pažljiv.
Osim što imaju društvene principe, muzika Mekons-a je emotivna. Da li je ljudska ranjivost i želja da se istinski voli takođe vrsta subverzije danas?
JL: Nikada nisam razmišljao o tome na taj način, ali zapravo si potpuno u pravu. Lično je svakako i političko, i kao vrsta smo u opasnosti da izgubimo osećaj.
Kroz četrdesetogodišnje postojanje vašeg kolektiva, videli ste kako društvo obilazi pun krug – od represije tokom Štrajka rudara 1984. tokom vlade Tačerove, do makar površno oslobađajućih 90-ih i dvehiljaditih… Kako percipirate današnju situaciju, kada stare pretnje oživljavaju i antifašizam prestaje da bude istorijska kategorija? I kako vidite mesto Mekons-a u svemu tome?
JL: Upravo smo svirali na The Tolpuddle Martyr's Festivalu u Dorsetu u Engleskoj, koji proslavlja rođenje sindikalizma. Vođa laburista Jeremy Corbin je govorio. Bilo je veoma inspirativno – jako je dobro prošao na poslednjim izborima i imam nade da u ovom trenutnku on može da zaustavi skretanje u desno. Mislim da se ljudi bude u vezi ove pretnje. A posao Mekons-a je da nastave da rokaju.
Često se šalite da ste neuspešan bend, bar po standardima industrije. Ipak, gurate već četiri decenije i čini se kao da se dobro zabaljvate usput, radeći svakakve zajedničke umetničke projekte – muziku, slikanje, teatar… Funkcionišete kao pravi egalitarni kolektiv, što je redak dragulj. Imate lojalnu bazu fanova i evo vas ponovo u kontinentalnom delu Evrope. Šta je mera "uspeha" za umetnika uopšte?
JL: Mislim da je za Mekons-e sve to konverzacija koja se nastavlja, i ono što nam je interesantno je da vidimo kako da Mekons funkcionišu i ostanu vitalni dok se vremena i situacije menjaju.
Šta mislite da je centralna ideja koja drži bend na okupu sve ovo vreme?
JL: Mislim da The Mekons prilično vole da budu zajedno. Još uvek je osećaj svež i zabavan. Kada ne bude tako, prestaćemo.
Poslednje pitanje – kako mislite da vaš junak, Lofty Deeds, prolazi u današnjem svetu?
JL: Okreće se u grobu i tera bele rade socijalističke revolucije.
---
INTERVIEW WITH JON LANGFORD:  The Mekons job is to keep on rocking!

---
The Mekons started as an experiment in the first wave of '77 punk. You were art school students growing up in turbulent times. Looking back, what was the main motivation for Mekons to step out into the public?
JL: The whole idea of a punk rock was very attractive to us because before that people who couldn't play their instruments very well really couldn't be in bands. 70s progressive rock was mostly about virtuosity and being able to play lots of notes. We were about art, politics and singing songs about every day life. We were lucky enough to know the Gang Of Four at school so we opened for them, or at least that was what the idea of the band was, but after a while we were approached by Bob Last of Fast Product Records and asked to make a single. We were not really musicians, we were art students and, although our songs were primitive, we were trying to play them as well as we could – this was confusing to audiences. And it was not meant to be a long-term project – we threw away our paint brushes and fromed the band because it seemed to be the most exciting thing to do at the time.
"Anybody who grew up in Britain after the Second World War is inevitably very fascinated with America, and we have a love-hate relationship with America – we love George Jones and hate George Bush; we love Donnie Trumpet and we hate Donald Trump."
Over time, you moved forward from punk and new wave; English folk and American country music became a major influence on The Mekons. How did you get the need to go in that direction?
We stumbled on a studio in the north of England called Leader Sound, which was one of the prominent folk studios and run by a guy called The Leader, who was like the English Alan Lomax. He placed us in the tradition of "functional" folk music, where our limitations as musicians became part of our style – what made us interesting.
Our second single was called "Where Were You" and a DJ in Chicago said it was like a country and western record because it had two chords and was about drinking and bars and failed sexual relationships.
Our songs were very simple and tried to deal with every day life, that was certainly a parallel with country and western music; we didn't try to imitate that music but we listened to it a lot and observed and absorbed.
Crossing over from punk to folk is something that is not entirely unique to The Mekons. Many punk rockers, from John Doe (X) to your label-mate Scott H. Biram, came from punk to make country-based rock'n'roll in the end. What's the reason behind country-punk mutualism?
Simplicity of form. And very direct messages – the distance between the audience and performer is removed
What is pretty unique to The Mekons though is the decision to move the base of entire project overseas, from the UK to the States…?
People just seem to be more interested in us in America, and sometimes as a musician you have to go where you are selling records. I think anybody who grew up in Britain after the Second World War is inevitably very fascinated with America, and we have a love-hate relationship with America – we love George Jones and hate George Bush; we love Donnie Trumpet and we hate Donald Trump.
The Mekons don't shout paroles in songs. Yet politics and justice have always been a part of your band's aura, and you have been very active playing for different causes. Also, you have always had firm principles when it comes to making and publishing your music and your art. In fluid modernity, is having stances on right and wrong a political, subversive act?
I guess we really saying there's other ways to do business – we don't like the business of the music business, so we choose our own way for political and artistic reasons – we have never been very successful financially but we continue to play which is most important to us.
Maybe in relation to that – it is an interesting story how The Clash song "White Riot" was perceived beyond London, for example in The Mekons hometown, Leeds. You wanted to set it right and made your own reply – your first single called "Never Been In A Riot"…
I really like The Clash, but that song was a little hard to deal with at the time because it became a sort of anthem for white supremacy in the north of England, far away from the fashionistas of London. I know The Clash were trying to sing a song about solidarity with West Indian youth after the Notting Hill riots, but when the song traveled up to Leeds it's took on another meaning. It was an important lesson to us about responsibility when writing songs – you have to be quite careful.
Besides having social principles, The Mekons music is emotional. Is being humanly vulnerable and willing to truly love also a kind of subversion today?
I've never really thought of it like that, but actually you're completely right. The personal is political for sure, and as a species we are really in danger of losing touch.
Existing as a collective for 40 hole years, you've seen the society come sort of a full circle, from oppression of the Miner's Strike in 1984 during the reign of Thatcher, to the at least superficially liberating period 90s and 00s… How do you perceive current situation, where old threats are coming to life again, where anti-fascism is not a historical category anymore? And how do you see The Mekons place in all of that?
We just played The Tolpuddle Martyr's Festival yesterday in Dorset, UK, which celebrates the birth of trade unionism, and the labor leader Jeremy Corbyn spoke. It was very inspiring – he's just done really well at the recent election and I'm feeling quite hopeful at the moment that maybe we can stop the drift to the right. I think people are waking up to this threat, and the Mekons job is to keep on rocking!
You often joke about being an unsuccessful band, at least by the industry's standards. Yet, you've kept it going for four decades, and you seem to have had a lot of fun on the way, doing all kinds of art projects together – music, painting, theater… You seem to work as a true egalitarian collective, which is a rare jewel. You have a loyal fanbase, and here you are, playing in continental Europe again. What's the measure of "success" for an artist anyway?
I think for The Mekons it's a continuing conversation, and what's interesting for us is to see how we can make it work and keep it vital as times and situations change.
What do you believe is the central idea keeping the band together for all this time?
I think the Mekons quite like being together. It still feels fresh and fun. When it doesn't, we will stop.
And the final question – how do you think your character, Lofty Deeds, is doing in today's world?
He's spinning in his grave and pushing up the daisies of socialist revolution.