Ako se tek sada prvi put upoznajete sa karijerom Stevea Wynna, pripremite se na svašta! Za dvadesetak godina rada kroz albume Dream Syndicate, Danny and Dusty, Gutterball, solo karijeru i razne kolaboracije sa mnogim prijateljima širom sveta, Wynn je izdao više od 20 ploča i napisao više od 200 pesama. Svirao je više od 1000 koncerata u više od 25 zemalja. Njegova pesma "That's Why I Wear Black" (sa albuma Fluorescent iz 1993. godine) bila je hit br. 1 čak i u Norveškoj! Tokom osamdesetih sa sastavom Dream Syndicate presudno je uticao na mnoge grupe koje će krajem osamdesetih i početkom devedesetih praktično definisati ono šta i danas nazivamo "alternativnom rok muzikom" (the Replacements, R.E.M, Nirvana).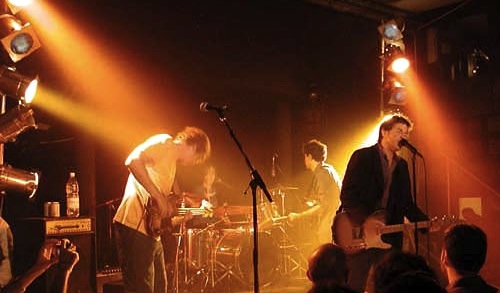 Solo karijera zvanično je startovala 1990. albumom Kerosene Man. Zanimljivo je da je video spot za pesmu "Carolyn" bio u heavy rotaciji na MTV-ju šest nedelja! Toliko o nekomercijalnoj muzici i komercijalnim "televizijama".
Poslednja dva solo albuma Steve Wynna su posebna priča: za CD"Here Come the Miracles" (2001) mnogi kritičari su rekli da je "Exile on The Main Street" novog milenijuma. Za novi album "Static Transmission" kažu da je "Sticky Fingers". Iskreno, sve ovo nije mnogo bitno…
1995. godine za vreme "onog" perioda, koji su neki hrabriji nazivali "život pod sankcijama", Steve Wynn je u Beogradu odsvirao 2 akustična koncerta u KST-u, koja su vratila osećaj života u nekoliko stotina "zombija" koji su tim koncertima prisustvovali. Od tada do danas Steve Wynn živi da svira i svira da bi živeo. Nama ostaje da se samo pridružimo.
U Beograd Steve Wynn dolazi sa pratećim bendom The Miracle 3, za koji kaže da je "najbolji bend sa kojim je u životu svirao". Ko sme da ovo dovede u pitanje?
Pretprodaja karata – blagajna Doma omladine