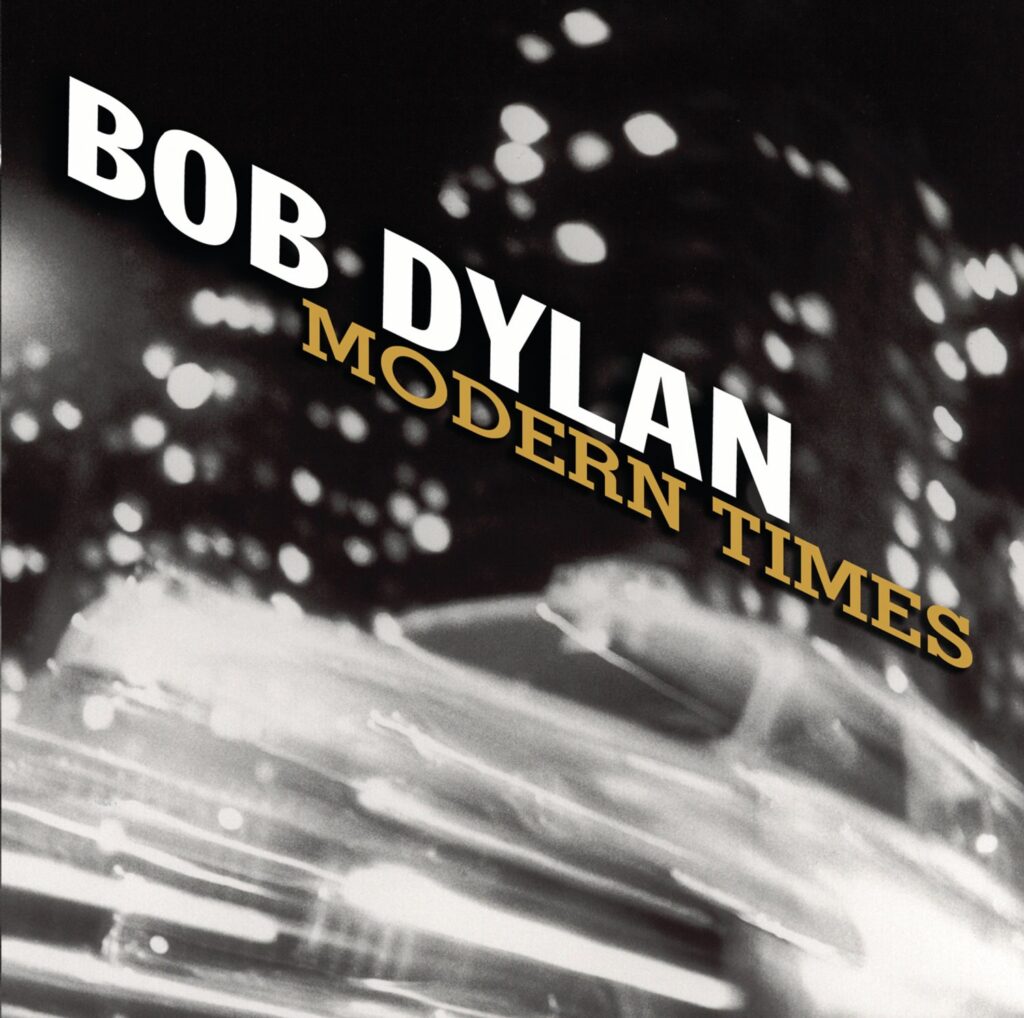 Posle pet godina pauze američka ikona Bob Dilan ima novi studijski album. Trideset i neki. Za par nedelja od zvaničnog objavljivanja "Modern Times" naterao je sve muzičke i ostale časopise da ga proglase autentičnim remek-delom. Posle 30 godina i uspeha koji je ostvario albumom "Desire" (da, onaj sa Sarom), 65-godišnji Dilan opet ima album br. 1 na Bilbordovoj top listi. U pohodu na vrh liste pomogla mu je i nova reklamna kampanja Apple-a za iPOD. Čudan je svet…
Na "Modern Times" ploči Dilan stoji sa strane i uglavnom priča sebi u bradu. Lamentira o kraju života, ljubavi, patnji, gubitku i strasti. Religija i prirodne katastrofe put do smisla i ljubavi otežavaju, ali ne i definitivno sprečavaju. Kao Voren Zivon u pesmi "Searching For A Heart" i Dilan sve vreme razmišlja o svojim ženama, bivšim i sadašnjim i kroz njih traži odgovore i gleda svet oko sebe. A u tom svetu svašta se događa.
Od uvodne pesme, apokaliptične "Thunder On The Mountain" do završnih taktova testamentarne "Ain't Takin'", žene prolaze, zadržavaju se neko neodređeno vreme i odlaze. Povremeno ga nateraju i na neke loše (ili manje dobre stvari), ali u ljubavi i ratu sve je dozvoljeno, zar ne? Ipak, poruka za početak neka bude "I wouldn't betray your love or any other thing". U "Spirit On The Water" trudi se da razume svoju ženu. Ne uspeva mu baš često, ali zato se trudi do samog kraja. Neke žene ni same ne znaju šta žele – "Sometimes I wonder Why you can't treat me right / You do good all day And then you do wrong all night". I u "Rollin' and Tumblin'" Ona je ta koja drži sve konce u rukama, truje i ucenjuje. Iako padaju teške reči – "This woman so crazy, I swear I ain't gonna touch another one for years" – ni ovoga puta naš junak ne odustaje. Ona je još gora u "Someday Baby". Tera ga da pati u svetu laži koji je stvorila i gura ga "preko ivice". Iako je svestan da tako više ne može – "Living this way ain't a natural thing to do. Why was I born to love you?" – lekciju još nije naučio…
Za trenutak, razum prevlada nad srcem u "Workingman's Blues No#2". Ni tu ishod nije mnogo drugačiji – "Now I'm down on my luck and I'm black and blue. Gonna give you another chance. I'm all alone and I'm expecting you, To lead me off in a cheerful dance". U blue moon ambijentu pesme "Beyond The Horizon" Ona opet muči – "Beyond the horizon, the sky is so blue. I've got more than a lifetime to live lovin' you". Tradicional iz devetnaestog veka, "Nettie Moore", pesma je koja bi se, po emocionalnom naboju koji nosi i potresnoj interpretaciji, savršeno uklopila na "Blood on the Tracks" iz 1975. godine. Tada je završetak ljubavi bio pokretačka snaga, a sada jedini razlog da se i dalje živi – "Everything I've ever known to be right has been proven wrong, I'll be drifting along. The woman I'm loving she rules my heart, No knife could ever cut our love apart".
U "The Levee's Gonna Break" Ona kao da, bar za trenutak, odlučuje da ga nagradi za strpljenje. On, kao i obično, sklon preterivanju i idealizaciji, više voli da priča nego da radi – "I look in your eyes, I see nobody other than me. I see all that I am and all I hope to be".
"Aint' Talkin'" je najduža (skoro devet minuta) i verovatno najmoćnija pesma na "Modern Times". Slično kao "Highlands" (sa "Time Out Of Mind") kroz nju Dilan u svet odašilje svoje poruke, stanja, strahove i iskustva. Dilanov pogled danas na svet koji ga okružuje, direktan je i razarajući. Kako na ličnom, tako i na globalnom planu. Kroz svoja putovanja – koja počinju u mističnoj bašti, on priča o patnji, propasti, nedostatku vere, izdaji, osveti i nadi da pomoć sa neba ipak nije nešto što će zauvek ostati samo mit. Pesma se završava tamo gde je i počela, ali sa drastično drugačijim odnosom snaga – "There's no one here, the gardener's gone… In the last outback at the world's end". Kraj pesme je pesimističan, gorak i bez nade da će bilo šta (ili ko) olakšati našu patnju. Da li je baš tako? Da li čovek koji je izgubio svu nadu i želju da se bori, na kraju misli na that gal I left behind.
Davno je prošlo vreme kada je Dilan odgovor za sebe i svoje prijatelje tražio u huku vetra. Više od 40 godina. Zajebant i lopov više nemaju nikakve dileme, jer danas izlaz iz svake situacije traže na sastanku Upravnog odbora. Oni su sada uspešni poslovni ljudi, koji se tek povremeno sete svoje burne mladosti dok daju otkaz nekome ko ne poštuje dovoljno njihov novac i obaveze. Gospodin Džons nema pojma kako se oseća. Leži u komi već dvadesetak godina i samo ga volja porodice održava u životu uz pomoć aparata. Dilan danas retko odgovor traži i u religiji. Probao ih je sve i preporučivao svima, a ni kao Nevernik nije dugo izdržao. Možda ona prava vera tek treba da se pojavi. Glasnogovornici generacije danas svoje uzvišene misli saopštavaju uglavnom u parkovima i na gradskim trgovima. Neko vreme oko njih se okupljaju mase ljudi koji ne znaju šta će sa sobom, a onda i jedni i drugi odu nekim drugim poslom.
Šta je onda ono što ostaje posle svih ovih godina? Šta je nova religija, šta je odgovor koji svi tražimo?
Da li je moguće ceo album objasniti kroz jedan mali video spot?
U okviru promocije albuma "Modern Times" Dilan je snimio video spot. Pet minuta lo-fi nostalgije, propušteno kroz efekte reditelja Beneta Milera. Pet minuta Skarlet Johanson obučene u odeću pedesetih godina prošlog veka. Ona se smeje, ljuti, vozi, kuva, igra sa decom, gleda nežno i ljubi, spava i sanja… Sve je snimljeno iz ruke, kao neka uspomena sa rođendanske zabave ili roštilja sa prijateljima. Ili kao snimak koji bi porodica pustila za najbliže prijatelje i rodbinu, kada vaš broj dođe na red. Spot je za pesmu "When The Deal Goes Down" i u njemu se nalaze sva objašnjenja, odgovori i ono što je bitno. Za svakog od nas koji želi da sluša ili gleda, taj odgovor biće drugačiji.