Esther Phillips: U potrazi za domom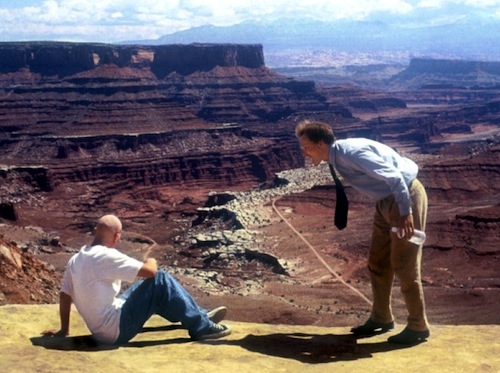 Čudo kako dva (naizgled) nepovezana događaja mogu da izazovu "lančanu reakciju" i potpuno ispune "potragu za izgubljenim vremenom". Gledali ste film "Sunchaser" Majkla Ćimina (Michael Cimino)? Onaj u kojem Vudi Harelson (Woody Harrelson) (sa brkovima!) igra japi doktora sa (crvenim) poršeom i Navaho-klincem (Ronaldo lukalajkom) koji umire od raka? Niste!? Veliki propust. Na premijeri u SC pre x godina, moja najbolja prijateljica i ja siti smo se isplakali tokom većeg dela filma. Oko nas, reakcija polu-prazne sale bila je uglavnom grohotno smejanje i sprdnja na račun Amerike i Holivuda…
Neću sada o filmu (a mogao bih), već o uvodnoj sceni filma i muzici koja se čuje. Vudi vozi Porše… pink slova na špici i disko-ritam koji "daje podršku". Priznajem da smo oboje (g-đica AN i ja) pomišljali da istog trena napustimo salu. Kakva sreća što nismo! Pesma se ubrzo transformiše u standard Dine Vašington (Dinah Washington) "What A Diff'rence A Day Makes", a obećanje koje sam sebi dao – da istražim ko peva, naravno da sam skroz zaboravio. Ostao mi je u pamćenju glas koji pomalo liči na Ninu Simon (Nina Simone), Bili Holidej (Billie Holiday), Mili Džekson (Millie Jackson)… a opet imao je nešto drugačije, neku "nadrkanost" koja je potpuno očaravala…
Prošle godine (2005) Kanje Vest (Kanye West) objavio je svoj "soul-spomenar", album "Late Registration". Verujem da je svako od vas (ko je dozvolio sebi da mu se album svidi) našao zabavu u višenedeljnom otkrivanju semplova i citata. Tako dolazim i do drugog događaja bitnog za ovu priču – "otkriće" pesme "My Way Home," na kojoj gostuje Komon (Common). Kanje je u ovu minijaturu (1:43min) usemplovao jednu od najpotresnijih pesama "kuma hip-hopa" Gila Skota Herona (Gil Scott-Heron), "Home is Where the Hatred Is", u kojoj nagoveštava ono sa čim će živeti sledećih nekoliko decenija. Ostaviću GSH-a (za sada) po strani i u priču uvesti pravu heroinu – Ester Filips (Esther Phillips).
Ester Filips bila je "na pravom mestu u pogrešno vreme" nebrojeno puta u svojoj karijeri, naravno, pod uslovom da je merilo nečijeg uspeha i značaja komercijalni potencijal albuma i broj hit-singlova. Pevala je bluz, r&b, soul, džez, pop, disko i kantri i izgleda sasvim zbunila svoje izdavače kako da je reklamiraju i kome da je »prodaju«. Iako su je zbog boje glasa često poredili sa Ninom Simon, Ester je kao svog glavnog uzora isticala Dinu Vašington.
Rođena je kao Ester Me Džouns (Esther Mae Jones) u mitskom Galvestonu u Teksasu 23. decembra 1935. godine. Posle razvoda roditelja, detinjstvo je provodila u Hjustonu i predgrađu Los Anđelesa, a "grad anđela" zaslužan je i za njen prvi nastup u klubu bluzera Džonija Otisa (Johnny Otis) 1949. godine. On je toliko bio impresioniran, da joj je praktično odmah posle audicije zakazao sešn u studiju i uključio u svoj "putujući šou". Pod imenom Little Esther prvi hit imala je sa kvartetom Robins (koji su kasnije postali the Coasters) i pesmom "Double Crossin' Blues," koja je stigla do 1. mesta R&B liste 1950. i utrla put klasicima "Mistrustin' Blues" i "Misery". Odnos između Otisa i Ester vremenom je postajao sve lošiji (uglavnom zbog novca i dela koji je pevačica dobijala), tako da je posle nekoliko promena izdavačkih kuća (Savoy, Federal, Decca) na kraju i definitno napustila svog "patrona" i preselila se kod oca u Hjuston.
Tokom pedesetih razvila je dve lifetime strasti – "on the road" život i konzumaciju heroina kao jedine hranljive materije potrebne njenom organizmu. Neredovno je izdavala singlove koji su prolazili skroz nezapaženo. Nekoliko puta je pokušavala da se "skine," ali bez nekog većeg uspeha. 1962. godine ponovo ju je «otkrio» budući kantri superstar Keni Rodžers (Kenny Rogers), koji ju je doveo u izdavačku kuću svog brata – Lenoks (Lenox). Pošto je već bila u izvesnim godinama, prekrstila se iz Little Esther u Esther Phillips, a prezime je dobila po obližnjoj benziskoj pumpi. Nekoliko meseci kasnije Lenoks je objavio singl sa njenim "čitanjem" kantri-soul pesme "Release Me", koja u to vreme još nije bila dovoljno poznata (nešto kasnije, Inglbert Hamperdink (Englebert Humperdink) istu pesmu doveo je do broja 1). Posle decenijske apstinencije, bio je to njen prvi uspeh na listama. Na vrhu r&b, pop i kantri lista "Release Me" zamenila je Reja Čarlsa (Ray Charles) i "I Can't Stop Loving You." Par meseci kasnije Ester izdaje i kantri-soul album istog imena ("Release Me! – Reflections Of Country And Western Greats"), a da sve ne bude jednostavno – Lenoks bankrotira godinu dana kasnije. Ipak, uspeh joj je omogućio da zaintrigira veliki Atlantik (Atlantic Records), koji je posle nekoliko meseci ispitivanja tržišta i probnih snimaka, odlučio da je "gurne" u više mejnstrim vode, sa džeziranim i bluzi obradama pop hitova. Zahvaljujući uspehu pesme "And I Love Him" na listama, "grupa građana iz Liverpula" odvela ju je po prvi put u Evropu. Sledeći album bio je još više džeziran (Esther Phillips Sings), ali prodaja ni tada nije bila zadovoljavajuća. Atlantik je posle ovog neuspeha pokušao da "razbije maler" sa žanrovski raznovrsnim pločama, u rasponu od Van Morisonna od brill building popa, ali 1967. kuća Ahmeta Ertegana (Ahmet Ertegun) odustala je od dalje investicije. Veliki Mogul Atlantika kasnije je o Ester rekao: "Bila je velika pevačica: uzbuđivala vas je i provocirala bez obzira šta je pevala. U to vreme, nama je glavni posao bio da pronađemo pesmu, koja ima tu magiju da natera tinejdžere da izađu napolje i kupe ploču. Bila je zreo izvođač u vreme kada je prosečan uzrast kupaca bio 14 ili 15 godina. Ona zaista nije bila sposobna za tu dečiju zajebanciju. I bilo nam je dosta teško da sastavimo album, na kojem će ona osloboditi tu strast koju je imala kao pevačica."
Heroinska zavisnost u međuvremenu je preuzimala primat nad svim drugim bitnijim stvarima u životu Ester Filips. Za vreme novog boravka u klinici za odvikavanje snimila je par pesama za Rulet (Roulette) tokom 1969, da bi se nešto kasnije preselila u LA i opet vratila u Atlantik. Sledeće dve godine izdavač je pokušavao da od nje napravi pop zvezdu, a ona da dokaže da je sve drugo – samo ne to, a pre konačnog raskida, objavila je fantastičan album "Burnin'". 1971. novi dom nalazi kod producenta Krida Tejlora (Creed Taylor), na njegovoj Kudu "etiketi". 1972. godine objavila je svoju verovatno najbolju ploču u karijeri – "From a Whisper To a Scream". Pesma koja otvara ovo remek-delo je "Home is Where the Hatred Is". Ono što njenu verziju pesme razlikuje od Heronovog originala je brutalnost i iskrenost koju je Ester postigla interpretacijom, a koja je u originalu ostala uglavnom samo u nagoveštajima. Gledali ste sigurno "Jackie Brown" Kventina Tarantina (Quentin Tarantino)? Zamislite film bez Bobija Vomaka (Bobby Womack) ili the Delfonics i pokušajte da zamislite Pem, Roberta i Semjuela kako hodaju LA-om, a da u pozadini ne svira "Across The 110th Street" ili "Didn't I Blow Your Mind This Time". Skoro pa nemoguće…
Kada slušate "Home is Where the Hatred Is" u verziji Ester Filips, film je već tu. Sasvim je svejedno ko su glumci, plot se razvija, drama, seks, prevara i ubistvo slede, ali ovoga puta nema Šafta (John Shaft) ili Sidnija Poatjea (Sidney Poitier) za hepi end. Isti utisak imaćete ako pročitate roman "King Suckerman" Džordža Pelekanosa (George P. Pelecanosa) – kao da gledate blaxploitation movie koji još nije snimljen, a za koji znate da, bez obzira kako se završi, kući iz bioskopa idete sa gorkim ukusom u ustima…
Za Kudu, tokom sledećih nekoliko godina, Ester je objavila još nekoliko kvalitetnih i uspešnih albuma, i po prvi put u karijeri uživala status zvezde. 1975. joj je donela i najveći komercijalni uspeh posle "Release Me" (sada već sigurno pogađate o kojoj pesmi je reč), a njena verzija klasika "What a Diff'rence a Day Makes" (autori Grover/Adams) i album istog imena bili su apsolutni hitovi te godine. Dve godine kasnije potpisuje najbolji ugovor u životu, kojim je dobila potpunu kreativnu slobodu od Merkjurija (Mercury). Četiri albuma i isto toliko godina kasnije, opet je bez izdavača, a decenije narkomanskog staža dobile su novog konkurenta u novootkrivenoj stasti prema alkoholu. 7. avgusta 1984. Ester Filips umire u Los Anđelesu. Između ostalog, poslušnost su joj  otkazali bubrezi i jetra.
Postoje mnogobrojne anegdote o tome kakva je Ester u stvari bila, van scene i javnog života. Svi se slažu da je ispod "bad mama" stava, Ester bila strasna, pametna, brza na jeziku, dobrodušna i brižna. Ako se i dalje dvoumite da li da investirate svoje vreme i novac u otkrivanje ove dive, možda vam jedna scena iz života pomogne. Radnja se dešava u LA-u, krajem pedesetih godina prošlog veka. Ahmet Ertegan je to veče "zujao" po gradu sa Filom Spektorom (Phil Spector) i Otisom Redingom (Otis Redding). Išli su na večeru, pre toga svratili do Spektora na piće "s nogu", a posle zagrevanja Ahmet je predložio da svrate do kluba u Votsu (Watts), pošto je znao da to veče Ester nastupa. Posle par pesama, Reding više nije mogao da izdrži, popeo se na binu, a Spektor je seo za klavir. Svirali su cele noći, a sešn se završio u 6am. Mesecima posle, trojica velikana pričala su da im je to bio najsrećniji trenutak u životu…