Pop Depression Piano Night mix #17 [Persian Winter 2020]
Pop Depression Piano Night Mix #17 /Persian Winter 2020/ / … January 6th 2020.

---
Ko bi rekao da će ovo da poživi ovoliko dugo… Pet godina već pravim klavirske mikstejpove (prvi je objavljen 15. jula 2015. godine!), usput smo pokrenuli Klavirsko nebo, organizovali par klavirskih koncerata i nekako mi je želja da se izmestim skroz iz "rokenrol" žabokrečine i da samo ovo radim. Videćemo šta će biti od toga. Ovoga puta u centru pažnje zimskog misktejpa  je Klavirsko nebo #2 uz neke stare, ali i nove junake serijala. Izdvajam saradnju producenta Maxa Coopera i pijaniste Toma Hodgea, divan album Rachel Grimes, potencijalno album godine (2020) Bohren & der Club of Gore, novu zvezdu Erased Tapes izdavačke kuće čelistkinju Anne Müller, fantastično izdanje italijanskog kompozitora Bruna Bavota, a svakako morate da poslušate kako izgleda dan u životu eskimske porodice koja živi u Zalivu Hadson u epskom delu "Nanook of the North".
---
Featured: Klavirsko nebo #2: Andy Pavlov, Ana Ćurčin & Marina Milošević, Andrej Negić, Kosta Jevtić, Rachel Grimes, Garreth Broke, Kralj Čačka i Marko Marić, Fabrizio Paterlini, Daniel Thorne, Brooklyn Rider ft. Colin Jacobsen, Hior Chronik ft. Hania Rani, Max Cooper ft. Tom Hodge, Yuki Murata, Christine Ott & Torsten Böttcher, Luke Howard, Bohren & der Club of Gore, Arovane & Mike Lazarev, Anne Müller, Tom Adams, Yann Tiersen, Slow Meadow, Bruno Bavota, Akira Kosemura
---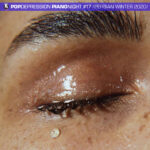 Andy Pavlov – Your Heart is Melting /VA – Piano Sky #2/
Rachel Grimes – A New Land /The Way Forth/
Garreth Broke – Healing /Healing/
Kralj Čačka i Marko Marić – Old Newspapers /The Final Adventure Of Kaktus Kid OST/
Fabrizio Paterlini – Eyes Closed /Transitions/
Daniel Thorne – Pyriscence /Lines of Sight/
Brooklyn Rider ft. Colin Jacobsen – Pendulum /Philip Glass: Annunciation/
Ana Ćurčin ft. Marina Milošević –  Rušenje zida /VA – Piano Sky #2/
Hior Chronik ft. Hania Rani – Words Are Gone /Blind Heaven/
Max Cooper ft. Tom Hodge – In Pursuit of Ghosts /Yearning for the Infinite/
Andrej Negić – Odraz /VA – Piano Sky #2/
Yuki Murata – Monochrome /Piano Fantasia+ EP/
Christine Ott & Torsten Böttcher – Kayak fragile /Nanook of the North/
Luke Howard – Casino /The Sand That Ate The Sea/
Bohren & der Club of Gore – Tief gesunken /Patchouli Blue/
Arovane & Mike Lazarev – Elegie, Red /Aeon/
Anne Müller – Heliopause /Heliopause/
Tom Adams – Particle VIII (The Light Before the Rain) /Particles/
Mike Lazarev – All I've Said /All I've Said/
Yann Tiersen – La Dispute /Portrait/
Slow Meadow – The Future Belongs to Ghosts /Happy Occident/
Bruno Bavota – Sneaking behind the falling sky /Get Lost/
Kosta Jevtić – Chiostro Del Paradiso /VA – Piano Sky #2/
Akira Kosemura – Late Night Tales /Diary 2016-2019/
mixcloud artwork (Source: fashiion-gone-rouge)
---