Recenzija [film] | Once Were Brothers: Robbie Robertson and The Band (2020)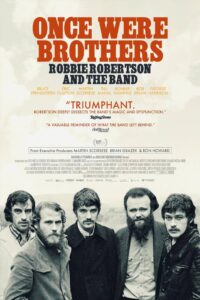 Once Were Brothers: Robbie Robertson and The Band (2020)

Reditelj: Daniel Roher
Pojavljuju se: Robbie Robertson, Martin Scorsese, Bruce Springsteen, Eric Clapton, Taj Mahal, Jann Wenner, Ronnie Hawkins, Van Morrison, Dominique Robertson, David Geffen…
Producenti: Lana Belle Mauro, Stephen Paniccia, Andrew Munger, Sam Sutherland
Snimatelj: Kiarash Sadigh
Montaža: Eamonn O'Connor, Daniel Roher
Trajanje: 102 minutes
Studio: Magnolia Pictures
---
Robi Robertson je rokenrol božanstvo. Genijalni gitarista, talentovani pesnik i kompozitor, član neponovljivih The Band, višedecenijski saradnik Martina Skorsezea. "Once were brothers" nema nikakvu želju da ispriča kako je bilo, već samo da pokretnim slikama isprati autobiografiju "Testimony" koju je Robi objavio 2016. godine. Utisak je dok gledate 102 minuta ovog filma kao da gledate plejbek nastup omljenog benda na televiziji. Sve je kako treba na prvi pogled, ali ako se udubite malo – niko ne svira, neki od ljudi na bini pogrešno otvaraju usta, scenografija je šljašteća ali potpuno neodgovarajuća prilici. Robertson je svakako bio pametniji od ostatka grupe. Na vreme je shvatio gde je novac – autorska prava, tantijeme, potpisani ugovori – i od čega će da se živi kada prođe euforija. Njegov odnos sa Alberton Grosmanom (Dilanovim menadžerom) i Dejvidom Gefenom svakako je imao presudan uticaj na to. I činjenica da je konzumiranje alkohola i narkotika kontrolisao u meri da to nije u većoj meri uticalo na njegov život. Ostali nisu bili te sreće.
Šta je dobro u filmu koji je režirao mladi (26) kanadski sineasta Danijel Roher?
Priča o detinjstvu Robija Robertsona i odrastanju u Kanadi, otkrivanje istine o ocu, jevrejskom poreklu i mafijaškim rodbinskim vezama. Počeci sa Ronijem Hokinsom, upoznavanje sa Livonom Helmom ("kada se on smeje – svi se smeju oko njega!") i ostatkom budućeg benda – Ričard Manuel, Gart Hadson, Rik Danko. Ulazak Grosmana i Dilana u njihove živote (Grosman je isti Kepa!), snimci turneje sa Dilanom koja je prošla katastrofalno zbog loše reakcije publike i konstantnog negodovanja zbog električnih instrumenata, selidba u Vudstok i Big Pink i brojne fotografije koje je napravio Eliot Landi, suludi homemade filmovi, detalji kreativnog procesa talentovanih muzičara, pas Hamlet kojeg je Dilan poklonio Bendu. Novi intervjui sa Brusom Springstinom (iako totalno random upotrebljeni, što je i slučaj sa Lerijem Kembelom), Tadžom Mahalom, Vanom Morisonom, Erikom Kleptonom, Dominik Robertson – (bivšom) ženom Robijevom, Martinom Skorsezeom, ali i genijalnim Ronijem Hokinsom u svakom segmentu… Još fantastičnih snimaka oproštajnog koncerta "Poslednji valcer", delići nastupa i krupni kadrovi Livona i Ričarda pre svih – kakva je to bila vulkanska energija na sceni, čoveče…
Šta nije dobro u filmu?
Prekrajanje istorije, odsustvo jedinog preživelog člana benda uz Robertsona – Garta Hadsona – koji i dalje sa porodicom živi u Vudstoku. Insistiranje da su bili braća, a onda priznanje da mu je dojadilo da braći bude dadilja i da je samoinicijativno odlučio da prekine sve jer mu se više nije išlo na turneje. Totalno ignorisanje činjenice da je bend nastavio da svira i radi i bez njega, čak i posle tragične smrti Ričarda Manuela 1986. Smrt Rika Danka 1999. godine bila je i definitivni kraj grupe. Totalno ignorisanje svega onog što je u svojoj autobiografiji napisao Livon Helm, posebno deo o kolektivnom autorstvu pesama. Zanimljivo je da su kroz istoriju mnogi bendovi to rešavali elegantno i bez potresa: sve pesme The Beatles bile su potpisane sa Lenon/Makartni bez obzira ko je od njih dvojice bio autor, autori svih pesama U2 su svi članovi benda, baš kao i u slučaju R.E.M. i mnogih drugih…
Za objektivnije istraživanje karijere grupe The Band preporučujem čitanje autobiografije "This Wheel's On Fire" Livona Helma, ali i "Testimony" Robija Robertsona koji mnogo uspešnije od filma prikazuje kompleksnu ličnost autora. Pa onda i bibliju Barnija Hoskinsa "Across the Great Divide: The Band And America", kao i novo gledanje "The Last Waltz" i "No Direction Home" – iz ovog drugog pozajmljene su brojne scene sa Dilanom.
Film je dobio ime po pesmi koju je Robertson objavio na odličnom prošlogodišnjem (2019) albumu "Sinematic". Tom pesmom film počinje i završava. Reči te pesme su kao i ovaj film – patos bez emocija, ljubav za potrebe snimanja, tumačenje istorije iz vizure pobednika. Šteta, Robi Robertson je veliki umetnik, svakako da je zaslužio i veliki film. "Once were brothers" to nije.