Recenzija [film] | David Crosby: Remember My Name" (2019)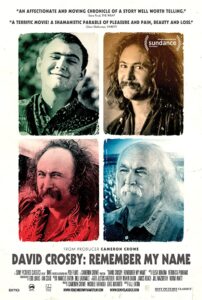 David Crosby: Remember My Name (2019)

Režija: A.J. Eaton
Producenti: Cameron Crowe, Michele Farinola, Greg Mariotti
U filmu se pojavljuju: David Crosby, Jackson Browne, Jan Crosby, Cameron Crowe, Glenn Frey, Henry Diltz, Chris Hillman, Roger McGuinn, Enrico Merlin
Snimatelji: Ian Coad, Edd Lukas
Montaža: Elisa Bonora, Veronica Pinkham
Studio: BMG, Vinyl Films, PCH Films
Distribucija: Sony Pictures Classics
---
Relativno skoro, dok sam ceo dan proveo u gledanju kompletne sezone vrlodobre serije "Devs" Aleksa Garlanda, u jednoj epizodi pravo niotkuda uleteli su zvuci pesme "Guinnevere" CSN, koju je napisao Dejvid Krozbi. Ceo saundtrek za seriju je genijalan, ali izbor te pesme, tog psihodeličnog izliva ljubavi koji je lelujao iznad čudnog štima i metrike stihova, bio je totalni pogodak. Toliko je moćna ta Dejvidova oda ženama koje je voleo…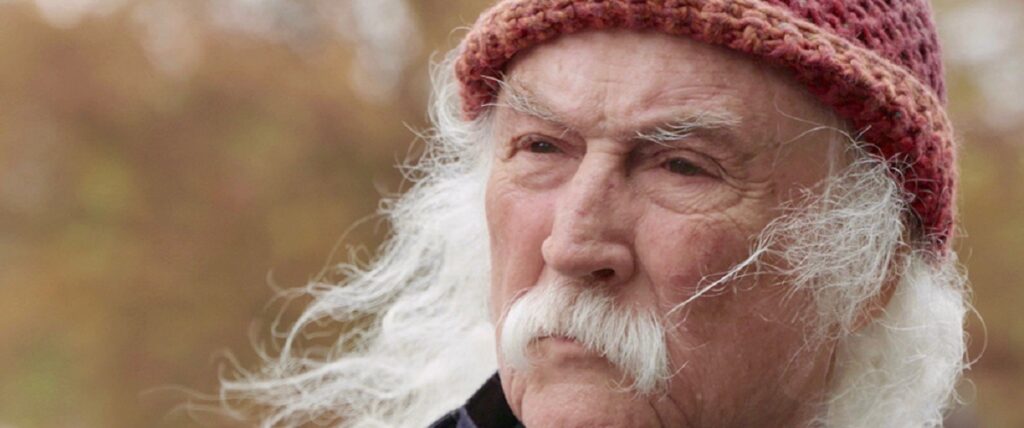 Dejvid Krozbi je kreten, sebični ego-manijak, pijana i drogirana debilčina koja je učinila sve da od sebe odgura ljude koji su ga voleli i podržavali, koji je granice koje se ne prelaze prešao milion puta, koji je od devet mačijih života potrošio njih 40. Sada, u 79. godini života, svakako da nije trenutak da počne da se menja, niti je u tom menjanju neki smisao, ali sada je najzad sposoban da shvati šta je sve zasrao tokom života. Ostao je sam sa suprugom Džen, porodicom, psima, konjima, novim bendom, nekolicinom poznanika. Preživeo je osam stentova, 3-4 infarkta (ni sam nije siguran), nekoliko kliničkih smrti, hepatits C, transplataciju jetre, zatvor i samicu, dijabetes, javno odricanje najbližih. A onda se desilo nešto neobjašnivo: našao je svoj stvaralački modžo i od 2014. godine do danas, posle 20 godina pauze, objavio je četiri odlična albuma  – "Croz" (2014), "Lighthouse" (2016), "Skytrails" (2017), "Here If You Listen" (2018) – a uskoro će i peti. Vratio se koncertima, stekao i novu publiku. I na nagovor reditelja Ej Džej Itona i podršku producenta Kamerona Kroua snimio je film o sebi, usponima i padovima, greškama i katastrofama. I muzici. Posebno o muzici, jer muzika je ono što je sačuvalo njegov život. I ljubav malobrojnih ljudi koji od njega nisu odustali.
"Remember my name" je težak i često brutalan film. I divan u isto vreme. Dejvid je i šarmantan pripovedač i Mefisto, često i tokom iste anegdote. Od prve scene i priče o Džonu Koltrejnu, do kraja i priznanja da ga je supruga Džen naučila "da voli sebe, a onda i da voli generalno". Ulaskom Kroua u film dobili smo novinara koji postavlja pitanja (van kadra), ali i čoveka koji spaja početak Krozove karijere sa sadašnjošću.
Neverovatnih priča je bezbroj. Izdvojio bih onu o dolasku u Lorel kanjon, slušanju prvi put Džoni Mičel u nekom kafiću na Floridi, upoznavanju i vezi sa njom:
– "Zaljubljivanje u nju slično je iskustvu upadanja u mešalicu za beton".
– "Smejali smo se i plakali naizmenično, sve u pola sata".
– "Zašto si se zaljubio u nju, a ne u Dženis ili Mamu Kas? Zato što je ona tako htela, imala je jak modžo…"
– "Ne biraš u koga ćeš da se zaljubiš i ne biraš zašto."
– "Ne postoji niko kao što je Džoni Mičel."
Takođe i upoznavanje sa Dilanom i prisvajanja pesme "Mr Tambourine man", uz Krozovo  zapažanje da je tada već video da su Dilanu počeli da se vrte točkići u glavi i da je tu i tada rešio da postane "električan". Onda naravno i upoznavanje sa Bitlsima i ubrzani kurs kako se postaje i ponaša zvezda.
Fantastična je i priča o izbacivanju iz The Byrds, pa onda "Our house" vinjeta sa sve kibicovanjem "te" zgrade s ulice, ulazak Nila Janga u priču i formiranje CSNY, tragičan kraj devojke Kristin Hiton, pa depresija i beg u svet heroina i kokaina, snimanje transcendentalnog albuma "If I Could Remember My Name", sviranje velikih koncerata i pisanje velikih pesama, pa zatvorske kazne, odvikavanje od droge, novi počeci, kraj "večnog" prijateljstva sa najboljim prijateljem Gremom Nešom kao poslednjim koji je preostao…
Mislim da sam hiljadu puta video nastup CSN na božićnoj svečanosti u Beloj kući 2014. i svaki put me je blam kolika je to katastrofa bila. Pesma "Silent Night" koju su to veče probali da izvedu bila je i poslednja koja su ova trojica ikada izveli.
Potrebno je da se naglasi da ovo nije Krozbijev "redemption song", pošto i on sam priznaje da i dalje niko ne želi da ga vidi ni čuje od njegovih najbližih muzičkih prijatelja (Mekgvin, Stils, Jang, Neš)… Film se nije bavio time zašto su svi toliko ljuti na njega i neka to bude jedina zamerka, iako će gugl vrlo brzo dati sve potrebne odgovore ako ih neko želi. Za dalje istraživanje o odnosima unutar CSNY (ili "Game Of Thrones" za hipike) odlično mesto je knjiga Dejvida Brauna "Crosby, Stills, Nash and Young: The Wild, Definitive Saga of Rock's Greatest Supergroup". Krozbi zna da neće još dugo da živi – možda je ostalo vremena za još neki album, nešto više koncerata i ako bude bilo sreće, bar neki oproštaj od grehova. Zaista nije bitno kako padneš i koliko puta padneš, jedino bitno je da opet ustaneš i da prestaneš da praviš (nove) gluposti. Maestralan film o nemogućem čoveku.