Preslušajte kompilaciju nove regionalne klavirske muzike "Klavirsko nebo #3"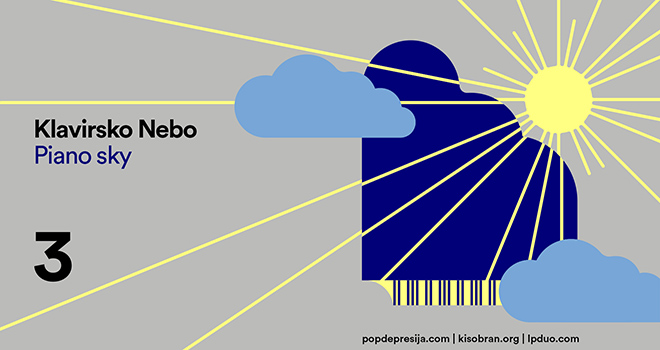 Treću godinu zaredom Pop Depresija i Kišobran, uz podršku i inspiraciju LP Dua, organizuju konkurs "Klavirsko nebo", na kojem pozivaju autore da pošalju svoju novu muziku napisanu za klavir. Ove godine konkurs je bio regionalan, a u 15 kompozicija koje su izabrane nalaze se i radovi Ane Ćurčin (Ana & The Changes), Sane Garić, Branimira Norca (Klinika Denisa Kataneca), Petra Stevanovića (Ljubičice)…
"Klavirsko nebo #3" dostupno je za preslušavanje ili "plati koliko želiš" preuzimanje na bandcampu, kao i na YouTube kanalu Pop Depresije, a od 4. novembra i na svim streaming platformama (Spotify, Deezer, Apple Music…)
Konkurs je bio otvoren od 20. maja i trajao je sve do kraja jula 2020. godine. Poslato je ukupno 86 kompozicija koje su ispunjavale osnovne uslove, a prijavilo se 62 autora iz Srbije, Makedonije, Crne Gore i Hrvatske. Kao i prethodnih godina konkurs je bio otvoren za sve, bez obzira na formalno muzičko obrazovanje i godine. Preslušavanje kompozicija bilo je anonimno, tj. naš žiri imao je samo broj i ime kompozicije i za svaku pesmu davao je ocene od 1 do 5. U žiriju su bili Branka Parlić, Ksenija Stevanović, Svetlana Đolović, Vladimir Skočajić i Ivan Lončarević. Na kraju, izabrano je 15 kompozicija, a minimalni broj poena s kojim je neka kompozicija ušla u finalni izbor bio je 17 (teoretski maksimum bio je 25). Pošto je ovo prvi put da je konkurs imao regionalni karakter, možda je bitno da se istakne da je u finalnom izboru bilo 11 autora iz Srbije, dvojica iz Hrvatske, jedna autorka iz Crne Gore i jedna iz Makedonije. Po treći put na kompilaciji našle su se kompozicije Andreja Negića i Ane Ćurčin, dok su po drugi put izabrani radovi Milice Predolac i Petra Stevanovića. Žanrovski i ovoga puta granice su se formirale same: od ambijentalne neoklasike, preko mimimalizma i elektronike, do džezirano-filmske klavirske muzike. Imamo čast da vam predstavimo "Klavirsko nebo #3"!
---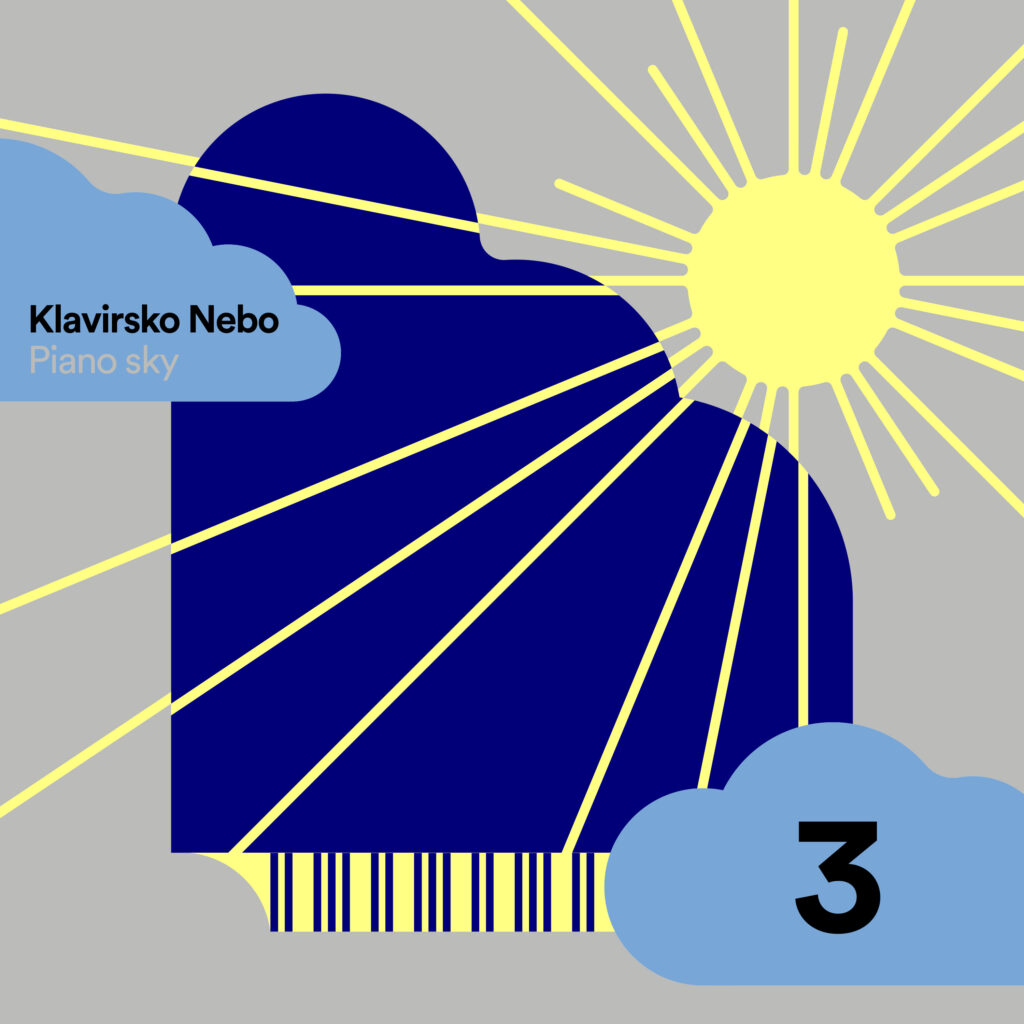 01 Andrej Negić – Train of Thought
02 Alina Mahleani – And The Wind Carries My Ashes
03 Ana Ćurčin ft. Milena Jančurić – Košuta
04 Nikoleta Radulović – Etar
05 Iva Damjanovski – Breath
06 Petar Pupić – Blizu
07 Lady K – Ideals
08 Milica Predolac & Ana Vasić – Voz
09 wb41 – Althea
10 Branimir Norac – Pogled u kutiju s kišom
11 Srđan Marinković – Beskrajna tuga
12 Petar Stevanović ft. Olga Petrović – Rush B
13 Sana Garić – Srna i klavir
14 Ivan Šaravanja – Na Mrežnici
15 Milan Petrović – In Love
Dizajn naslovne strane i ovoga puta delo je Bratislava Milenkovića, dok je finalni mastering uradio Filip Tančić.
---
Žiri "Klavirskog neba #3"

Branka Parlić, pijanistkinja i muzički pedagog
Ksenija Stevanović, muzikološkinja i urednica Radio Beograda 3
Svetlana Đolović, urednica Radio Aparata
Vladimir Skočajić Skoča, autor emisije Gistro FM i
Ivan Lončarevič, Pop Depresija.
---
Prethodne kompilacije Klavirskog neba
[#1] VA – Klavirsko nebo #1 // Piano Sky #1
[#2] VA – Klavirsko nebo #2 // Piano Sky #2