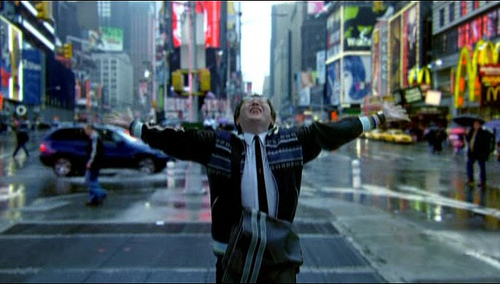 U jednom trenutku prestao sam da odlazim u bioskope. Relativno sam siguran da ne patim od neke fobije i da ću jednoga dana opet gledati pokretne slike zajedno sa ljudima koji jedu, piju, pričaju, smeju se, prave planove "šta i kuda posle" i valjda povremeno gledaju šta se događa na platnu ispred njih. Ne samo što sam prestao da odlazim u bioskop, nego sam filmove skoro u potpunosti izbacio iz svog života. Jednostavno nema mesta za sve – slobodne termine preuzele su tv serije.
Nekom drugom prilikom bih pisao o uticaju Torrent-a na kvalitet života, ali veza Torrent-serije učinila je mnoge insomnične noći relativno podnošljivim, a uzani krug najbližih prijatelja proširila za bar još neko važno ime. Pošto je kraj proleća/početak leta period u kojem se sve aktuelne serije završavaju grandioznim i klifhengerovskim finalima o kojima će se još pričati narednih meseci, i pošto nemam želju da otkrivam ko je ubio Loru Palmer, baviću se pesmama koje su obeležile neke od ključnih epizoda mojih omiljenih serija… Izvinjavam se Erlu Hikiju i Džeku Baueru što ovoga puta nisu uzeti u razmatranje.
Heroes "Collision" S01E04
Rogue Wave – Eyes
Obećao sam sebi (a možda i drugima) da ću kad-tad otići u Njujork. Imam samo jedan razlog da ovoga puta to obećanje ispunim – želim da stanem na sred Tajms skvera i viknem "Yatta! Hello, New York!" – to je najmanje što je Hiro Nakamura zaslužio… Ajzak okružen slikama u svom ateljeu, Piter i Simon i njihovo prvo "morning after", Hiro i Ando pred kockarnicom u Gradu greha i Kler posle pokušaja silovanja. Četiri slike i jedna pesma koja ih drži na okupu. Magija.
Veronica Mars "Debasement Tapes" S03E17
Cotton Mather – My Before & After
Posle tri sezone emitovanja, Veronika je završila svoj TV život. Nisam još spreman da pričam o životu posle ove tragične i sulude odluke producenata… Pored omiljenih blogova i oinka, "Veronica Mars" mi je predstavljala jedan od ključnih izvora novih/starih pesama za radio emisiju "Pop depresija". Možda najomiljenije "otkriće" je pesma "Ventura Highway" grupe America, koja bi, u mom slučaju ostala skoro zaboravljena , da nije neočekivano "iskočila" dok je tata Ekls tukao Logana… Iz treće sezone izdvojio bih  prekrasan omaž Robertu Herisonu i grupi Cotton Mather.

Lost "Tricia Tanaka is Dead" S03E10
Three Dog Night –  Shambala 
Sin, otac, crveno-beli automobil i radio kasetofon. Četiri muškarca, pas, plavo-beli kombi i auto-kasetofon. Dharma pivo i ostaci Rodžera Vorkmena. Paljenje na gurku i vožnja kao retki trenuci trijumfa i sreće.
Battlestar Galactica "Crossroads, Part 2" S03E20
Bob Dylan – All Along The Watchtower (Bear McCreary arr.)
Nekako je logično da kraj sveta (ili početak novog) protiče uz stihove Dilanove "All Along The Watchtower", i da "ljude" u novi život povede žena – strasna, luda i jača od svih.

House M.D. "Meanings" S03E01
Rolling Stones – You Can't Always Get What You Want
Za dva meseca "stukao" sam tri sezone serije "House M.D." Iako bih voleo da mogu da se pohvalim da smo u međuvremenu Gregori Haus i ja počeli da ličimo jedan na drugog, to ipak nije slučaj: on je i dalje visok, mršav, zgodan, duhovit, ironičan i ćopav, a ja sam ostao takav kakav sam… Jedino čemu se još nadam je romansa sa Kadijevom! Pošto je Haus uspeo da preživi psihotičnog Morsa i fašistoidnog debelog bogataša, cenim da će preživeti  i sva ostala iskušenja. Svaki put kada je izgledalo da nema izlaza i da će morati da se okane gutanja "bombonica" i mizantropije, u prvi plan je izbijala pesma "You Can't Always Get What You Want". Naravno da se nijedan od problema ne rešava samom pesmom, ali bar vam vreme prođe u prisećanju na "The Big Chill" i hajlajte iz sopstvenog života.