Fascinantni Al Green u Bečkoj Operi
Beč, 4. jul, 2010.
Piše: Ivan Lončarević, foto i video: Svetlana Đolović
---
Dvadeset godina svačijeg života je značajan period. Dve decenije postojanja "Bečki Jazz Festival" proslavio je spektakularnim programom, ekskluzivnim koncertima i rasprodatim salama.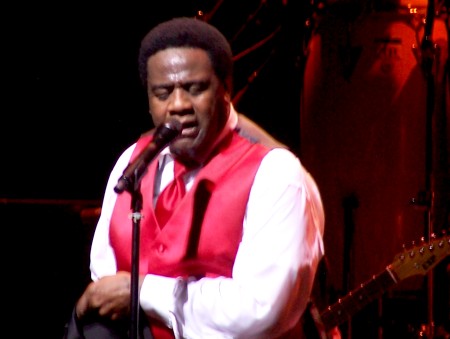 Ako je ovogodišnji festival najava sa kakvim planovima organizatori ulaze u "doba zrelosti", onda bi ova manifestacija i vama mogla da bude omiljena…  XX Vienna Jazz festival obeležili su koncertima u zgradi "Bečke Opere" Melody Gardot, Juliette Greco, Randy Crawford, Air, Jeff Beck, Al Green… Tokom skoro mesec ipo dana program se održavao na više lokacija, a pored Opere u drugim prostorima nastupili su ili će tek nastupiti i Jamie Cullum, Terry Callier, Portico Quartet, Imelda May… Zahvaljujući ljubaznim organizatorima dobio sam priliku da uživo gledam koncert jednog od najvećih živih pevača i autora popularne muzike, Ala Greena.
Mala trema pred susret sa legendom sigurno postoji. Al Green je uz Smokeya Robinsona poslednji živi soul velikan. Zgrada Bečke Opere sama po sebi je dovoljno ozbiljna i strašna da se ta trema pojača, pošto je sećanje na loš vajb tokom koncerta Lambchop u Kolarcu i dalje jako. Publika je bila uglavnom starosti 40+ godina, lepo i svečano obučena, a atmosfera je bila kao pred neku važnu iistorijsku utakmicu.
Gledam pre početka koncerta prepune galerije (njih pet) Opere, koje se pružaju nekoliko desetina metara u vis: sve su bile pune i nabijene elektricitetom.
Prateći bend Ala Greena je, kako bi sportski komentatori rekli, "spoj mladosti i iskustva". Tri pevačice su Greenove ćerke – Kora, Alva i Ruby, bucmasti klavijaturista je iz Bostona – Stacey Wade, drugi klavijaturista – Thomas McClellan – dizajniran kao član Wu-Tang kolektiva sakriven je iza velikih drvenih kutija na kojima se nalaze njegovi instrumenti, tročlana duvačka sekcija može da služi za ponos muzičkom nasleđu Memfisa, perkusionisti/bubnjari unosili su neophodnu dinamiku kada ju je Green tražio, a dvojica igrača svojim kretanjima doprinosili su da da ovaj putujući soul-cirkus bude nešto što se ne zaboravlja. Prve zvezde ovog orkestra nesumnjivo su gitarista Dustin Barber i basista Barry Campbel.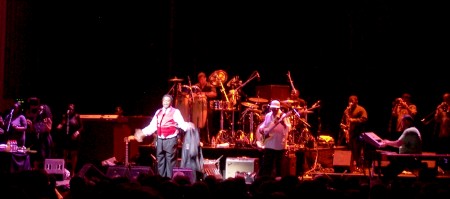 Uz uvodne zvuke "Your Love Is Like The Morning Sun" Al Green izlazi na scenu. U sivom odelu sa crvenim prslukom, nasmejan i raspoložen, uzima pripremljen buket 12 crvenih ruža (bez trnja) koje će tokom sledećih 70-ak minuta podeliti odabranim gošćama koncerta.
"Došli smo iz Memfisa… iz Tenesija"
Glas Ala Greena… To se ne može rečima opisati! Skupljam butlege njegovih nastupa poslednjih desetak godina, ali ma koliko ti snimci bili tehnički savršeni, to nije ništa prema tome kada Reverend Ala slušate uživo u sali sa savršenom akustikom. Nekoliko puta kada ga "emocija ponese" i kada odluta od mikrofona i nastavi da peva, savršeno se čuo, baš kao i kada peva u razglas. Već druga pesma, klasik "Lets Get Married", pretvara se u šest minuta totalnog transa.
"Lay It Down", naslovnu neumeru poslednjeg studijskog albuma, Green je najavio rečima:"Evo jedne pesme od pre godinu… možda dve…" 
Onda je bend počeo da svira, a on ga je grubo utišao, a onda je tražio da budu još tiši… U sali se nije čula ništa osim njegovog šapata…
"I just met you, just the other day/ Everythin' started flowin' my way, more an' more
I just love you, really, I just love you for yourself/I don't want no, no, no, no, no, no, nobody else
Hey, lay it down, let it go, fall in love/Put your head on the floor/Oh, lay it down, let it go, fall in love"
A onda je bukvalno legao na binu i pevao sa zemlje, a dok se pesma pojačavala i on je ustajao i bivao sve glasniji. Do kraja pesme uspeo je da pomeša par reči:"To je zato što ste me vi gledali!" – rekao je dami kojoj je dao ružu nekoliko trenutaka pre toga, a onda je ušetao u publiku sa mikrofonom u rukama i od Bečke Opere napravio rokenrol hram, kao da je to nešto najobičnije i najnormalnije. Da li je potrebno da kažem da je publika na nogama i u transu ispratila sva ova dešavanja?
U jednom trenutku neko je iz publike doviknuo:"Propovedaj!", a Green je lakonski odgovorio:"Svaka pesma koju pevam je propoved, zato slušaj pažljivo".
Na "Lets Stay Together" sve dileme vezane za hemiju umetnika i publike u Operi su nestale. Na prve taktove pesme publika je ustala na noge i tapšanjem se aktivno uključila u interpretaciju jedne od najlepših pesama iz zaostavštine Ala Greena i Willieja Mitchella.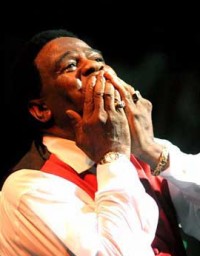 Desetak minuta premotavanja soul istorije tokom kojih je odao počast idolima i prijateljima najavio je rečima: "Znate ko sam i znate moje pesme. Ali, evo odakle sam došao i kako sam postao to što jesam…" uz predivan omaž Smokeyu, Samu, Otisu, Marvinu, Four Tops…
Danima pred koncert pevam (i u sebi i naglas) "Tired To be Alone" kao neku mantru koja mi pomaže da se vatra ne ugasi. Recimo da je izvođenje te pesme uživo ove večeri bilo iskustvo koje neću zaboraviti nikada. Uz laganu šetnju sa divnom "Still In Love With You" i nežnom "Simply Beautiful", za kraj koncerta ostavio je himnu "Love And Happiness". Pesmu je najavio rečima: "Hajde da uradimo ovo… U stilu 1974. godine, bejbi!" Usledilo je deset minuta furioznog sviranja, strasti, hemije i magije.
Ovacije i dugi i uporni pozivi publike da se bend vrati na bis, nažalost nisu bili dovoljni da se to i dogodi. Samo jedan stidljivi Greenov pozdrav iz bekstejdža uz roudije koji su počeli da pakuju opremu bili su ambijent u kojem pokušavam da saberem utiske. Još ih sabiram, ima vremena, tek je prošlo tri dana…
Setlista: Your Love Is Like The Morning Sun, Let's get Married, Lay It Down, Sha-la-la (Make Me Happy), Rainin' In My Heart, Let's Stay Together, What Makes The World Go 'Round, Here I Am (Come & Take Me), Medley: Sugar Pie, Honey Bunch/My Girl/Bring It On Home To Me/Ive Been Loving You/Wonderful Wold/You Are Everything, Tired To Be Alone, Still In Love With You, Simply Beautiful, Love And Happiness