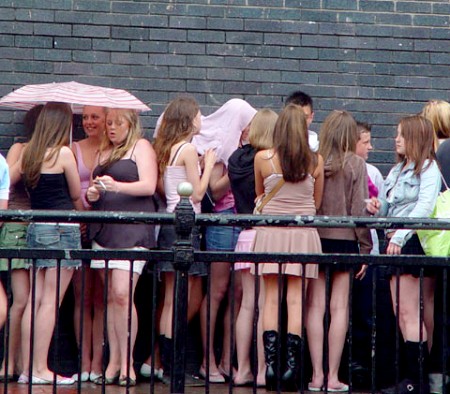 Narodna verovanja i popularna kultura uče nas da je zimi zaista kraj i da je proleće stiglo onda kada to kažu mrmot ili mečka Božana.
Na sreću, ima i boljih i tačnijih naučnih metoda…
Holandski pisac Martin Bril otac je Rokjesdaga ili "Dana kratkih suknji". To je onaj misteriozni prolećni dan, kada gotovo sve devojke na neki volšeban način odluče da nose mini-suknje i time kao da poručuju: zima je gotova, stiglo je proleće. Bril je pisao više tekstova o ovom fenomenu i kada je umro, 22. aprila 2009, odlučeno je da taj dan i zvanično bude Rokjesdag.
Prekrasna Izabela Ađani glumila je profesorku u srednjoj školi u filmu "Skirt Day (La Journée de la jupe)" (2008, režija Jean-Paul Lilienfeld) u kojem je jedna od premisa zahtev nekolicine studenata da Ministarstvo obrazovanja Francuske proglasi "Skirt Day" kao neku vrstu otpora tradicionalnom i konzervativnom ponašanju u srednjim školama. Izabeli je ova uloga bila prva posle šest godina pauze i za nju je dobila petog "Cezara" za najbolju glumicu.
Kako i zašto baš sve devojke odluče da je baš taj dan Rokjesdag, ostaje misterija, ali sličnih primera ima u prirodi i za njih postoji pseudo-naučno objašnjenje u morfološkoj rezonanci biologa Ruperta Šeldrejka i to na primeru vrste majmuna koja živi u Japanu, uglavnom na ostrvu Košima (The Japanese Macaque, Macaca Fuscata ili Snow Monkey).
Posmatranje ove vrste pokazalo je da ako jedan od njih nauči da otvara kokos udarajući ga kamenom, s druge strane reke hiljadama kilometara daleko i ostali pripadnici njegove vrste to će znati u izuzetno kratkom roku. Ista vrsta jedina pere hranu pre jela (uz ljude i rakune), kupa se u toplim izvorima i ima sposobnost da razvije različite akcente u svom sporazumevanju u zavisnosti gde žive…
Ovu posebnost vrste iskoristio je i Brajan Von (Brian K. Vaughan) za grafičku novelu "Y: The Last Man".
Bez obzira na nauku, morfo-genetiku/rezonancu i ostali pseudo-naučni mambo džambo, kratke suknje su mnogo bitniji fenomen sam po sebi, pa tako i Rokjesdag. Nekoliko dana/nedelja napred ili nazad nije preterano bitno – važnije je da su svi elementi ispunjeni. A danas je baš takav dan: za kratke suknje, za šetnju, piknik, vožnju bicikla, kapućino u bašti, fudbal u parku…