Postoje izvesna mišljenja da je peti studijski album grupe Calexico loša ploča. Zamera joj se da nema dovoljno marijača, da Joey Burns "suviše peva", da je Feast Of Wire (2003) za klasu bolji i da ništa nije dobro kao pesma Tulsa Telephone Book…
Divno je što je (poneki) bend i dalje u poziciji da pravi muziku za "svoju dušu", bez obzira šta neki njihovi fanovi misle. A Calexico su ovu ploču napravili baš za sebe.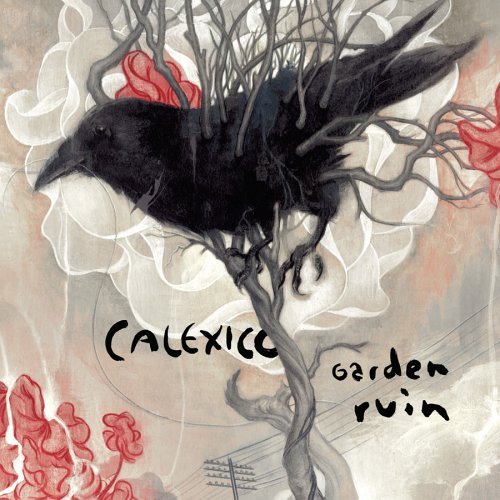 Ohrabren večitom idejom bubnjara Johna Convertina o menjanju i improvizaciji, a pod jakim utiskom zajedničkih koncerata sa Wilco, Iron & Wine i Neko Case, Burns je odlučio da njegova promena krene u smeru klasičnog singer-songwritera, a ostali članovi benda spremno su stali iza, da mu u ostvarenju tog cilja pomognu.
Rezultat je sve – samo ne Feast of Wire II. Ako je publika doživljavala kolektivne orgazme tokom neslušljivog albuma Wilco A Ghost Is Born, neko pametan će sasvim sigurno analizirati odakle dolazi nezadovoljstvo sa Garden Ruin. Ali sada, sve to nije previše bitno. Kada bi bilo moguće zanemariti Giant Sand, prethodnu karijeru Calexica, Younga, Dylana, Morriconea i sve druge ometajuće faktore, kakav bi bio odnos prema albumu Garden Ruin – debitantskom ostvarenju mlade i uzbudljive grupe iz Arizone? Iz mog ugla – smatrao bih da je remek delo.
Podaci govore da je Bizbi, gradić na severoistoku Arizone, u 19. veku bio atraktivno rudarsko mesto. Danas je dom umetnika i turista. Pored toga što je 10 stepeni hladniji od Tusona, Calexico su Bizbi izabrali kao mesto postanka ovog albuma i zato što je atmosfera mnogo opuštenija nego u skoro milionskom Tusonu.
Joey je ovde (u kafeu Roka) napisao Cruel, Bisbee Blue, Letter To Bowie Knife i Roka. Skice svih pesama kasnije su dovršavane u Tusonu i Bruklinu sa producentom JD Fosterom (Richard Buckner, Laura Cantrell, Marc Ribot, Richmond Fontaine). Pored Joeya i Johna, Calexico čine trubač Jacob Valenzuela (Arizona nejtiv), Nemci Martin Wenk i Volker Zander, te bivši član kulta Lambchop, Paul Niehaus, na pedal-stil gitari.
Joey Burns kao pesnik inspiraciju traži na mnogim (neočekivanim) mestima: Cruel je prava Greenpeace himna obogaćena trubačima, Yours and Mine je intimna skica o trenutku odluke, Bisbee Blue govori o izgubljenom smislu života u gradu, Panic Open String je "sestra" pesme Blue Moon kultnih Big Star – o "onom" trenutku kada zatvorenih očiju maštate o promeni i sebi u novom životu, pustinjski saundskejpovi na Roka (Danza De La Muerte) jedina su veza sa "starim" Calexicom, a Eliot Smith kao da vreba iz prikrajka na Lucky Dime…
Tokom celog albuma prisutna je izvesna politička angažovanost, ali koja nijednog trenutka ne prelazi u banalnost. Burnsov glas sve vreme je u centru pažnje. Moćan, sugestivan, zavodljiv i strašno "poznat". Na različitim pesmama, kroz njega "prolaze" mnogi heroji prošlosti i sadašnji underground trubaduri.
Deset pesama prošlo je za nešto više od 35 minuta, a usput smo posetili Evropu i Južnu Ameriku, sanjali o boljem životu i lamentirali o prošlosti. Da li nas je sve to pripremilo za pesmu koja zatvara Garden Ruin – All Systems Red?
Ni najmanje. Šest minuta koji definišu sasvim novi Calexico. Svetlosnim godinama udaljen od pustinjskog noira kojim smo se naslađivali prethodnih godina. Njihov Stairway To Heaven (bez Tolkien-patos elemenata) ili Bastards Of Young koji su napisali zreli ljudi.
Želim da verujem da je ova pesma posvećena nama. Nama koji živimo u zemlji u kojoj impotentni političari odlučuju o našim bednim životima. Gde najbliži prijatelji prodaju dušu zarad sitnih zemaljskih zadovoljstava i gde je najveća sramota pokazati entuzijazam i želju da se pomogne nekome bez lične koristi.
Odlazite odavde svi koji možete. Nikada neće biti bolje. All System Red.
Felt a tremor stir beneath my breath
That forecasts storms on the Gallup poll
Waking up from the nightmare news
Hoping to read a sign in the morning air
Nothing changes here and nothing improves
All say my friends who just want out
And leave these troubles behind
Scatter like paper in the eye of the storm
Documented with a silenced note
That's only heard from far away
More cards in play, following suit
Everywhere you look, you only see red
Wonder when to call off the race
Watching a horse running down its last legs
When you think it couldn't get much worse
The numbers rise on the death toll
And the chimes of freedom flash and fade
Only heard from far, far away
I hear you can't trust in your own
Now the grey is broken in the early morn
And the words forming barely have a voice
It's just your heart that's breaking without choice
Everything you hear is distorted in your head
Bouncing off the walls, unraveling the thread
Staying up with the blue screen glow
Forgetting everything you ever dreamed years ago
When the dread is flowing down my veins
I want to tear it all down and build it up again
Hear your heart that's breaking without choice
I want to hear those chimes ring again
Ring again