Mesto & Vreme: Zagreb 24.04.2007. Teatar &TD @SC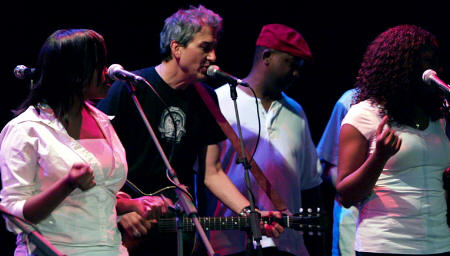 Kada je Howe Gelb prvi put izneo ideju o gospel-swamp-rocku jednom od organizatora Blues Festa u Otavi, on mu je rekao da je to moguće "ali da sve mora da ostane pozitivno".
"Pozitivno" i muzička zaostavština lidera Giant Sand, Band of Blacky Ranchette, OP8, Arizona Amp and Alternator… nisu baš često obitavali u istoj rečenici poslednjih decenija, ali ako je neka stvar zajednička za sve faze Gelbovog stvaralaštva, onda je to konstantno menjanje i traženje novih inspiracija i izazova.
Pre samo nekoliko meseci (4. i 5. novembra 2006) Howe je svirao prvi put u Beogradu/Zagrebu i svoju viziju muzike ponudio u pakovanju u kojem je bila gitara (uz sulude efekte), klavir i usna harmonika.
Sada je u Zagreb došao drugi put, a sa sobom je poveo bubnjara, gitaristu (slajd i pedal stil) i kanadski šestočlani gospel hor "Voices Of Praise".
Velika sala (oko 250 mesta) "Teatra & TD" u okviru zagrebačkog Studentskog centra, bila je premala da primi sve one koji su došli da vide verovatno najznačajnijeg živog muzičara onoga što se nekada nazivalo "novi američki rok".
15-minutnim setom koncert je otvorila šarmantna i stidljiva kantautorka Lonna Kelley iz Arizone, koja je sviranjem gitare i pevanjem u nekoliko navrata podsetila na famoznu Cat Power.
Howe, sa trejdmark šeširom na glavi, u pratnji dvočlanog benda i "Voices Of Praise" hora svoj set počeo je sa "Love Knows No Borders". Kažu, i svi se slažu, da je rokenrol vanbračno dete kantrija i bluza (više o tome u knjizi Žikice Simića "Električna zastava"). Za vreme 90 minuta koncerta činilo se da je ovo drugo dete – o kojem se manje zna i priča – čiji su roditelji gospel i folk, mnogo veselije, žilavije i pametnije.
Vrhunci koncerta sasvim očekivano bili su favoriti sa albuma "Sno Angel Like You" (Thrill Jockey 2006) – "But I Did Not", "Hey Man" i "Nail In The Sky". Pesme Rainera Ptaceka "The Farm" i "That's How Things Get Done" pretvorene su u prave rok liturgije u slavu života, talenta i nepripadanja. "Neon Filler" je i onako jedna od najlepših pesama koju je Gelb ikada napisao, tako da je njena magičnost bila sasvim očekivana.
U Beogradu u DOB-u prošlog novembra Howe je bio duhovit, džetlegiran, blesav, spreman da se igra klavirom i efektima na gitari. U Zagrebu je ovoga puta bio nedovoljno motivisan za komunikaciju sa publikom, opet neoporavljen od prekookeanskog leta, spreman na improvizaciju i nadahnut za pevačke egzibicije, ali i lider moćnog benda na bini. Situacije u kojima Howe u poslednjem trenutku odlučuje da promeni pesmu koju su se dogovorili da sviraju, hor koji se trudi da ga isprati, bubjar koji sve stiže (makar i na drugom stihu) i gitarista koji kao da je ceo život proveo u Blastersima uz Dave Alvina, samo su pojačale neki setni osećaj da verovatno nikada neću imati priliku da gledam "onaj" Giant Sand, sa Burnsom i Convertinom u drugom redu…
Poslednja pesma na koncertu bila je, logično, "Get To Leave", koja je počela kao vic, a završila se kao spektakl. Za bis je ostalo još dovoljno iznenađenja, a završetak večeri sa "Immigrant Song" LedZep pamtiću još dugo.
Praise the Lord

Obavezna lektira:
VA – Soul Gospel (Soul Jazz)
VA – Soul Gospel vol. 2 (Soul Jazz)
VA – Good God! A Gospel Funk Hymnal (Numero Group)