Ako ne bude kraja sveta 2012, 2016, 2034. ili 2047. godine, realno je da očekujemo da ćemo kad-tad da otkrijemo da nismo sami u svemiru. Pitanje koje me muči je – da li će vanzemaljci voleti rokenrol?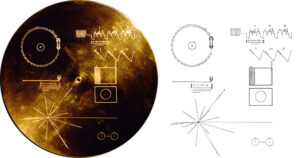 Ako ste gledali seriju Battlestar Galactica onda vam je već poznato da je Bob Dylan vanzemaljac. Ali, čak ni to saznanje nije mu mnogo pomoglo – kao ni Bitlsima, Stonsima ili Elvisu – da se nađe na zlatnim pločama koje sa sobom nose Vojadžeri (Voyager I i II) u nadi da će ih neko presresti na Mlečnom putu i shvatiti koliko smo super.
Prvi Vojadžer u kosmos je pošao 5. septembra 1977. dodine, drugi 16 dana ranije i trenutno su na više od 17 (Vojadžer I, II je blizu 14) milijardi kilometara udaljenosti od Zemlje. Očekuje se da će uz malo sreće nastaviti da se kreću i kako-tako funkcionišu možda i do 2030. godine.
Tim naučnika na čelu sa Dr. Carlom Saganom kao esenciju zemaljske civilizacije i presek različitosti kultura i života na Zemlji, u svemir je poslao slike iz života, naučna dostignuća, pozdrave na 55 jezika, ali i izbor muzike od postanka do danas. Uz Baha, Mocarta, Stravinskog, Betovena i muziku Jave, Senegala, Zaira, Australije, Meksika, Nove Gvineje, Japana, Gruzije, Perua, Azerbejdžana, Bugarske, Navaho indijanaca, Kine, Indije… na tom "sempleru" dugačkom 90 minuta našli su se Chuck Berry sa "Johnny B. Goode," Louis Armstrong and his Hot Seven sa "Melancholy Bluesom" i Blind Willie Johnson sa "Dark Was the Night". Te tri pesme za kompilatore predstavljaju esenciju moderne muzike i srce rokenrola, tog "vanbračnog deteta kantrija i bluza"…
Kako je Chuck Berry došao do rifa za "Džonija" objasnio je Marty McFly u "Back To The Future":
Louis Armstrong je, i nadam se da tu neće biti spora, vanzemaljac sam po sebi i sasvim je logično da će "njegovi" lako da ga prihvate i prepoznaju. A Blind Willie Johnson i "Dark Was The Night"? E, to je posebna priča… Ako samo tu pesmu ET bude slušao kada bude pokupio Vojadžera, zaključiće da smo jako napredna civilizacija. Da smo dobri, požrtvovani, nežni i pažljivi, prepuni ljubavi i radosti… Jedna pesma menja sve, zar ne?
Razmišljam da meni neko da tu moć da izaberem tri pesme koje na najbolji način pokazuju ko smo i šta smo, šta bih izabrao? Možda ove tri:
Gillian Welch "Time The Revelator"
Gene Clark "Why Not Your Baby"
Teenage Fanclub "Your Love Is the Place Where I Come From"